17 July 2008 Edition
Hart trouble diagnosed
REVIEW
Troubled History
By Brian Murphy and Niall Meehan
Published by Aubane Historical Society
Price €10

REVIEWED BY MÍCHEÁL
Mac DONNCHA

TEN years ago, Peter Hart's The IRA and its Enemies was published. The Canadian historian had engaged in detailed research on the Black and Tan War and on the nature of the IRA campaign. He indicated his approach two years earlier when he wrote that the IRA conducted "campaigns of what might be termed 'ethnic cleansing'".
Hart's purpose was to show that the IRA was motivated by hatred of Protestants. Isolated instances of sectarianism were presented as representative of the Irish independence movement as a whole. The historian claimed that "sectarianism was embedded in the language and syntax of the Irish revolution". Hart's book was given a rapturous welcome by such usual suspects as Eoghan Harris and Kevin Myers. More insidiously, it received academic acclaim and has been influential in the teaching of history in Irish schools and universities.
In order to support his notion that the IRA ran a sectarian campaign, especially in County Cork, it seems that Hart felt he had to discredit one of the two most successful engagements of the Cork IRA with the British crown forces – the Kilmichael ambush of November 1920. He did so by attempting to belie Tom Barry's account of the false surrender by the British at Kilmichael. Initially this was the focus of the controversy over The IRA and its Enemies but it soon widened and, crucially, it was not only Hart's interpretation that was questioned but his methodology.
DENIAL
Hart relies on his reports of anonymous interviewees, Cork IRA veterans he claims to have spoken to in researching his book. His alleged interview with Ned Young, the last survivor of Kilmichael, is especially important. Ned Young's son has sworn an affidavit in which he emphatically denies that Peter Hart ever interviewed his father.
These and other fundamental flaws in Hart's work are exposed in this new publication which is described as a tenth anniversary critique of The IRA and its Enemies.
Brian Murphy and Niall Meehan meet the arguments of Hart and his supporters with forensic skill. In doing so they touch on the wider debate over the presentation and interpretation of Irish history. This includes the recent RTÉ documentary on Coolacrease. Especially interesting is their highlighting of neglected Protestant voices from the period. These include the Protestant Convention which met in Dublin in May 1922. It resolved that, apart from killings which took place near Dunmanway the previous month, "hostility to Protestants by reason of their religion, has been almost if not wholly unknown, in the 26 Counties in which they are a minority".
Hart has described The Record of the Rebellion in Ireland, the British Army's account of the Tan War, as "the most trustworthy". But, as Brian Murphy points out, in the edited version of the Record, which Hart introduced in a 2002 publication, the following section was omitted:
"Judged by English standards the Irish are a difficult and unsatisfactory people... many were of a degenerate type and their methods of waging war were in most cases barbarous, influenced by hatred and devoid of courage."
Hart never advised readers that this racist passage was edited out.
For anyone with an interest in Irish history this important publication is highly recommended.
An Phoblacht Magazine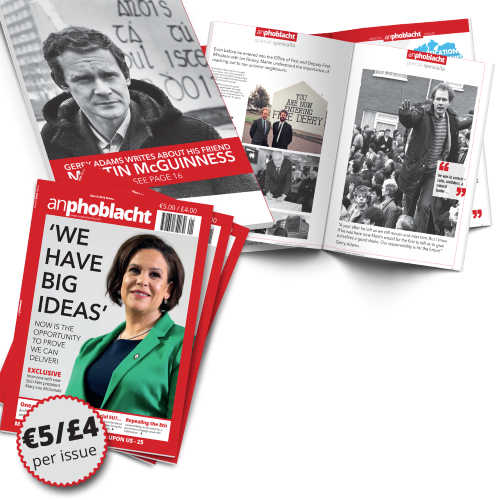 AN PHOBLACHT MAGAZINE:
The first edition of this new magazine will feature a 10 page special on the life and legacy of our leader Martin McGuinness to mark the first anniversary of his untimely passing.
It will include a personal reminiscence by Gerry Adams and contributions from the McGuinness family.
There will also be an exclusive interview with our new Uachtarán Mary Lou McDonald.
test