17 July 2008 Edition
Prison prose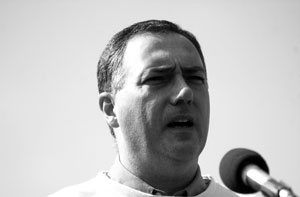 Book Review
Contemporary Irish Republican Prison Writing - Writing and Resistance.
By Lachlan Whalen, Assistant Professor of English at the University of South Florida, St Petersburg, USA
Published by Palgrave Macmillan
Price $80

Reviewed by Séanna Walsh
Former POW, H-Blocks

LACHLAN WHALEN sets out to chart the history and development of Irish republican writings in prisons, from the Cages and Armagh in the early 1970s through the horrors of the H-Blocks/Armagh protest period in the 1980s, to the early 1990s days of Glór Gafa and the input of POWs from Maghaberry, Britain and Europe.
However, his approach, language and terminology are daunting. The cover notes reflect this:
"Whalen also refutes elements of the post-structural theory that has represented new criticism most widely accepted alternative, rejecting in particular post-structuralism's pessimism concerning the possibility of human agency."
This one sentence, the blurb on the cover, encapsulates the weakness of this book by its promoters better than I could ever hope to. It reveals the debate that the author is engaged in with fellow academics and in this way shows us that his targeted readership is not really the plain people of Ireland, nor indeed the wider Irish-American Diaspora, but rather it is for academics and students of literature and literal forms.
For me this is a great pity. The author analyses in detail the writings of the foremost Irish republican authors – among them Bobby Sands and Gerry Adams – with some very interesting and surprising conclusions.
He studiously pores over the original scripts written by Bobby in Irish as he scraped his final words on toilet paper before his hunger strike took his sight, and he compares these words to the accepted translations.
Lachlan Whalen repeatedly draws on and refers to Irish-language texts. So, for me, the most poignant point raised by this book is that nowhere does there exist any sort of collection or body of Bobby Sands's work in Irish, bringing together Bobby's various bits and pieces as Gaeilge. Hopefully this will be addressed within the next year.
His chapter on 'Captive Voices' (1981 onwards) was particularly interesting to me as it covered a period (mainly the end of 1983 and post the Great Escape till 1991) when I was absent from the H-Blocks.
The emergence of an alternative education programme in the H-Blocks during this time has been covered by my comrade and former Hunger Striker, Laurence McKeown, in his book Out of Time but Whalen comes at it from a different, outsider's angle and this is refreshing.
Another chapter in this book, dealing with the writings of republican women prisoners in Armagh, Maghaberry and Durham, simply points up our failure as a movement to have compiled in a coherent, comprehensive fashion the voices of these comrades to educate present and future generations in the story of their suffering, hardship and resistance.
One other criticism of the author is his failure to grasp the organic nature of prison prose, verse and song.
He concentrates on Bobby's song D'éirigh mé ar maidin (sung to the tune of Siubhán Ní Dhuibhir) and over-analyses the various endings Bobby put to it and how lines and verses changed. He does not take account of the fact that there was no Bunting-like reference book to go back to – no great tome for referencing. That so much of it was retained at all in any form is a miracle. Anyway, Bobby would change verses and endings in his poems, his songs and his epic stories from one day to the next or one evening to the next. It would depend on his mood as well as his memory.
All in all, I found the book enthralling, inspiring and challenging but ultimately failing as an attempt to bring the broad range of first-hand republican prison history to a wide audience in a comprehensible way. His internal discourse with conservative elements of academia have instead rendered sections of it impenetrable.
An Phoblacht Magazine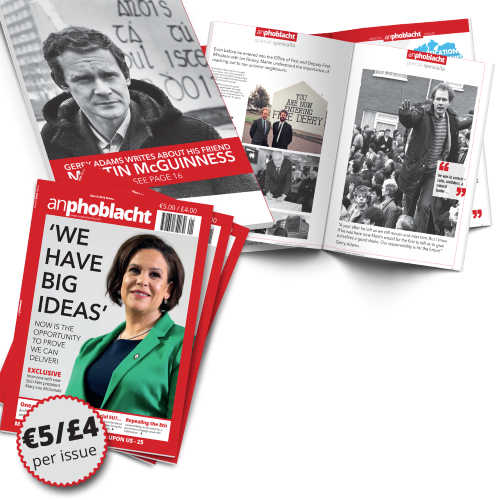 AN PHOBLACHT MAGAZINE:
The first edition of this new magazine will feature a 10 page special on the life and legacy of our leader Martin McGuinness to mark the first anniversary of his untimely passing.
It will include a personal reminiscence by Gerry Adams and contributions from the McGuinness family.
There will also be an exclusive interview with our new Uachtarán Mary Lou McDonald.
test