17 July 2008 Edition
Ireland must not be bullied into second referendum
Sinn Féin this week urged the Irish Government to facilitate a meeting between Sinn Féin, the leading voice of the 'No' to Lisbon Campaign, and EU President Nicloas Sarkozy when he visits Ireland next week.
Government comments on Wednesday that Sinn Féin has taken a constructive and sensible approach to the debate around the Lisbon Treaty are welcome. It is in this context that the party is asking the government to facilitate the meeting.  
Sarkozy's comment on Tuesday that the 26 counties must hold a second referendum on Lisbon illustrates the need for the government to facilitate a face to face meeting between Sinn Féin and Sarkozy when he visits Dublin.
To date the Irish Government has not shown an appetite for properly dealing with the rejection of the Lisbon Treaty by Irish voters. A number of key concerns in the areas of democracy, militarism and neutrality, workers' rights and public services were consistently raised throughout the campaign.
Sinn Féin recognises that Ireland must work with its European partners to overcome the current difficulties. But the government must also accept its first responsibility is to the Irish people. It cannot allow Ireland to be bullied into a second referendum on a Treaty the people do not want.
By the EU's own rules the Lisbon Treaty needs the ratification of all member states to proceed. The French president needs Ireland. This is a strong bargaining chip for the Irish Government to obtain a better deal for Ireland and Europe. They simply need to have the courage of leadership to do so.
Following a meeting with the French Ambassador last week Sinn Féin has sought a meeting with Nicholas Sarkozy through the Taoiseach's office when he visits Ireland next week. As the only voice in the 'No' campaign with Oireachtas representation and with considerable experience of political negotiations, the party believes that such a meeting would be productive for the French President and would also be an expression of good faith by both the government and the EU to their commitment to listen to the people in the 26 Counties.
The Lisbon Treaty has been rejected in Ireland. The Lisbon Treaty is dead. Ireland and Europe deserve a better deal.
An Phoblacht Magazine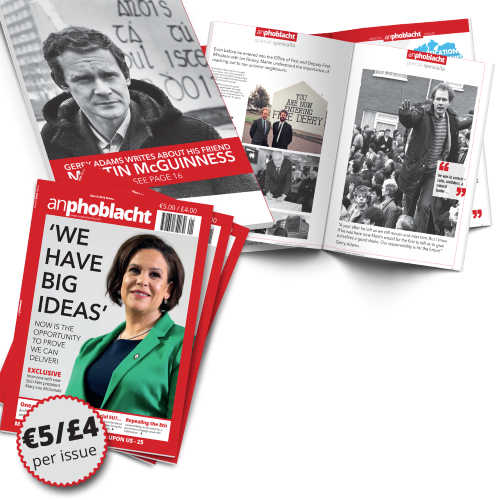 AN PHOBLACHT MAGAZINE:
The first edition of this new magazine will feature a 10 page special on the life and legacy of our leader Martin McGuinness to mark the first anniversary of his untimely passing.
It will include a personal reminiscence by Gerry Adams and contributions from the McGuinness family.
There will also be an exclusive interview with our new Uachtarán Mary Lou McDonald.
test