3 July 2008 Edition
Matt Treacy
'Puke football' is back
"PUKE football," for those of you who don't spend time following the Delphic pronouncements of GAA pundits, is the term awarded to the blanket defence system as patented by Tyrone in the early noughties and epitomised by their defeat of Kerry in the 2003 semi-final.
It was coined by one Pat Spillane in his comments on that particular game and he has been duly lambasted ever since and accused of sour grapes. But, as they say, imitation is the highest form of flattery and Kerry have adopted aspects of the puke football/blanket defence themselves.
What has given them an edge is that they have combined a miserly policy inside their own '40' with their traditional attributes: mobile ball-winning midfielders and forwards like The Gooch and Donaghy who will take most of the chances that come their way.
The response of other teams has been interesting. Lacking the natural players, perhaps, some have adopted an even more negative approach. The emphasis, more than ever it seems, is for teams to prevent the opposition playing rather than taking the game to them and having enough forwards capable of putting the ball over the bar.
There are a significant number of teams including some who have championship pretensions, who are dangerously reliant on one or two forwards and on frees. When they have a bad day, or are marked out of the game, the team loses. A good example being last Sunday where Benny Coulter failed to score against Armagh and where only two forwards scored the whole day. You simply don't win games at any level with that sort of return.
It was classic Armagh except that they have further refined their aggressive instincts to compensate for a less formidable attack but one which nonetheless can take scores, especially against a team like Down which persists in more naïve ways.


THEN there's Westmeath. A good example of a team that has little in the way of forwards although Dessie now bears less of the burden alongside Denis Glennon. But last Sunday they only scored four points from play, that being the total for the Westmeath forwards. You simply don't, etc, etc.
Indeed, call me a cynic but it sometimes seemed that winning was the last thing on Westmeath's mind. A smartass of my acquaintance said it was the first time he'd seen a Gaelic football team playing for a draw! Perhaps an exaggeration but certainly, once they'd scored their goal and gone six points clear before the first quarter was over, Westmeath set out to defend their lead.
Fair play to them. It takes considerable confidence, nerve and fitness to set out to stop another team scoring six points, or no more than six points, in an hour! And to rely on the occasional foray and free up the field to maybe increase the margin. 
It didn't work but it might have done. Especially as Dublin failed to capitalise on those periods when they managed to penetrate the swarm or when rewarded with scoreable frees. They should have been 5 or 6 points clear early in the second half and that would have been that. Instead, they made heavy work of it but were persistent and nipped the occasional Westmeath attack in the bud while painfully eking out a winning total.
Significantly, three Dublin backs scored from play: an indication of how far up the field they were in pursuit of forwards who were playing behind their own '40'. Interestingly, the Down backs scored most of their losing tally against Armagh, which was attributable to the same reason. Perhaps we are on to a solution here! If forwards want to be backs then backs can surely be forwards.
The Old School would have it that if a forward decides to wander off down the field – a sign of abject cowardice back in the good old days! – you should leave him off. Few backs do that now although I do recall a bemused Francie all alone on the '13' in last year's drawn club final against Crokes when his man had gone walkabout. No way Francie was going down that road.
Of course, the reductio ad absurdum of that would be that a team playing a blanket defence would succeed in drawing every player on the field except the opposition goalie inside their '40'. Indeed, I have seen one or two matches where something akin to that has happened. Reminded me of when I was 8 and everyone just followed the ball around the field. Not the most aesthetically pleasing sight.
'But aesthetics be damned,' I hear you say. If a team can win the All-Ireland – or rather stop another team winning the All-Ireland – by such means then well and good. Maybe so, but it would be a pity if teams that actually make an attempt to play in some sort of  honest -to-god adventurous fashion consistently come out the worst against the Devotees of Puke.


AND the days when hurling people could smugly reflect on the inferior ethos of the big ball game may also be coming to an end.
Clare people will be rightly vexed perhaps that they are currently having the finger pointed at them for this following their wins over Waterford and Limerick but their apparent renaissance has been attributed to the intensity of their back play.
Unfair not least because Kilkenny, in particular, have honed the tactic of closing down opposition players all over the pitch. It is very rare indeed that you will see an opposition forward with the ball in a one-on-one position with a Kilkenny back. Against Offaly, even when well ahead, there were often three, four or even five Cats defenders around an Offaly forward.
The response to that, we are told, as we were after Tyrone smothered Kerry, is: 'Well, if there's four defenders around one forward then there's three forwards free.' On the face of it, this may be true – except, of course, the 'defenders' might actually be opposing forwards or midfielders and you are out-numbered anyway unless their markers have followed them. In which case you have scrambles for the ball and throw-ins but advantage defence either way.
It will be interesting to see how this develops over the summer but, hopefully, we do not reach the situation – as in football – where bad teams beat better ones through spoiling.

An Phoblacht Magazine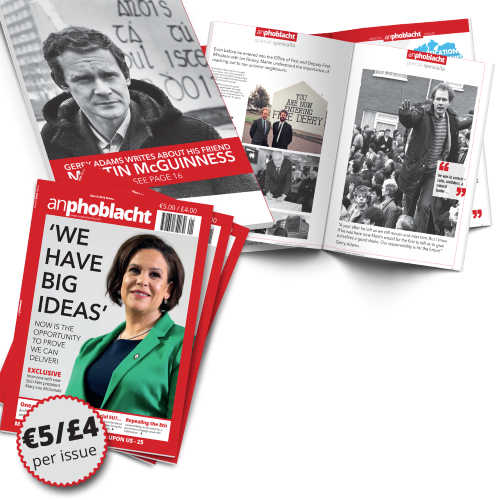 AN PHOBLACHT MAGAZINE:
The first edition of this new magazine will feature a 10 page special on the life and legacy of our leader Martin McGuinness to mark the first anniversary of his untimely passing.
It will include a personal reminiscence by Gerry Adams and contributions from the McGuinness family.
There will also be an exclusive interview with our new Uachtarán Mary Lou McDonald.
test