3 July 2008 Edition
The Mary Nelis Column
Zimbabwe: Profits before principles
THE people of Zimbabwe have to change the situation for themselves without interference from those who in the past have been guilty of as many abuses of human rights as Robert Mugabe. Perhaps that's why the leaders of the African nations who gathered in Egypt this week have refused to condemn him.
The people of Africa have long memories and they know that those governments shouting the loudest about human rights abuse and lack of democracy in Zimbabwe come from a long line of imperial war-mongers and barbarians.
Many of the conflicts raging in today's world have their roots in British colonial history. Zimbabwe is no exception. While the British Government and the media rant and rave about 'the evils' of Robert Mugabe's regime in Zimbabwe, they would do well to remember that it hasn't prevented individual British politicians and multinationals profiting from this evil.
It's a bit rich for Gordon Brown to call for sanctions against a man who is a product of a system created by the former white elite rulers who haven't really gone away. The British-owned Anglo-American Company, which has mining interests in Zimbabwe for the past 60 years, post-independence, has stated that while it is concerned about the present situation it has no intention of giving up its project – or should that be profit?
A raft of other companies – including Shell, BP, Barclays Bank and Tesco's -– while describing the situation as deplorable are hanging in there 'as part of their duty to the workforce and the local community'. Who believes that?
Tory Shadow Business Minister Jonathan Djanogly owns at least £300,000 worth of shares in many of the above companies described by some Labour politicians as "blood money in which greed supersedes moral responsibility".
In response to worldwide criticism, the British have divested Mugabe of the honorary knighthood awarded him in 1994 by then British Prime Minister John Major, who last week was awarded the freedom of the City of Cork.
The British have used its caste system of accolades, knighthoods and awards to test those whom they perceived as posing a threat to its interests in whatever corner of the universe. Mugabe forfeited any credibility as a revolutionary leader when he accepted this dubious honour. He was not 'dubbed' an honorary knight of some antiquated English order because he fought to free Zimbabwe from British rule. That dubious 'honour' was in reward for services rendered to British business interests, many of whom now sit on the Tory frontbenches.
Zimbabwe under Mugabe rule is no different from Zimbabwe under Ian Smith; only the colour has changed. The neo-colonial mindset, like those who hoisted the Union Jack over the City Hall in Cork, is still the same.
The Brown Government declared last week it is prepared to name and shame members of the junta keeping Robert Mugabe in power. They could start with the entire British establishment for, as the people of Zimbabwe starve, its produce is exported to fill the supermarket shelves of the British retail giants, in the same way that the produce of Ireland was exported to England in the years of An Gorta Mór. 

An Phoblacht Magazine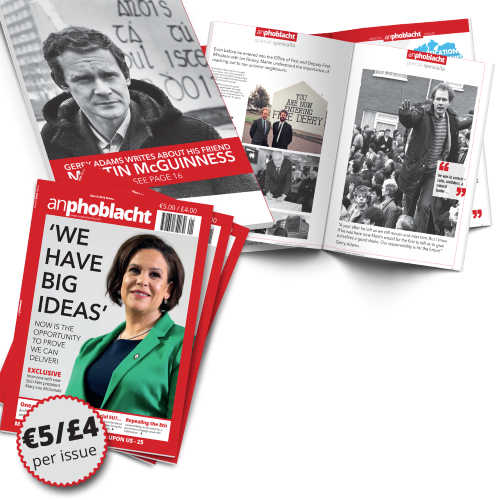 AN PHOBLACHT MAGAZINE:
The first edition of this new magazine will feature a 10 page special on the life and legacy of our leader Martin McGuinness to mark the first anniversary of his untimely passing.
It will include a personal reminiscence by Gerry Adams and contributions from the McGuinness family.
There will also be an exclusive interview with our new Uachtarán Mary Lou McDonald.
test