5 June 2008 Edition
Hunger strike martyr Raymond McCreesh remembered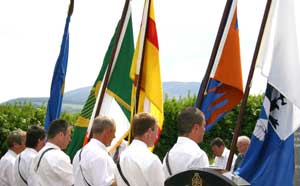 THE commemoration of the 27th anniversary of the death of H-Block hunger striker Raymond McCreesh was held in Camloch on Sunday, attended by several hundred people.
Newry and Armagh Sinn Féin MP Conor Murphy, who gave the main oration, said that the presence of such a large crowd clearly shows that the hunger strikers continue to hold a special place in the hearts of many people.
 He also said that the enduring legacy of the hunger strikers is to be found all around us.
"Like the Easter Rising, 65 years earlier, it marked a watershed in modern Irish history," said the Camloch-born MP."
Conor Murphy recalled the emotional and political turmoil wrought by the intransigence of Margaret Thatcher's administration and its unremitting drive to portray our struggle as criminal.
"The immortal words, 'My brother is not a criminal,' spoken by Fr Brian McCreesh in Toome, will forever conjure up the emotions of sorrow, anger, frustration, pride and resolve identified with the era of the Hunger Strikes of 1981 and in particular the life and death of our friend and comrade, Raymond.
"At 2.11am on Thursday 21 May 1981, Raymond became the third political prisoner to die on hunger strike. His life ended after 60 days without food, during which he had suffered indescribably from the effects of his fast. He had lost his sight and hearing and throughout the last day of his life he was unable to move. He died on that Thursday morning in May as he had lived since his capture in 1976, resisting attempts to break him as a political prisoner. Bobby Sands, Francis Hughes, Patsy O'Hara, Joe McDonnell, Martin Hurson, Kevin Lynch, Kieran Doherty, Tom McElwee and Mickey Devine also made the supreme sacrifice for their beliefs in 1981, becoming known throughout the world as 'The Hunger Strike Martyrs'.
COURAGE
"The prison protests of the late 1970s and early 1980s and in particular the Hunger Strike of 1981 were watershed moments in Irish history.
"It does not seem like 27 years ago when 10 republican prisoners lost their lives when faced with an intransigent British government in London and an Irish government in Dublin more interested in self-interest than seeking a resolution to the situation in the H-Blocks and Armagh Prison."
He concluded:
"The enduring legacy of the hunger strikers is to be found all around us. Like the Easter Rising, 65 years, earlier it marked a watershed in modern Irish history. The political growth of Sinn Féin and of Irish republicanism is in no small measure a result of their courage. But, more importantly, their legacy is to be found in the Peace Process and the positive transformation it has brought about in Irish society in recent years. That process of change continues.
"Despite the brutal conditions, Raymond never lost his faith in people or his determination to look to the future. Twenty-seven years after his death, Irish republicans face that future with confidence."