5 June 2008 Edition
The Matt Treacy Column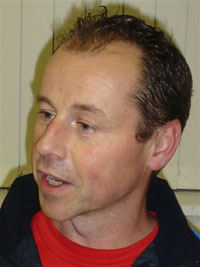 Royals' collapse
OSCAR WILDE said of the death of Little Nell in Charles Dickens's The Old Curiosity Shop that you would have to have a heart of stone not to laugh. It's a sentiment I was reminded of when witnessing the gleeful reaction of some observers to Meath's amazing collapse against Wexford.
Not, I hasten to add, on the part of yours truly, who has developed a fondness for the Royals over the years not unlike the affection that hostages are said to develop for their captors under the rubric of the Stockholm Syndrome.
I don't know when exactly it happened but at some stage, possibly after the 1991 epic, Dublin and Meath began to grudgingly admire one another, not least perhaps because to everyone else they were the GAA equivalent of the trolls who hide under bridges attempting to eat small children.
The great fear Dublin always had of Meath was that they were never beaten and their history is replete with amazing turnarounds, among which, of course, was the end to the third replay in 1991 when Kevin Foley's goal brought them victory from a position of seemingly inevitable doom.
Dublin, on the other hand, especially in recent years, have developed a reputation for losing matches they should have won: Mayo 2006 being the most painful recent example but it is by no means unique. One thing Meath people could always smugly reassure themselves of was that the likes of that would never happen to them.
Last Sunday it did. And it was a reverse unequalled even by their dear neighbours.


TEN POINTS up and 20 minutes left on the clock. Meath were cruising and only a certifiable lunatic would have bet on them being overhauled.
Perhaps the real turning point came ten minutes into the second half when Joe Sheridan had a goal disallowed after he had wrestled the ball from the goalkeeper's arms. Technically, that is a foul but such goals are often given – à la Kieran Dongahy – and had the match been close at that point it probably would have been.
Newly inspired, Wexford launched wave after wave of attacks and, as so often happens, the once dominant team found it almost impossible to cope when put on the back foot. Nor did Meath help their own cause by spurning a ridiculously simple close-in free and by uncharacteristically losing possession at vital stages.
It was all very unRoyal like and I imagine the dressing room was the scene of a ferocious ear-bashing by Colm Coyle. Coyle, however, did himself no favours when, in an unRoyal-like outburst, he attempted to blame Laois referee Maurice Deegan for the whole thing, insinuating that Deegan was seeking to ensure an easier match for his own county in the semi-final! Wrong on so many levels, as they say.
In fairness, Coyle was speaking, one presumes, in the heat of the moment and in the context of probably the biggest embarrassment suffered by Meath football in a generation.
It is also by no means reflective generally of Meath's attitude which over the years has never been less than gracious, even in the aftermath of ferocious encounters with the Dubs, after which Sean Boylan was invariably magnanimous in defeat or victory. It is possible, however, that Coyle will find himself subject to censure for his remarks.


BUT lest one form the impression that the whole story had to do with Meath collapsing, let us not neglect the fact that Wexford were brilliant in the second half. The confidence built up over a sustained unbeaten league run buoyed them even when things were looking bad and, unlike a year or two ago, they now have deeper resources. Once upon a time a day, when Mattie Forde 'only' scored four points would have been a day Wexford were beaten. On Sunday, seven other players shared the burden.
Their biggest problem in facing Laois could be their generally poor record in Croke Park. Last year they were beaten by Laois in what was a pretty awful game to watch. Not helped by being sandwiched between the Leinster minor and senior hurling final. Which is a bit like listening to Westlife in the middle of a Smokey Robinson album.
Wexford are certainly good enough to beat Laois and may even be favourites to beat them after Laois eventually made heavy enough work of beating Wicklow on Saturday.
In Ulster, Derry maintained their momentum from the league by mastering Donegal in the second half and were perhaps more comfortable winners than the margin indicated. Donegal, however, showed enough to prove that they will be contenders in the qualifiers, which are already filling up with unexpected teams. It will take a good team to come through.
The biggest surprise of the weekend might have been in Casement Park where Derry led 14-man Antrim for most of their Ulster hurling semi-final. Antrim only got on top late on when posting 10 unanswered points.


THERE was an interesting non-GAA development earlier in the week when FIFA effectively debarred soccer players born in the Six Counties from playing for the 26-County team.
Interesting not least because it would appear to go against the spirit if not the letter of the Good Friday Agreement with regard to citizenship.
When this has been raised with ministers for sport in the past they have diplomatically kicked the issue to touch, claiming that it was not a matter that comes under their responsibility. It would, of course, be open for any player in that situation to take a legal challenge should the Northern association attempt to block them from playing and it is difficult to see how that would be sustained.
In this Olympic year it is also an echo of earlier times when Irish teams were threatened with expulsion on the very grounds that people from the North competed under the Tricolour. Curiously, there was never much made of the fact that Northern nationalists such as Charlie Nash boxed for Ireland. Or, indeed, Belfast Protestant Wayne McCullough.

An Phoblacht Magazine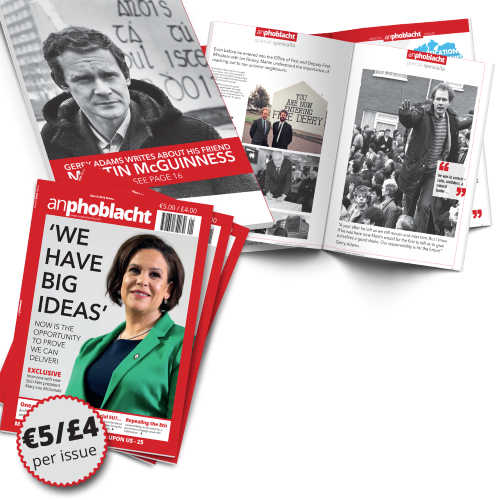 AN PHOBLACHT MAGAZINE:
The first edition of this new magazine will feature a 10 page special on the life and legacy of our leader Martin McGuinness to mark the first anniversary of his untimely passing.
It will include a personal reminiscence by Gerry Adams and contributions from the McGuinness family.
There will also be an exclusive interview with our new Uachtarán Mary Lou McDonald.
test