5 June 2008 Edition
Ó Caoláin challenges Cowen on US military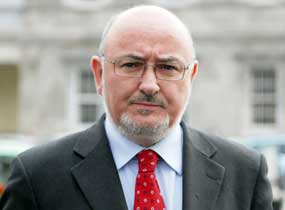 THE Irish Government has admitted in the Dáil – under questioning from Sinn Féin – that it still accepts without question the assurances of the US Government that flights to Iraq carry neither munitions nor prisoners. Amnesty International last week again challenged the Fianna Fáil/PD/Green Party administration's acceptance of simply the word of US agencies.
At Taoiseach's Questions in the Dáil on 27 May, Sinn Féin Dáil leader Caoimhghín Ó Caolain asked the Taoiseach if an Irish Government inter-departmental group on state security, set up after the 9/11 atrocities in the US, had discussed the implications of the ongoing accommodation of US military flights at Shannon.
"Given that we are currently hosting an international conference that is addressing the whole issue of cluster munitions, whose intent I wish every success, what assurance can the Taoiseach give that the flights using Shannon Airport are not themselves transporting cluster munitions?
"Does the Taoiseach not accept that the assurances of what I regard as the discredited Bush regime in relation to the whole matter of the war in Iraq are not sufficient, are simply not good enough and do not quell the justifiable concerns, questions and fears of the Irish people?
"Does the Taoiseach not believe that it would be appropriate to assuage public fear and establish the truth of the matter that the Garda should be instructed to carry out routine and regular checks of these aircraft to establish whether they were transporting prisoners and whether unacceptable munitions such as cluster munitions were being accommodated on such flights?"
TAOISEACH'S REPLY
The Taoiseach replied that the Irish Government "has made overflight and landing facilities available to the United States for more than 50 years".
He said that aircraft wishing to carry munitions of war on Irish territory can only do so with the permission of the Minister for Transport in the case of civilian aircraft and the Minister for Foreign Affairs in the case of foreign military aircraft.
"There have been no applications for the transport of such munitions. As I said, the arrangements that are in place in Shannon Airport have been in place for decades under successive Governments."
Sinn Féin's Ó Caoláin described the Taoiseach's answer as "incredible".
Meanwhile, the Irish Section of Amnesty International has said:
"Unless our new Taoiseach acts to end the use of Shannon by the US for rendition flights we will continue to be complicit in acts of kidnap and torture."