5 June 2008 Edition
Lisbon - reduction in voting strength bad for Ireland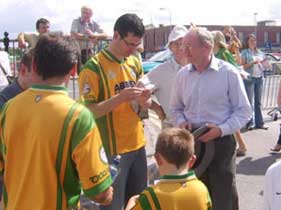 The Referendum Commission in the 26 Counties issued a statement on Wednesday in which it offered clarification to voters on a number of issues that have been raised in the debate on the Lisbon Treaty. Speaking after the statement from the Chairperson of the Commission, Judge Iarfhlaith O'Neill, Sinn Féin Senator Pearse Doherty said:
"The proposed changes to qualified majority voting at the Council of Ministers will result in a 50% reduction in the voting strength of the 26 Counties. When taken with the loss of a permanent EU Commissioner this is a serious loss of power and could not be in Ireland's interests."
Senator Doherty said, "The shift from the existing weighted majority vote to a purely population based voting system means that Ireland loses more than 50% of our current strength.
"Most votes at the Council of Ministers are taken by qualified majority. The situation at present is that for a vote to pass – it needs to achieve 74% of a weighted vote partly based on population which obviously requires a majority of member states. At present the 26 Counties has seven votes, while Germany, France and Britain have 29 votes each.
"The Lisbon treaty proposes replacing this procedure with what is called a double majority. The new system would require 55% of member states (15) containing 65% of the EU's population to secure a qualified majority.
"This new system is bad for Ireland. It reduces the threshold for qualified majority decisions, making it easier for qualified majorities to be achieved. Secondly the weighting of each member state becomes more proportionate to population size, with Ireland having our voting strength halved by 50%, while large member states see their voting strength increase by more than 50%."