29 May 2008 Edition
Book Review: A New View of the Irish Language
Expressing identity

A New View of the
Irish Language
Editors:
Caoilfhionn Nic Pháidín & Seán Ó Cearnaigh
Published by Cois Life
Price €20

 
Reviewed by
Lucilita Bhreatnach

 
THIS is a book written in a communicative style as Béarla, in English, containing 21 contributions from writers who explore contemporary issues and the present-day development of the language in Irish society.
According to the editors, Caoilfhionn Nic Pháidín and Seán Ó Cearnaigh, "The goodwill of this largely English-speaking population is essential for [Irish language] promotion, and this support must be sought and maintained primarily in English."
They add:
"This is not immediately obvious to English-speakers cushioned by a super-power language but the issue of language decline is increasingly of concern to policy-makers in many European countries.
"The Irish language is an inclusive expression of identity for a broad spectrum of people."
Fair enough, but the future of the language needs to be grounded in reality and articulated in a clear strategic policy.
I welcome this book in English. This is because I believe that everyone with an interest in Irish has the potential to make it a more widely spoken language.
This book contains some gems.
Iarfhlaith Watson in his piece, The Irish Language and Identity, writes that Irish identity "is a process – in a continual state of flux, always changing and never fixed. Despite this, identity appears to be fixed and natural. This is what gives it strength."
Interestingly enough, he goes on to say that identity holds us together. And he speculates if there will be a radical redefinition of that relationship and the Irish language's role in it.

STRATEGY
In Brian Ó Conchubhair's piece we gain an insight into the growth of Irish-language schools in the country. There are 3,700 children attending Gaelscoileanna in 25 schools in the Six Counties and 28,000 in 170 Gaelscoil in the 26 Counties outside Gaeltacht areas.
He calls for a new strategy that sees Irish-language organisations working in tandem with other similarly-minded groups or, referring to Tomás Mac Síomóin's book, "whether the future lies in a return to the revival spirit or a réabhlóid".
Ó Conchubhair argues that there has been a popularisation of the Irish language. It has been internationalised with mainstream Irish-language media and websites that keep people abreast of issues. Blogs have also become a key component in this global conversation.
As for the other 19 informative essays in the book, read them. They are all thought-provoking and cover different dimensions, such as the importance of place names. My only disappointment is that there could have been more written on the development of the spoken language by children and teenagers.
This to one side, A New View of the Irish Language is a welcome contribution to the current debate on the language. Check it out.

An Phoblacht Magazine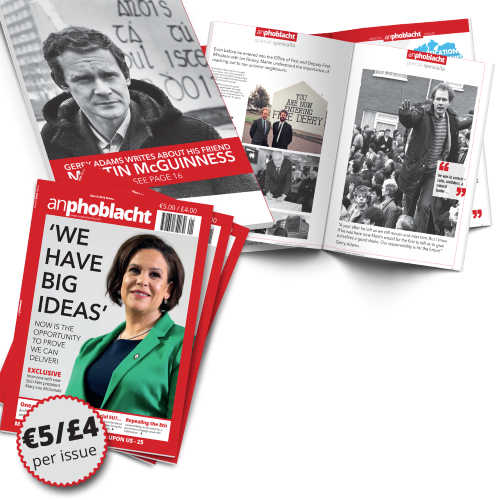 AN PHOBLACHT MAGAZINE:
The first edition of this new magazine will feature a 10 page special on the life and legacy of our leader Martin McGuinness to mark the first anniversary of his untimely passing.
It will include a personal reminiscence by Gerry Adams and contributions from the McGuinness family.
There will also be an exclusive interview with our new Uachtarán Mary Lou McDonald.
test