29 May 2008 Edition
Community anger at Orange Hall attack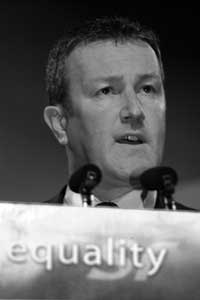 NEWRY/ARMAGH MP Conor Murphy has condemned an attack on an Orange hall in Altnaveigh, Newry, saying that all such attacks are wrong and should stop immediately.
Conor Murphy said he was told of the attack on the hall by member of the local Altnaveigh lodge. They were concerned that as the hall had been left unsecured there was a fear amongst lodge members that those who did this would come back and try to burn the hall.
"I passed those concerns onto community activists who lived in the locality and I am aware that they visited the hall during the course of Saturday evening and night to help in a most practical way to ensure that no further vandalism would be carried out on this occasion.
"Those facts for themselves clearly indicate that the vast majority of the local community are angered and sickened by this incident."
Echoing Murphy's comments, the Deputy Mayor of Newry and Mourne, Sinn Féin Councillor Charlie Casey, said that there is no such place for attacks on Orange halls, community halls, local schools, sports clubs and places of worship.
"Those engaged in these types of activities have nothing to offer our communities or society in general," he said. "Most of us view these attacks as attacks on us all not just on one or other specific tradition or group."