29 May 2008 Edition
Brian Keenan laid to rest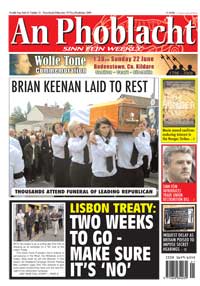 South Armagh bids farewell to a republican icon
SEVERAL HUNDRED people gathered in the village of Cullyhanna, South Armagh, last Thursday, 22 May, to bid a final farewell to republican leader Brian Keenan.
The lifelong Irish republican, who had been ill for some time, resided in the village of Cullyhanna. His remains left his home in the village and were taken to the Volunteer Michael McVerry monument for a ceremony where local Sinn Féin Councillor Colman Burns presided.
The following oration was delivered by South Armagh republican Seán Hughes.
AS WE gather here to say farewell to our comrade, Brian, before he begins his final journey back to his native Belfast, I want to take this opportunity to say a few words on behalf of the Republican Movement in South Armagh.
Indeed it is appropriate that we have assembled here at this monument erected in memory of Brian's friend and comrade, Michael McVerry.
Brian Keenan was a unique individual. A Volunteer in Óglaigh na hÉireann since the late 1960s, he was multi-talented, fulfilled many roles and held many positions and spent the majority of that time in the leadership of the Army.
He was instrumental in bringing the war to Britain in the 1970s and spent 14 years in English jails. He also served prison sentences in the South and led the escape from Portlaoise in 1975 when Volunteer Tom Smith was killed. He himself was shot and injured on that day.
Brian is a republican icon known the length and breadth of this island and further afield. He was admired and looked up to by republicans all over the world.
By his actions and his words he reflected and could articulate exactly what we as republicans stand for.
All during his life his honesty, integrity and determination shone through, earning him respect from all quarters both at home and internationally.
He was a dedicated and committed Volunteer; revolutionary through and through; an inspirational leader; a man of great wisdom and vision.
He was a progressive thinker with an instinctive ability to bring a realism and practicality to any given situation.
He personified struggle, living his life and leading as a committed and uncompromising revolutionary republican. A student of Tone, Connolly, and Mellows, he knew that for struggle to be successful you have to bring the people with you and be able to adapt to any changing political situation. He believed, just as Connolly believed, in constitutional action in normal times, in revolutionary action in exceptional times.
He brought clarity to the purpose of our struggle, constantly reminding Volunteers during the armed campaign that they were never 'gunmen for nationalism' and that Óglaigh na hÉireann had to serve as the 'Army of the People'.
His charisma and fierce energy enthused those around him.
Brian has had a long association with South Armagh first coming here in the 1970s as a leadership figure. He helped in the organisation and the development of the area during that period and indeed he was instrumental in setting up the Barney Morris Sinn Féin Cumann in Crossmaglen at that time. Over the years he maintained a strong connection with us and built up many close friendships which have continued to this day.
One of the things he requested I do on his behalf was to convey his heartfelt thanks and appreciation to the Movement locally and to his friends and comrades for the support they have given him and the kindness shown to him during his time with us.
We in South Armagh have benefited from Brian living amongst us. He has unselfishly shared with us his vast knowledge and his great experience. We have sought and taken his advice on many occasions
Many of us had the honour of getting to know Brian on a deeper personal level. We discovered he was a man of humour, a great conversationalist and a listener. People warmed to him. His genuine interest and sincerity for people's lives and well-being was obvious. He had a special empathy with young people. He encouraged us to deepen, develop and build true comradeship at all levels. He inspired us by his commitment and unselfishness. The genuine attribute of selfless service coursed through every fibre of his being.
Brian showed great dignity and resilience throughout his long illness. I know he had great appreciation for those who cared for him – the doctors, nurses and his carers. At this point a special mention must be given to Pauline for her unstinting devotion to Brian during this difficult time.
Throughout this period Brian's biggest concern was not for himself but for his family, his friends and the struggle. Just days before his death he met many of his comrades and his only thoughts were for the future and how we would achieve our goal and his dream of a 32-county socialist republic.
Brian did not aspire to a 32-county Free State. He regularly reminded us in the words of Connolly:
"If you hoist the green flag and remove the English army, unless you set about establishing the Socialist Republic, all of your efforts will have been in vain."
Brian realised that now is the most complex and difficult phase of our struggle. As he often said himself, this generation of republicans, having fought the war, must now win the peace.
He clearly understood the direction of our strategy and the necessity for all the initiatives taken by the Republican Movement. He had the foresight to recognise that there would be many challenging times ahead but possessed the nerve and the confidence in his own republicanism to meet and overcome these challenges.
He embraced today's republican strategy and gave leadership on it. He did so just as he did with every military operation or phase of the struggle in which he was involved – always leading from the front line.
Brian's death ends an era but not his life's work. He has left us all much to do – that is to achieve the Republic to which he aspired. We must face this task with the same tenacity and energy as Brian did. We need to organise, educate and agitate and build the Sinn Féin organisation the length and breadth of Ireland.
We have lost a true friend and comrade. On behalf of the Republican Movement in South Armagh, we extend our deepest sympathy to Brian's wife, Chrissie; his sons, Frankie and Seán; his daughters, Bernadette, Ann-Marie, Christina and Jeanette; to his sister, Ann; his brother, Seán, who cannot be with us; and his wider family circle.
Many are the poorer for his passing; few could match his commitment and integrity.
Is Cailliúint mór é in Ard Mhacha Theas. Ní bheidh a leithéid arís ann.

An Inspirational revolutionary

BY PEADAR WHELAN


THOUSANDS of republicans from every corner of Ireland turned out in Belfast on Saturday, 24 May, for the funeral of Brian Keenan, one of the dominant figures within Irish republicanism over the past four decades of struggle.
Brian Keenan was a revolutionary whose thinking influenced those he met and worked with down through years of struggle and imprisonment.
Brian's death on Wednesday, 21 May, might have marked the end of his life in struggle but to those in the Republican Movement that he has left behind there is no doubt the commitment and fortitude with which he inspired other republicans in the past will shine as a beacon into the future.
So, as people gathered at the New Barnsley Memorial Garden on Thursday, 22 May, to await the arrival of Brian's remains from South Armagh, it was obvious that they were there out of respect for a man who epitomised the republican philosophy of equality, fraternity and liberty.
When, just after 3pm, the hearse carrying Brian's coffin, draped in the national flag and bearing the IRA Volunteer's beret and gloves drew up at the Memorial Garden, a respectful silence fell on the crowd.
A guard of honour made up of veteran Belfast republicans such as Liam Shannon, Dickie Glenholmes, Paddy Mulvenna and Harry Thompson flanked the coffin which was then taken on the shoulders of pall-bearers from South Armagh, republicans who had taken care of Brian in his last years of illness and who escorted his remains home to Belfast.
At New Barnsley Park, leading to the Keenan home, the South Armagh republicans handed responsibility for Brian's remains over to Belfast republicans who brought him to the home which he rarely inhabited due to his years on the run or in prison.
A permanent honour guard flanked Brian's remains as he lay in state as hundreds of people from across the island passed through the house to pay their respects. But it was on the day of his funeral that republican Ireland turned out in huge numbers to escort Volunteer Brian Keenan on his last journey. Republican activists, in their hundreds, lined the narrow streets of New Barnsley and the broad avenue of the Springfield Road in salute to a man who was not just a comrade but a friend to many of them. Clearly many people were moved by the occasion.
At the approach to the Upper Springfield Memorial Garden, where the funeral ceremony would be held, Brian's coffin was taken by his friends Hugh Doherty, Joe O'Connell, Eddie Butler and Harry Duggan, former political prisoners and IRA Volunteers convicted after the famous siege in Balcombe Street in London in 1975.
Martina Anderson, another comrade who shared Brian's experience of isolation during her imprisonment in England, and now a Sinn Féin MLA, chaired the ceremony.


Táimíd bailithe anseo inniu i gcuimhne air Brian Keenan; poblachtánach stairiúil, Óglach dílis agus Ceannaire. Táimíd ag comóradh bhás an fhir seo a bhí mór linn in alán bealaí éagsúla.
For Brian's immediate and extended family his passing has caused great sorrow. For those of us who had the honour to call him comrade that pain is as great – and we will miss him deeply and never forget him.
Very few people become a legend in their own lifetime but Brian certainly became one. I suppose we all have our own very fond memories, stories and experiences of Brian. For me personally he was an inspiration.
Brian's greatest gift was his humanity. Paul and I had the privilege of spending last Easter Sunday with him. Clearly he was in pain and his life was drawing to an end but not once did he complain or feel sorry for himself.
He was, as usual, a dynamo, talking and debating politics, arguing about the best tactics to employ at this stage in our struggle, and in particular expressing concerns about the health and well-being of other comrades.
It was so typical of Brian. He set an example for all of us. We learned so much from him and our struggle was enriched by his being a part of it.
Comrades, today we commemorate one of the greatest republicans who has ever lived. That is no over-estimation. That is a fact.
Brian Keenan has touched and influenced the course and direction of the republican struggle like no other person I know.
I am personally broken with grief over the loss of such a great man. But I am also immensely proud to have been able to call this great Irishman my comrade and my friend.
This grief and pride is something that we all share here today in equal measure. I recall when Ella [O'Dwyer] and I were in jail in the north of England and Brian and others were held in the South. We did not have the communication systems like those perfected here – we had no 'comms' – yet Brian managed to communicate with us, making sure when we were fighting for better conditions we did not box ourselves into corners we couldn't get out from. 
Brian was not only a great soldier, he was a great revolutionary and human being. Brian thought deeply about all aspects of our struggle.
He thought deeply about the political integrity of our struggle in changing circumstances – and the need to continually assess our position and make ourselves relevant.
He recognised that the inherent strength of resistance lay with the people. He often warned us that we will only achieve our aims and objectives if we are ideologically grounded. Recently, and in his own words, he told us:
"Revolutionaries have to be pragmatic – wish lists are for Christmas. At a time of great change we need to constantly lay out the republican vision. We need to constantly remind people we are for 'equality, liberty, fraternity'. We are against exploitation and inequality. Historians in 50 years' time will tell us whether the right path was chosen or not.
"Of course mistakes have been made along the way but we have to look to the opportunities that are there to move the struggle forward to reunification and independence."   
And for Brian it was a particular kind of independence – it was a 32-county democratic socialist republic.
A tree has fallen
SINN FÉIN President Gerry Adams MP delivered the oration at the funeral of leading republican Brian Keenan in Belfast on Saturday, 24 May. We publish that oration in full.



DIA daoibh a chairde agus failte mór romhaibh uilig. I want to welcome all of you here today – Brian's family and  friends and comrades from all parts of the island coming together to salute a great republican.
On your behalf I want to extend our sympathies to Chrissie; to Brian's sons and daughters, Bernadette, Anne-Marie, Chrissie, Frankie, Seán and Jeanette; his 18 grandchildren and four great grandchildren; his brother, Seán, who can't be with us today; his sister, Anne; and the wider Keenan family circle.
Tá muid buioch daoibh. Tá fhios agam go bhfuil bhur croí briste. Caithfidh mé a rá go bhfuil a lan daoine brónach inniu. Caill muid, ar cara.
I also want to thank Pauline and Tina McNulty in Cullyhanna and their family who took such great care of Brian.
He had a very special grá for South Armagh and I want to thank everyone from there and Dublin who looked after him during his long illness.
I had put down some names for mention – people like Phil, Wee Tom, Harry, Fra, Christy – but then I realised that the list would be too long. So, my friends, you all know who you are and you know how much Brian appreciated your friendship and support.
I want to thank Brian's surgeon, Gerry McEntee; his oncologist, John McCaffrey; and his family doctor, Seamus McHugh; and all the other nursing and medical staff.


How do you describe Brian Keenan? Where to begin?
For me it began just down the road from here at the bus stop up from Mrs Campbell's house.
It was 1968. I was getting on the bus. So was Brian Keenan. I was 20 years old. He was 27. I was single. He was married with six children.
He introduced himself to me. Enquired after my family.
I admired his Teddy Boy hairstyle.
Our lives were inextricably linked from that point on.
At that time the Orange state was being challenged by the democratic demands of our generation.
Two years later, this area was under military occupation and the young people of Ballymurphy were resisting the British Army.
I mention all of this only because here we are, close to the spot where Brian and I first met, 40 years later completing the circle and saying goodbye.
It is a great honour for me to give this oration. Brian sent for me about six weeks ago.
He told me that he wanted to make arrangements for his funeral.
I know that he had this conversation with other comrades as well.
He said he didn't think he had much time left.
He said if he died in Cullyhanna that he wanted to be waked there for one night and then taken to New Barnsley.
He wanted Seán Hughes to say a few words in Cullyhanna and then he said he wanted me to say a few words at the Garden of Remembrance in the 'Murph'.
Fear le dhá oraid. Shín Brian.
To tell you the truth, I was going to make a joke of this and say he had ordered me and Seán to give the oration but, in fairness, he was very humble about it all.
For example, he told me he was thinking of asking for a republican funeral – he asked me what I thought of that. I said I didn't think he qualified on the basis that he was still alive.
He also said he wanted someone sensible to take care of things in Belfast. In the absence of anyone else, I suggested Big Bob. Brian immediately sent for him and gave him all his orders.
That was Brian.


Even in the face of great illness he never gave up, never stopped plotting and planning and arguing and looking to how republicans could best develop our policies and advance our struggle.
He had boundless energy  – nervous energy – like a Duracell bunny.
He loved an argument.
At times when he was confronting a problem he came at it from every conceivable angle.
I know for certain this was because he agonised over some issues and spent sleepless nights trying to figure out propositions. He was very, very intense and drove everybody – and especially me – mad in the process.
But leaving aside politics, if he was socialising or having a drink, he loved driving people mad anyway, just for the devilment of it.
I'm sure that many, many people here have tales to tell of his humour and contrariness and craic.
Brian loved people. He loved conversation and debate.
He was very, very well read. And had a huge capacity to retain information on an enormous range of subjects.
He loved sport, particularly hurling.
He played for St Gall's and rumour has it that his playing career ended when he was suspended for life. Which is no mean achievement.
In fairness, he always denied this.
He loved the countryside and natural things.
I remember being amazed away back in the early 1970s at his knowledge of trees, wildlife and especially birds.
He loved animals, particularly dogs. He and I had a hilarious experience one time trying to mate one of his dogs with one of mine.
He loved children and had a childlike ability to engage them.
He loved his own family very, very deeply.
Many, many times over the years he would speak to me of each one of them separately and individually with considerable pride after some event in their lives or some accomplishment.
He was especially chuffed as grandchildren and then great grandchildren started to arrive and he took huge interest in their progress.
It's always hard for families of activists, no matter how sound they are, because the activist is off doing what he or she wants to do while a partner, a spouse, is left to rear youngsters and look after family affairs.
I have huge time for Chrissie Keenan. The Keenan family are a credit to her and her love and resilience.
She reared her fine sons and daughters almost single-handedly. Is bean go h'iontach thú, Chrissie.
I have memories of times in Donegal in the 1970s when Chrissie and her young brood would be waiting up in Mulroy Bay or Gort na Brad for Brian to arrive for a few days' holidays.
Invariably he would be late; sometimes days late. And then he would appear like a whirlwind – by the way, Brian always drove like a lunatic. He would fly in and sweep them all off for a mad adventure. Then, all too soon, he would be away off again on his nomadic life's work.


He cared deeply about other republicans. Those who opened their homes to the IRA, who sheltered and protected them, had his abiding loyalty and affection.
He would travel a hundred miles or 500 miles to help a comrade in trouble.

When Tommy Devereaux was ill and in post-operation convalescence, Brian, who was hardly able to walk, went across the country to gee him up. He also had a huge affection for Anne Devereaux, who is here with us today.
He was greatly flattered to be honoured at the recent Le Chéile event and chuffed to meet so many old friends. In fact, he spent the last few months of his life renewing old acquaintances and touching base with other activists on a one-to-one basis.
But woe betide any activist who allowed ego or self-gain or elitism to undermine our struggle.
He also dealt with his illness in an amazing way. He fought cancer the way he fought all his other battles: with passion, total commitment and no sense whatsoever of self-pity. He said to me once: "Life owes me nothing. I'm very lucky."
In the days before his death he told some of us that he was very happy.
In these remarks I have tried to give some sense of Brian Keenan, the human being, the Irishman, a comrade, a friend.
Like others here, I could tell a thousand stories. Martin McGuiness or Paddy Doc could tell a thousand more.
Now I come to deal with Brian the IRA Volunteer – the revolutionary, the activist.


Brian was first arrested in 1964 during the Divis Street riots.
He was beaten and then taken to Hastings Street Barracks, where he was again beaten.
He was refused water to drink or to wash in and after a sham trial in which the late PJ McGrory demolished the RUC evidence, Brian was convicted and sentenced to three months in prison or a fine of £85 - a lot of money in those days.
Brian spent two weeks in Crumlin Road Prison before the money could be raised to have him released.
By this time he had also spent some years working in England where he was an active trade unionist and beginning to develop the class consciousness that was to shape his view of the world for the rest of his life.
After the Divis Street riots came the 50th anniversary of the 1916 Rising and then the start of the Civil Rights struggle.
In a recent interview in An Phoblacht Brian described his decision to join the IRA during this period:
"Anger and frustration about injustice brought me into the IRA... it was quite easy for me to join the ranks of Óglaigh na hÉireann and translate that militancy into a military response."
Initially, he was one of those – along with Joe Cahill and John Joe McGirl and others – who travelled the length and breadth of the island after 1969 searching out weapons to defend nationalist areas.
Inevitably, his boundless enthusiasm, his instinctive ability to encourage and motivate, and his natural talents as a leader and planner brought him ever-greater responsibilities within the IRA.
As a consequence he saw less and less of his family.
He threw himself into the struggle. And for almost a decade he played a pivotal role during what was a very dangerous and difficult time.


In 1974 he was arrested and imprisoned in Portlaoise on a membership charge. Along with others he plotted to escape and on the evening of 17 March 1975 the lights went out. Explosives were used to blow open a doorway into the yard. The gate in a wire enclosure was also blasted open with an explosive device. Unfortunately, a heavy lorry which was supposed to smash through into the yard for the men to escape became entangled in barbed wire.
IRA Volunteer Tom Smith was shot dead when soldiers opened fire on the prisoners. Six others prisoners were injured, including Brian, who was shot in the hand and leg.
Martin Ferris, who was there, tells it well.
"We could hear the engine fading at the other side of the gate and we knew then that the game was up. Brian was wounded but he was still running around trying to find a way out. In fact, himself and Kevin Mallon were trying to get behind the commanding officer of the Free State Army garrison to try and jump him and take the gun off him. They hadn't given up at that stage even though it was fairly obvious that we were going nowhere."
Brian was released a few months later.
In 1979, he was arrested and taken to England where he did his time mostly in the draconian Special Secure Units.
Níl spas agamsa inniu a caint faoi uair seo. Sin sceál eile.
During this period he showed a talent for landscape painting. I think his paintings were very good. But he bowed to Hughie Doc as a real painter. His were technically good, he said, but Hughie was a genius.
Even in prison he watched events closely and wrote to me very often. He never complained once. These years were also the years when Chrissie Keenan shone as an example of a strong woman in dire economic times facing the rigours of long journeys with children to a hostile place. This she did for 16 years.
In 1993, Brian was released and returned home to Belfast.
He immediately returned to activism.
By that point the Sinn Féin peace strategy was well developed and Brian was a vocal advocate of it in all of his conversations.
I know that at times of great turbulence within republicanism he defended me and Martin McGuinness and others the length and breadth of this island.
And this wasn't purely though personal loyalty although he was hugely loyal. It was because when he argued and debated the issues out within republican forums he always took and defended the line which those forums agreed upon.
For him it was always about strategy and tactics. The goals remained the same – a free, independent, united Ireland.
Seán Hughes put it well on Thursday when he said:
"Brian was a student of Tone, Connolly and Mellows. He knew that for struggle to be successful you have to bring the people with you and be able to adapt to any changing political situation.
"He believed – just as Connolly believed – in constitutional action in normal times, in revolutionary action in exceptional times."
Brian put it another way. He said for those in struggle who want to succeed: "Revolutionaries have to be pragmatic – wish lists are for Christmas."
But it will only be when the history of this period is properly written that the real extent of the key role Brian played can be told.
For now, let me say that he was central to securing the support of the IRA leadership and rank and file for a whole series of historic initiatives which made the Peace Process possible.
And for the sceptics within unionism, let me remind them that the recent watershed moments in our history, including the election of Ian Paisley as First Minister, would not have been possible without the work of Brian Keenan and his colleagues.
I was one of those privileged to work alongside Brian in developing responses to the many challenges that faced us in recent times. On behalf of that small group, let me say we will miss him dreadfully.


In the run-in to the special Ard Fheis on policing I was at numerous meetings with Brian. At one particularly pivotal discussion he made a few remarks which turned into a keynote address.
Brian was like that. When he mustered his thoughts and weighed up all the possibilities and got the measure of what could be done, his remarks were inspirational.
On this occasion he started off by saying: "My time in republicanism is coming to a close."
It became clear as he spoke with great passion and clarity that he saw this as one of his last big contributions.
So I wrote down what he said. And I think it's appropriate that the man who organised his own funeral should also contribute to his own oration.
Brian spoke about the fears and the hopes he had for the future, about the pitfalls and opportunities that may open up, about our strengths, about the strength of our opponents.
He always had an ability to deal with realities. That's what marks out the real visionary from the dreamer; the revolutionary from the verbaliser; the do-er from the theorist.
Struggle has to be embedded in the daily realities of people's lives.
He believed that what we had achieved thus far was mighty but he asked and I quote:
"Was it good enough? No. Why? Because the Brits are still in our country."
He went on.
"But we have made great advances. Strategically we have kept to our united Ireland objectives. We are working with the best people we could ever meet – people who have shown great courage and discipline and honesty. I am immensely proud of the young people coming up. I believe we will achieve our goals.
"I hear talk from some quarters about war. I will not lightly commit successive generations to continuous war.
"Armed actions were always about advancing and defending our struggle. Anyone else using violence for any other aim needs to be challenged.
"There is only one option. Republicans must go forward with the strength we have into government, onto new ground, building our political strength, changing our country.
"This is not about changing a flag. It is about a socialist republic. It's about a continuous, inexorable drive – a mobilisation – towards the Republic.
"That is our responsibility; that is our moral duty.
"Unity is our strength. We have a moral responsibility not to do anything that hurts our struggle.
"There will be many challenges. The DUP may not come forward. The Brits may mess about. But we have to keep going at them. We have to keep going."


Brian Keenan's dedication to the republican struggle was unswerving.
Brian loved the IRA.
He was passionate about his republicanism.
He was totally unselfish in his commitment.
He personified all that is sound about our struggle.
He was never a war-monger but he had a justifiable sense of pride in the IRA's ability to take on and fight the British Army to a standstill.
His pride wasn't in glorifying or glamorising war in some elitist sense.
It was pride in the ingenuity and talent and ability and courage of the mostly working-class men and women who rose up against a numerically stronger, much better armed and imperial military power.
But he saw the IRA as an instrument. His commitment was to the people and to the Republic. The Army was a means to that end.
He believed in the primacy of politics.
And he understood the need to build Sinn Féin as the vehicle of republican struggle.
His working-class politics and his republican and socialist principles were his constant guide through four decades of unstinting activism.
That was his hallmark plus an ability to attract and work together with other highly competent and talented men and women; to motivate and inspire and encourage.
When we last met, a week before he slipped into death, Brian was as ready as ever to give his assessment and to express his view of what republicans need to do, whether in terms of building the party in the South; the Lisbon Treaty campaign, or the DUP stalling on the transfer of powers on policing and justice.
He was a huge influence on us all. He would also be a little embarrassed by all of the nice things that have been said about him over recent days. But he would be very pleased.
Occasionally, particularly in stressful times, he would say to some of us, "I love youse to bits."  And so he did. So I am confident that he would not want us feeling sad or sorry for him or for his loss to our struggle.
That's why as part of his funeral he organised for the Roddy's to be open for any of you who want to go there and relax before heading home. There will be musicians. And drink. Brian wanted a celebration. He also told me to tell you all that Fra Fox is standing the first round.
Finally, a chiarde, Mairtín Ó Direáin in a tribute to Mairtín Ó Cadhain had a few focail suited to Brian Keenan. I think the poem is called A Tree Has Fallen.

Le fíoch ba minic a d'fhiúchais.
Truabhail do chleacht
A lion doracht gur scaoil.

Mura ndeachaigh namhaid ná cara féin slán
Ó aghaidh do chraois
Maitear a lán do rí an fhocail;
Maithfear duitse mar sin...

You often boiled with fury,
Your tradition's dereliction
Swelled your heart to bursting.

If neither friend or enemy escaped
Your abrasive tongue,
Much is forgiven the king of the word:
Much will be forgiven you...

Brian only looked forward to the future. And that's what he would want from us. To look forward. To the future.
Slán, Brian, a stór. Slán.