29 May 2008 Edition
UFF/NF graffiti in North Derry condemned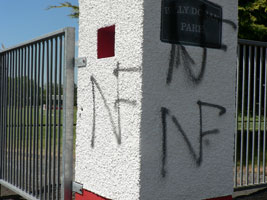 THE people of Drumsurn woke on Sunday to find sectarian vandals had been at work in the early hours in the small North Derry village.
Graffiti saying "UFF" and "NF" had been sprayed over the entrance to the local GAA club, St Matthew's GAC, which had recently been revamped with the addition of a plaque in honour of deceased clubman Billy Doran.
The road signs welcoming travellers into the village were also defaced with graffiti and a phone box and bus shelter which appear to have been smashed up as part of the same incident.
Local Sinn Féin Councillor Brenda Chivers said:
"It is an outrage that this sort of behaviour has occurred in Drumsurn and is to be utterly condemned.
"The letters 'NF' and 'UFF' are repeated several times and appear to refer to the National Front and the Ulster Freedom Fighters.
"This is an extremely worrying development. The GAA is a sporting organisation which, particularly in small rural areas, is often the hub of the community, providing a great service, particularly for young people.
"The local club is a shining example of this, run by some very dedicated members.
"Drumsurn is quite a peaceful area in which all sections of the community live in relative harmony, and we do not need this type of behaviour in the village.
"These people have nothing to offer society. If anyone witnessed anything suspicious in the area in the early hours of Sunday morning they should contact the PSNI directly or through myself."