10 April 2008 Edition
Media View
Eoghan Harris gets a bloody nose

IF you have feelings, prepare to emote. One of the chief casualties of Bertie Ahern's resignation is Sunday Independent columnist and former Workers' Party and Fine Gael guru Eoghan Harris, appointed to the Seanad last summer by Ahern for services rendered.
Harris will remain in the Seanad but his hotline to the Taoiseach will end with Brian Cowen's arrival and Harris will no longer enjoy that almost sexual frisson he experiences whenever he is close to power.
In a psychological ploy designed to deflect criticism of the undemocratic payback that his Seanad appointment represents, Harris has taken to boasting that he was rewarded for his constant support for Ahern over 20 years. However, on the day of Bertie's resignation statement, Harris was ambushed on RTÉ's Drivetime programme by Phoenix Magazine editor Paddy Prendiville. Harris began his usual whine about a media conspiracy against Ahern when Prendiville pointed out that Harris had, over many years, abused and insulted Ahern ('a sectarian with no character and no substance' and someone whom, Harris said, a week before the election was called, that he would not vote for).
The Phoenix editor pointed out that the Sunday Independent and Harris had changed their line to one of support for Fianna Fáil only after Tony O'Reilly had received a visit from Brian Cowen and Bertie Ahern just a few days before the election was called – something that Caoimhghín Ó Caoláin quizzed the Taoiseach over in the Dáil shortly afterwards.
Harris imploded into a tantrum of snarling abuse, referring to lies from that "nationalist rag" (The Phoenix) before presenter Mary Wilson stepped in to prevent further self-harm to the Harris psyche. Harris also received a bloody nose from Eamon Dunphy shortly before the election on the Late Late Show.
Then the audience was reduced to helpless laughter when Dunphy (himself a former Sindo columnist) mocked the notion of the Sunday Independent as being a serious newspaper, an interesting response that should cheer people who fear that thousands of readers are heavily influenced by that 'anti-nationalist rag'.




THE near-death experience of a Celtic supporter who had his throat slashed by loyalists and neo-Nazis chanting "Combat 18" after the Linfield v Cliftonville Irish Cup semi-final is probably a trivial matter to those South Dublin professionals who read The Irish Times. But even worse is the usual deliberate sanitising of such incidents by the paper's Northern  editor, Gerry Moriarty, with the well-worn line inspired by the 'pair-of-them-in-it' school of political philosophy.
A serious assault by a gang in black mufti and baseball caps with a strongcore of English 'visitors' chanting neo-Nazi slogans culminated in the Union Jack-waving gang assaulting a Catholic man in Belfast city centre.
A wealth of detail about events before and during the attack was available to illustrate the planning that went into this near-fatal attack and its extreme right-wing political overtones but Moriarty described the incident as "trouble between rival football fans" in a report of just four sentences.
Only readers of An Phoblacht were provided with an accurate and realistic report on the murderous attack as the Establishment press (the Indo reported in similar fashion) deliberately censored the reality of Northern loyalist attacks against Catholics in a Southern media pattern of censorship that has existed for nearly 40 years.



MUCH, much greater space was devoted to what Irish Times columnist Fionnuala O'Connor seems to believe is the impending political demise of Gerry Adams.
In a week that saw the Sinn Féin president as the last man standing from the political generation of party leaders that negotiated the Good Friday Agreement, O'Connor was bleating hopefully that Adams too would soon fall from the stage. Apparently, when Bertie made his resignation statement, "The impassive Adams perhaps (perhaps?) showed a tremor – though probably more of premonition than empathy."
Apparently, the "faithful" are whispering that Adams is close to political extinction like the others mentioned because (a) the Peace Process is successful; (b) Martin McGuinness is stealing his thunder; (c) Sinn Féin is not shining at Stormont (I know, I know – you'll just have to work it out for yourselves); and (d) the PSNI cannot deal with the hoods in Belfast.
O'Connor's wishful thinking was best underlined by the total absence of any evidence in her article but Fionnuala studies Gerry's physical profile closely in what appears to be an unhealthy obsession with the Belfast man.
An Phoblacht Magazine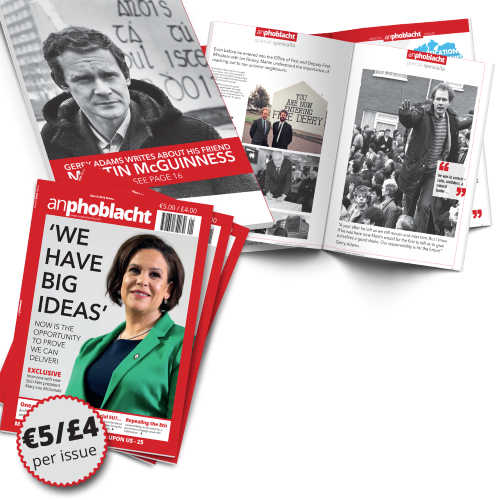 AN PHOBLACHT MAGAZINE:
The first edition of this new magazine will feature a 10 page special on the life and legacy of our leader Martin McGuinness to mark the first anniversary of his untimely passing.
It will include a personal reminiscence by Gerry Adams and contributions from the McGuinness family.
There will also be an exclusive interview with our new Uachtarán Mary Lou McDonald.
test