10 April 2008 Edition
Taking Back Our Communities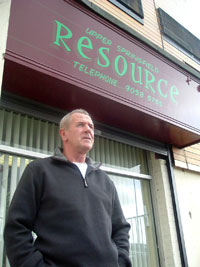 Empowering the community
The Upper Springfield safer neighbourhood FORUM

By Laura Friel

LIFE in the Upper Springfield area of west Belfast has never been easy. As a working-class area, it has always endured multiple social deprivation. As a predominantly Catholic area it is only just emerging from decades of sectarian discrimination and, as a nationalist area, years of British military occupation.
In 2006, despite political progress and the ongoing Peace Process, the area was faced by an unprecedented upsurge in anti-social and criminal behaviour. What began as a dispute between two local families escalated into a wave of criminality that included serious assault, arson and robbery.
Out of this emerged a strategy that has not only been successful in rolling back a tidal wave of criminality and fear in Upper Springfield but is being used as a template for other neighbourhoods throughout greater west Belfast and further abroad.
"We've also been talking to other communities, in the Shankill, North Belfast, Newry and South Armagh"  Marshall Mooney, co-ordinator of the Upper Springfield Safer Neighbourhood Forum said. "It's a strategy which could be used across the Six Counties and rolled out 32-County-wide to empower communities throughout Ireland."
Speaking about the experience of the Upper Springfield out of which the strategy evolved, Marshall described the specific events that led up to the initiative.
"The initial dispute acted as a catalyst and the area just imploded. At one stage houses were being attacked and burned to the ground night after night. The level of fear within the community was reminiscent of the 1970s, at the height of the Troubles. A relatively small number of anti-social and criminal elements were wreaking havoc within the area and the community was terrorised.
"The strategy was initiated by Gerry Adams's office and the late Michael Ferguson MLA. From the outset it was about demanding accountability from statutory bodies with a responsibility to the community." 
Under the auspice of Gerry Adams's office, a task force involving all the statutory bodies, including the Belfast City Council, Housing Executive, social services, probation, youth justice and community groups such as the Safer Neighbourhood project, Community Restorative Justice and elected politicians was established.
"Of course, republicans and local community activists were to the fore to deal with the initial onslaught but at the beginning we were literally fire fighting," Marshall recalled. "We were standing between violent criminal elements and local residents and at times in situations where we were risking serious injury.
"Over one Easter weekend – we call it our Good Friday Disagreement – the situation began to spiral so out of control that to avoid possible fatalities we had to take the decision to withdraw. It began with a truck being smashed into a wall of a house and the building started to collapse.
"Concerned about public safety, we arranged with the Housing Executive to have the building immediately demolished and put around 60 activists on to the streets to ensure the safety of the demolition team.
"But in confronting serious criminal gangs we were severely restricted in what we could actually do to deter them. When two serious criminals arrived at the scene armed with machetes and other weapons, we had to take the tough decision to withdraw and avoid a serious confrontation.
"What made the situation worse was that the PSNI was sitting around the corner in Land Rovers but made no attempt to intervene. It became clear that for any strategy to be successful the PSNI must be compelled to play their role in dealing with criminal behaviour and held accountable when they failed."
At the macro level, Sinn Féin as a party had endorsed policing arrangements in the Six Counties and began the process of holding the PSNI to democratic accountability through the mechanisms of the Policing Board and district policing partnerships.
But, at local level, people were still very reluctant to deal with the PSNI and there was still a high level of distrust.
"Hardly surprising given the experience of the Northern nationalist community and policing in the past," said Marshall.
"It became clear we needed a process of enablement, to empower local people to initiate and shape policing, as well as mechanisms of holding the PSNI to account within their own areas. The Safer Neighbourhood initiative provided a mechanism through which people who are reluctant to deal with the PSNI directly can report crime and initiate action.
"Working together as a community rather than individuals, as well as working with a wide range of statutory agencies, ensures a greater level of accountability."
In June of last year, Gerry Adams's office facilitated a meeting between local community representatives and senior PSNI officers, including Hugh Orde. The PSNI agreed to meet the policing needs of the community as defined by the community. "We mobilised residents' groups in 13 areas to give that definition of policing needs greater demographic input," Marshall added.
The project is also working with the NIO Community Safety Team and, more recently, the Public Prosecution Service.
"By taking a proactive role in challenging bail or monitoring bail conditions, we have effectively put a spoke in 'revolving door justice' whereby, even when criminals were being arrested and charged, the courts were simply letting them back out on the streets.
"Now by evoking a legal requirement never previously used by anyone, which compels the court to take into consideration a community impact assessment, we can go to court and oppose bail or argue for stringent conditions. We can also let the courts know when bail conditions have been broken," Marshall said.
Has it worked?
"You bet! Of course, no strategy is perfect and maintaining the process involves a lot of hard work and ongoing commitment by many people but it's worth it. It's about empowering the community and active citizenship. According to the PSNI's own statistics, crime in the area has fallen by more than 50 per cent and that's against the backdrop of more crime being reported.
"To put it another way: for the last two years I've lived in running shoes, waiting to respond to trouble at any time. Now, in the evening, you might even find me in my slippers."
Meeting Limerick's crime wave
LIMERICK CITY often features in the news for all the wrong reasons.
Moyross, Southill and St Mary's Park are names well-known not just in Limerick but throughout the whole of Ireland. For an outsider it must seem like we are a crime-ridden city best avoided. However, the reality is that Limerick has always been and remains a very class-divided society.
Alongside large sections of the city with relatively low levels of criminal activity there exist huge pockets of social deprivation where crime is rampant. Recent research has shown that children from Moyross, St Mary's Park and Southill estates are up to 30 times more likely to end up in court than children from more privileged areas. Limerick has a long-running gang feud which has resulted in numerous lives being lost, including two deaths this week – a gang land killing on Saturday and another victim of the fued whose body was discovered on Monday as I write this article.
This comes at a time when we see figures showing we have the highest level of gun crime per capita with levels five times greater than those of Dublin.
The vast bulk of this crime is related to gangs of criminal families as they battle to control the lucrative drugs trade. Little over a week ago, the Minister for Justice, Brian Lenihan, said the situation in Limerick is a "tinderbox" that could explode at any moment. He also stressed the urgent need to confront the gangs who have "poisoned life" in Limerick.
Whilst gun and drug crime and gang feuds make the headlines, what affects the daily lives of many more people in Limerick is low-level crime or, as it's often referred to, "anti-social behaviour". This is the major crime that impacts daily on people's lives. We in Sinn Féin recognise that this "anti-social behaviour" feeds into all the other forms of crime in the city, creating a dangerous culture where fear and crime become an aspect of daily life.
Locally, we refused to ignore these problems and did our best to bring the situation to the attention of the relevant authorities. In the Moyross Estate, for example, we set out a number of proposals around providing services, education and family supports, estate renewal and tackling unemployment, all with a view to combating crime and social disorder.
In September 2006, two young children were severely injured when they were subjected to a horrific petrol bomb attack on the estate. Finally, a stunned Irish public forced the Government into action. It was also around this time that we began to engage with the local police to express our views and suggest ways forward.
The Government appointed former Dublin City Manager John Fitzgerald to tackle  Limerick's 'problem estates'. He produced a report to which Sinn Féin made a detailed submission. The report incorporated the vast bulk of our recommendations. That report has led to possibly the biggest regeneration scheme that Ireland will see and could ultimately involve the demolition of more than 2,000 houses and the regeneration of four of our most troubled estates.
So how do we get results and effect change? We were quite aware of our limitations, as to what we could achieve. For instance, we have no local city councillors, neither do we have a place on the Joint Police Committee. However, we felt we had to try something and we took an idea from the 2008 Garda policing plan.
An interesting provision contained in the plan relates to public order problems and anti-social behaviour. The gardaí intend, in consultation with elected representatives, community and statutory groups, to identify local public order and anti-social behaviour 'hot-spots'. Specific operational plans will be formulated in response and will be kept under weekly review.
We selected two local areas as a testing ground for this scheme. Our approach to the Garda was successful and I was given written assurances from the chief superintendent that both areas would be included in the Limerick policing plan for 2008.  Whilst time will tell, I hope the inclusion of these areas will result in real benefits for the local community.
Drugs and drug-dealing are often at the root of many of the city's problems. We have continued to lobby for the 'Dial to stop drug dealing' scheme to be introduced in Limerick. This scheme – which was piloted in Blanchardstown, in Dublin – is needed because many people simply don't trust or have confidence in the Garda. I firmly believe that if people have access to an anonymous, confidential, non-Garda phone line, they will feel far more secure and will use it to provide information about drug-dealing in their areas.
One of the difficulties people have is interacting with the various Government agencies to get action on relatively minor issues like graffiti, illegal dumping, etc. Limerick has seen a pilot project of community wardens introduced who will provide a link between the community and other agencies such as the Health Service Executive, the Garda and Limerick City Council. Their role includes door-to-door visits in targeted areas. They have the potential to be quite effective and we will continue to engage with them.
The problems confronting our city are not unique and no magical solution exists to make them disappear. What is needed is more community policing to develop proper links and develop trust with the community. We also need gardaí who are representative of the communities they serve. Growing up, I never knew a Garda from my estate or neighbouring Moyross. It is clear that the urban working class is virtually non-existent in the ranks of the gardaí and this must change. There also needs to be a roll-out of restorative justice programmes such as the one being trialed in nearby Nenagh, programmes which put the victim at the centre of the process and force the offender to see some of the results and make some reparations for their crimes. The provision by the city and county councils of leisure and sporting facilities, especially for our young people, is essential. CCTV should be rolled out throughout the city as part of a plan to tackle crime and anti-social behaviour as part of a new approach to the growing drugs problem, especially the rapid growth of heroin misuse.
Much of the crime in Limerick is low-level. A targeted response allied to tackling the underlying causes of these issues can yield positive results. It is up to all of us in Sinn Féin to use the political clout we have to continue to work to force the relevant authorities to deliver safer communities where people can live proudly and safely.
An Phoblacht Magazine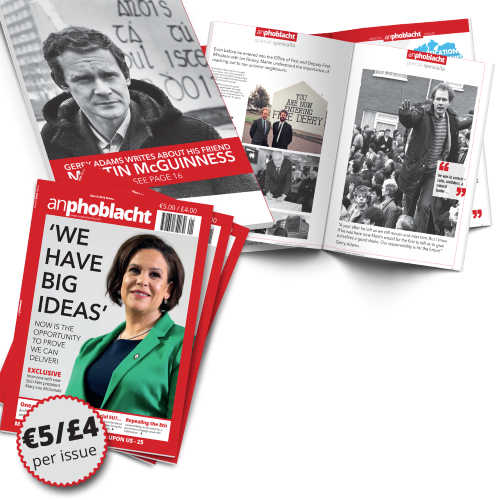 AN PHOBLACHT MAGAZINE:
The first edition of this new magazine will feature a 10 page special on the life and legacy of our leader Martin McGuinness to mark the first anniversary of his untimely passing.
It will include a personal reminiscence by Gerry Adams and contributions from the McGuinness family.
There will also be an exclusive interview with our new Uachtarán Mary Lou McDonald.
test