13 December 2007 Edition
Homeless deaths highlight state's failure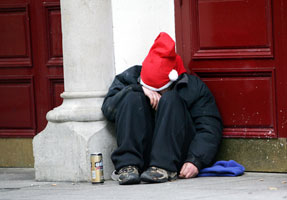 THE revelation by the Simon Community that at least 55 homeless people died in 2006 demonstrates the Government's failure to eliminate homelessness and address the housing and health needs of the homeless, according to Sinn Féin Housing spokesperson Aengus Ó Snodaigh TD.
The Dublin South Central TD said:
"Many of these people were in the prime of their lives – the average age of those who died was only 42. This is a disgrace.
"That in Ireland, one of the wealthiest countries in the world, government is failing to make any significant progress towards the elimination of homelessness is a shameful indictment of their social policy priorities."
He said that the services simply have not been put in place to address the needs of homeless people – including health and mental health services, and drug rehabilitation facilities.
"Last week's Budget did not deliver on these issues. It is all too clear that there is no will to tackle homelessness or the underlying causes of homelessness. The Government is continuing to fail the most vulnerable."