13 December 2007 Edition
INTERNATIONAL : Bali conference on climate change ends
A matter of life or death
CLIMATE CHANGE is not about economics but people. For the past two weeks this month, government representatives from around the world have been meeting in Bali, Indonesia, to decide on the future of earth and humanity.
They were talking about devastating floods and fires, destructive hurricanes and droughts and their consequences, namely hunger, disease and economic hardship. These are very real expressions of the man-made disease known under the abstract name of climate change. This  has been the first such meeting since the Intergovernmental Panel on Climate Change (IPCC) warned that evidence for global warming is "unequivocal" as are the links of this to human activity. Earlier this year, the IPCC published its Fourth Assessment Report (A4R), in which it projected that the world would warm by 1.8-4.0C (3.2-7.2F) over the next century.
The governments have debated how to help poor nations cope in a warming world as, again, they are the most affected by the impact of pollution. However, disagreements over responsibility for tackling climate change have again erupted. While the EU and developing countries want industrialised nations to start talks on a further set of emissions targets, a number of parties, led by Canada and the United States, resist any responsibility for climate change and finding a solution to global warning. Mostly, this second grouping of polluters is resisting any curbs on their pollution economic practices to reduce the impact on climate. Ahead of the meeting, US President George W Bush – who favours voluntary rather than mandatory targets – issued a statement saying that America's emissions have fallen by 1.5 per cent in 2006 from levels in 2005. However, he announced his administration will resist any imposition on targets. On the other hand, the European Union backs the use of binding targets. The 27-nation bloc has already committed itself to cut emissions by 20 per cent by 2020.
The annual high-level meeting, organised by the UN Framework Convention on Climate Change (UNFCCC), is under pressure to deliver a new global agreement on how to cut rising greenhouse gas emissions. Recent studies show that levels of carbon dioxide in the atmosphere are rising faster than they were a decade ago.
UNFCCC Executive Director Yvo de Boer urged the international community to use the summit to take "concrete steps" towards curbing climate change. "We urgently need to take increased action, given climate change predictions and the corresponding global adaptation needs," he said in his welcome message to delegates.
In the context of climate change, projections of economic growth and increases in energy demand over the next 20 years, especially in developing countries, point to the urgent need to green these trends."
US resistance to any commitment is the main obstacle that Rachmat Witoelar, the Indonesian Environment Minister who was named president of the conference, will have to sort to fulfil his pledge to deliver a policy roadmap for 'Kyoto II'.
"Climate protection must form an integral part of sustainable economic development and it is critical that we act and we act now," he said.
While big economies have gone to Bali with their own agenda – protecting big business – those more affected by the effects of climate change have their own subsistence in mind. For example, Caribbean and other small island states want the focus on climate change to be on people.
They passed a declaration at a previous meeting in the Maldives saying that climate change threatens the fundamental right to a safe, secure and sustainable environment. It is not just peoples living on small islands who are exposed to the effects of climate change – look at the people affected by last summer's flooding in Britain, fires in California, drought in Australia, or hurricanes in the USA.
Member countries of the Association of Small Island States believe the essential climate change message is being lost in a sea of technical data: the effect that climate change has in people's subsistence and livelihoods.

An Phoblacht Magazine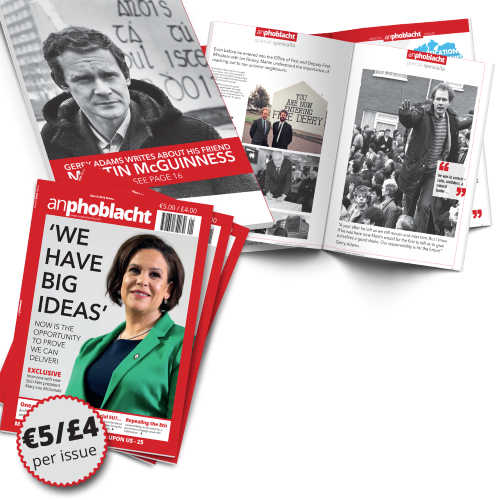 AN PHOBLACHT MAGAZINE:
The first edition of this new magazine will feature a 10 page special on the life and legacy of our leader Martin McGuinness to mark the first anniversary of his untimely passing.
It will include a personal reminiscence by Gerry Adams and contributions from the McGuinness family.
There will also be an exclusive interview with our new Uachtarán Mary Lou McDonald.
test