6 December 2007 Edition
€1.75 billion shortfall shows tax cuts were never viable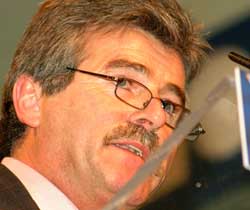 SINN FÉIN'S spokesperson on Economic Affairs, Arthur Morgan TD, said that the '2008 Estimates of Receipts and Expenditure' in the 26 Counties shows that the party was right to oppose unviable tax-cutting promises made by Fianna Fáil and other parties in advance of the general election.
"The 2008 Estimates of Receipts and Expenditure states that tax receipts are now forecast to be €1.75 billion below the 2007 Budget day target," Arthur Morgan said.
"These figures further reinforce the correctness of the argument made by Sinn Féin in the run-up to the election that, with the slow-down in economic growth and the developments in property and construction, the Government could not afford to cut taxes."
The Louth TD said that maintaining healthy public finances must underpin the Government's approach to Budget 2008 this week.
"If public finances are not kept in a healthy state it will not be in a position to ensure that everyone's basic needs and rights to housing, health and education are met in the years ahead. The lack of accuracy in projecting the tax-take over recent years causes real difficulty in planning for the future.
"The failure to recognise the implication for tax receipts of a widely-predicted decline in the construction and property sectors, despite the reference to these implication in tax strategy papers prepared for the Department of Finance, raises questions about the competence of the Government on budgetary matters."
Sinn Féin has called for Budget 2008 to focus on sustaining economic prosperity, ensuring everyone benefits from economic growth and particularly on improving quality and capacity within public services.
Morgan said that republicans will judge the Budget on the extent to which the Minister for Finance delivers on these issues and on a number of key public service spending demands which Sinn Féin has set out.