8 November 2007 Edition
Meehans targeted by so-called 'dissidents'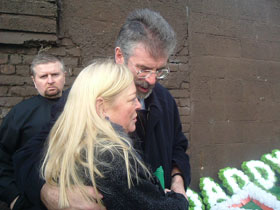 On the night before he died, two suspect devices were found at the home that veteran republican Martin Meehan shared with his wife, Sinn Féin Glengormley Councillor Briege Meehan.
The finds, on Friday, 2 November, follow recent reported death threats by so-called 'dissident republicans' targeting Briege Meehan and a number of Sinn Féin councillors in North Belfast. It is the fourth time in two weeks that Meehan has been targeted. The devices were declared hoaxes.
Giving the oration at Martin Meehan's funeral in Belfast on Tuesday, Sinn Féin President Gerry Adams said:
"Just days before Martin died I had occasion to phone Briege. She had just been told by the PSNI that she was under death threat. In the week before he died Martin was told of threats from those purporting to be republicans. On the night before his death he was outside his home looking for bombs after a number of bomb threats.
"I certainly don't want to raise the temperature on this issue but I think it's a disgrace that this family should be victimised by those who have no popular support whatsoever and not even the pretence of Martin and Briege's record of activism.
Speaking after the finds at her home Briege Meehan said: "Obviously we have to take these threats seriously. But no threat will stop me from representing the people from this community who voted for me.
"Those behind this campaign need to reflect long and hard about their position. They have joined the ranks of those, including the British State and their surrogate loyalist gangs, who have threatened Sinn Féin public representatives and members. These threats and campaigns of violence against our party failed in the past to stop us representing the people who elect us and they will continue to fail in the future."
South Antrim MLA Mitchel McLaughlin added:
"In recent weeks five Sinn Féin councillors from North Belfast and Newtownabbey, including those who have been nominated to the local DPPs, received threats instructing them to resign.
"They have made it clear that they will remain on the DPPs.
"Briege Meehan is fighting hard within a unionist dominated council for the rights of nationalists and republicans. Yet these so-called republicans, who have done nothing to defend the rights of the people from this community, threaten her."