11 October 2007 Edition
Media View
Fianna Fáil's 'IT' problem
THE DEBATE in The Irish Times about Fianna Fáil's discovery of the Six Counties has not contained any cheap shots or sarcastic commentary about that party's belated and cosmetic reversion to republicanism. The so-called 'Republican Party' is no longer content to 'stand idly by', as declared 38 years ago by the then Taoiseach and Fianna Fáil leader, Jack Lynch, who certainly was not idle as he proceeded to repress Southern republicans while ignoring the pleas of Northern nationalists in the face of unionist pogroms and the British Army.
Lynch ended up as the patron saint of the PDs while Fianna Fáil continued his policy of verbal republicanism, abandonment of Northern nationalists and further repression in the 26 Counties. Now they want to organise in the North.
The reality of the Fianna Fáil move northwards, if it ever happens, is that it is a negative reaction to Sinn Féin's political success. This is proved by the debate in The Irish Times columns and letters page.
Readers may recall the scorn that political correspondents, most of whom could hardly find their way to the border, heaped upon Gerry Adams for his alleged failure to grasp every detail and nuance of Southern economics during the general election. One expects, therefore, a thoroughgoing analysis and detailed debate from the experts about the main government party's drive into the North.
Would Fianna Fáil's economic policies impact on taxation in the North? Would the party attempt to emulate its recent conversion to privatisation north of the border? Would that party hasten or retard cross border co-operation and accelerate moves towards a united Ireland? Will it bring any policy initiatives to bear on policing and render the PSNI more acceptable, etc, etc? Surely these policy issues and many more are being discussed in the debate about Fianna Fáil's new initiative? Not a bit of it. Discussion about the proposal is dominated by one single and over-riding preoccupation: how to outflank Sinn Féin.
The Irish Times editorial on the matter describes the move as "perplexing... premature and ill advised", arguing that it is motivated by the need to challenge Sinn Féin. The newspaper is not unhappy with this goal, but is definitely unhappy at the necessary consequences of such a move, namely that it would destroy the SDLP. And while Madam Kennedy finds Sinn Féin repellent, she is almost as appalled with those reprobates in Fianna Fáil.
Stephen Collins could not disguise his enthusiasm for the Fianna Fáil move and quotes, approvingly, the Fianna Fáil view that they can take on Sinn Féin in the North. No other reason for the initiative is cited by Collins, whose normal reaction to any Fianna Fáil proposal is one of scorn.
Correspondents on the letters pages of the IT are also disunited on the proposal; more specifically, they disagree on whether or not Fianna Fáil could damage Sinn Féin. There is not a single point of Fianna Fáil policy referred to by any of the above, merely the question of whether Fianna Fáil could take on Sinn Féin.
Fionnuala O'Connor, for long the voice of 'civilised' Northern nationalists and 'moderates' in The Irish Times, is worried about the Fianna Fáil proposal. This is because, like Madam Editor, she fears that Fianna Fáil will damage the SDLP and O'Connor warns of the blandishments of Dermot Ahern towards that party.
If the Southern media and political parties are even half serious about the creation of a 32-county Fianna Fáil, they will have to do a lot better than this. One looks forward with great excitement to the two Aherns, Brian Cowen, Mary Hanafin and anyone else, even Martin Mansergh, engaging in a leaders' debate in any Northern election with Gerry Adams and other Sinn Féin representatives. Policies? Who needs them? All the ignorant Northern electorate needs to know is that Fianna Fáil is not Sinn Féin. Perhaps it is the unionist parties who should fear Fianna Fáil.


A MORE RECENT column by O'Connor also revealed signs of political amnesia when she rounded on Sinn Féin double jobbers, i.e. those party MPs who are also MLAs. This is shocking news and O'Connor is seriously concerned at the voters' deprivation of extra political representatives. She even wrung her hands for those Sinn Féin colleagues who are denied jobs in the new political environment (this is what politics is about, isn't it – jobs for the boys and girls?).
You do not have to be that old to remember when the leader of the SDLP, one John Hume, the architect of all that is progressive on this island, was not just a double jobber, nor even a triple jobber, but a quadruple jobber. Hume was leader of the SDLP, a member of the European Parliament, a Westminster MP and a member of whatever Northern assembly or forum was in existence in any given period – at the same time.
Hume also hogged the lion's share of the serious money on offer to Irish politicians (of a certain persuasion) from the US lecture circuit, a rewarding and demanding exercise to which the SDLP leader applied himself with zeal and energy – his other commitments notwithstanding. There were, it must be said, noises of complaint at this multi-skilled operation from certain quarters. But they did not come from O'Connor at the time. However, other SDLP politicians, deprived of jobs and salaries, muttered jealous and unworthy sentiments about their leader and wondered if he might consider sharing out the goodies on offer.
What these colleagues meant by this was not, of course, the Sinn Féin practice of the party's TDs, MPs and MLAs ploughing back half their salaries into their constituencies. I wonder if Fianna Fáil plans to do this – North and South – when they become a 32-county party? Perhaps not.

An Phoblacht Magazine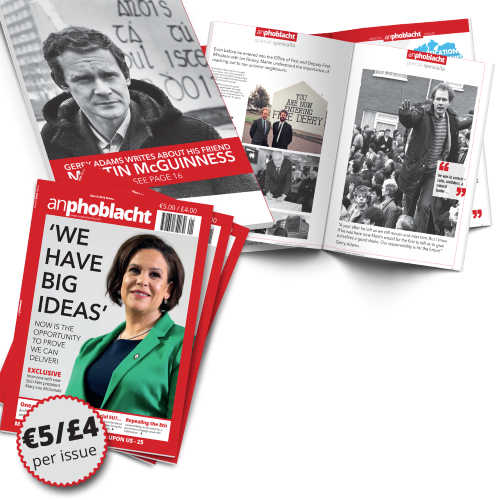 AN PHOBLACHT MAGAZINE:
The first edition of this new magazine will feature a 10 page special on the life and legacy of our leader Martin McGuinness to mark the first anniversary of his untimely passing.
It will include a personal reminiscence by Gerry Adams and contributions from the McGuinness family.
There will also be an exclusive interview with our new Uachtarán Mary Lou McDonald.
test