11 October 2007 Edition
The Mitchel McLaughlin Column
Irish language and unionist paranoia

A MOTION was tabled at the Assembly on Tuesday by Ulster Unionist MLA David McNarry calling for a ban on the use of the Irish language in the Assembly chamber. Now, at first glance, this could be viewed as paranoid ranting by a unionist politician who despises all things Irish and is uncomfortable with his own Irishness. But it needs to be examined in conjunction with a series of attacks on Irish culture by a succession of unionist politicians from both the UUP and DUP.
If these attacks were being directed by leading politicians against the Chinese, Indian or any other section of the population who speak a language other than English there would be a chorus of demands for their resignations. This anti-Irish motion by David McNarry follows on from the action of his party colleague and Minister for Health directing his department to stop issuing advertisements and statements bilingually – to drop the Irish and to use English only.
The DUP's Nelson McCausland and Gregory Campbell are particularly prolific in their anti-Irish outbursts. But every time they attack the Irish language and culture by claiming it is used as a political tool they actually reinforce the view that unionism is a philosophy of intolerance. That view, in my opinion, is true of only a minority in the unionist community.
I am sure that the supporters of that motion are aware that it not only contravenes Article 37 of the Assembly regulations but also the Good Friday Agreement and the European Charter for Regional and Minority Languages, which guarantees the right to speak and learn Irish. The fact that in the face of this Mr McNarry insisted on proceeding with this motion only reinforces the necessity for a rights-based Irish-language act in the Six Counties.
But I am convinced that there is a more fundamental driving force behind this anti-Irish crusade by some unionists. I think that some unionists believe that by embracing even the idea of equality for the Irish language and culture that, in some way, they would be diminishing their claim to be British. This only serves to highlight a sense of insecurity in their own avowed cultural identity. It also, sadly, means that the rich cultural and historical significance of a shared Gaelic heritage will be ignored by many within unionism.
Hopefully, unionists, by accepting or even embracing Irish culture, will not only contribute to a more inclusive society but will come to enjoy a better insight and understanding of other aspects of what is, after all, part of our shared heritage. Neither cultural influences are mutually exclusive. And Irish republicans and nationalists also need to make efforts to understand and accept those aspects of unionist culture that are similarly part of our shared history.
An Phoblacht Magazine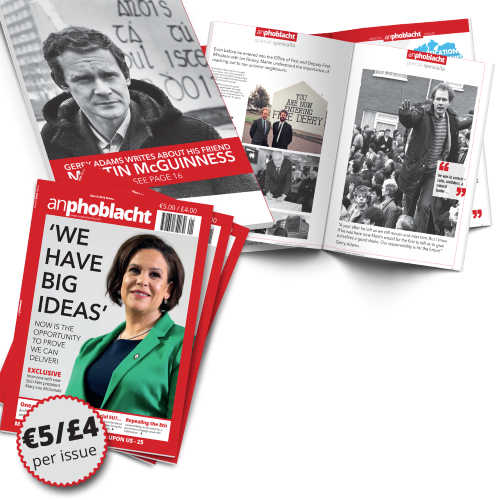 AN PHOBLACHT MAGAZINE:
The first edition of this new magazine will feature a 10 page special on the life and legacy of our leader Martin McGuinness to mark the first anniversary of his untimely passing.
It will include a personal reminiscence by Gerry Adams and contributions from the McGuinness family.
There will also be an exclusive interview with our new Uachtarán Mary Lou McDonald.
test