13 September 2007 Edition
The Matt Treacy Column
 Croke Park set for compelling All-Ireland contest
It is astounding to think that Joe Canning of Galway will be eligible to play under 21 for another two years. To date he has already won two minor All Irelands and an under 21 last Sunday, but he is not unique in that as so too have Kerril Wade, Paul Loughnane, Ciaran O'Donovan, Andrew Keary and Keith Kilkenny, and several more were on the panel in two of the successful years.
There have been very few hurlers to have accumulated so much at such a young age. Indeed you are talking about an elite that includes the likes of Kilkenny's Brian Cody and Kevin Fennelly and Seanie O'Leary of Cork. What people will notice about those names of course is that they also went on to enjoy great success at senior level. Galway will be hoping that that pattern continues and there is no reason why it should not be.
Galway were far too good for Dublin last Sunday and brought a level of experience and craft that Dublin could not match. Following their nine points demolition of Cork in the semi-final, there was probably no team that would have lived with Galway but whatever hope Dublin did have was extinguished by the concession of four first half goals, every one of which was the result of hesitancy and errors in the back line.
Dublin did keep battling and at one stage in the second quarter had scored five unanswered points to bring the margin within reach but Galway's fourth goal effectively killed the game as a contest.
For Galway there are now the intriguing possibilities presented by the availability of these players at senior level although the consensus appears to be that the likes of Canning should maybe be kept away from that for at least another year. It will be interesting to see what Ger Loughnane's opinion is on the subject. Just three of  Sunday's team started in Galway's quarter final against Kilkenny so the potential to strengthen the senior team is clearly enormous. Confidence is also growing that the 20 year hiatus since Galway's last All Ireland may not last much longer.
For Dublin the defeat was a salutary lesson regarding how daunting is the struggle to break through into the elite. It has been a hugely successful year in relative terms. Dublin have won the Leinster minor and under 21 championships and an All Ireland under 14. The senior team also retained its place in Division One and is well placed to build on the progress made to date. All we need to do now is ban football!
Speaking of football, the much anticipated meeting of Kerry and Cork takes place this Sunday. So the whole country will get to see what normally takes place in the discreet surroundings of Fitzgerald Stadium or Pairc Ui Caoimh. It will be no place for the faint hearted.
Kerry and Cork have a peculiar relationship when it comes to football. While the statistics – Kerry have 72 to Cork's 32 Munster titles – speak of a certain imbalance, the rivalry is intense and, a bit like Dublin and Meath, each will almost always give the other a good game no matter what their relative standing nationally might be at any given time.
There have been some ferocious encounters over the years and some classics. Even in years when Kerry were winning easy All Irelands, Cork were able to put it up to them. That pattern has pertained in Munster over the past number of years although the fact that Cork have failed to perform in Croke Park when meeting Kerry in three semi-finals since 2002 must be of some concern.
One suspects not to one William Morgan. A man of whom it can truly be said is consumed with Cork football and for whom a Kerry jersey bespeaks of unimaginable wrongs and injustices. On many occasions as a player and manager he has been on the losing side but it is the memory of the victories that keeps him going and there could be no greater triumph for Billy or Cork than to beat the old enemy in an All Ireland final in Croke Park in front of the whole world. It would be worth 40 Munsters.
His jaundiced view of Kerry will not have been assuaged by Jack O'Connor's recent biography in which, inter alia, he refers to Billy's "bellyaching" and accusing him of having "no grace" following Cork's defeat by Kerry in last year's semi-final. O'Connor's advice to him was to "grow up and take your beating."!
Oh lordy! I'd say that went down well in the Morgan household. Required bedtime reading and I can imagine that despite O'Connor no longer being manager that Sunday's match will be personal. A generation of accumulated hurt added to personal insult ready to explode in 15 red jerseys. Sure you couldn't miss it.
But will the passion and the steel be sufficient? The form book would suggest not. Monaghan put it up to Kerry. So did Dublin. Both came up short. The reason they did was that at vital stages Kerry had the class and the composure and resolve to sustain prolonged pressure and make the killing scores.
Cork will be no less relentless than Dublin in their pursuit of the prize but do they have the scoring prowess to match Kerry in the big spaces of Croke Park? Can they  reproduce the intensity and discipline that saw them dominate a Meath attack that some thought would overwhelm them?
On balance you would have to say no. But then again Cork might well have beaten Kerry in the Munster final and they have improved since and gained invaluable experience in the process. Kerry, on the other hand were definitely under the cosh for periods against both Monaghan and Dublin. Either team might have beaten them.
They didn't. Kerry won't panic at any stage so Cork will need an almost impeccable performance to come out on top. No-one, perhaps not even themselves, know whether they are capable of one. It promises to be a compelling contest. If Kerry win they will have earned themselves a place among the best. If Cork win it will constitute their greatest ever achievement in football. And if that is not motivation enough, I am sure the intense white haired man has other strings to his bow.

An Phoblacht Magazine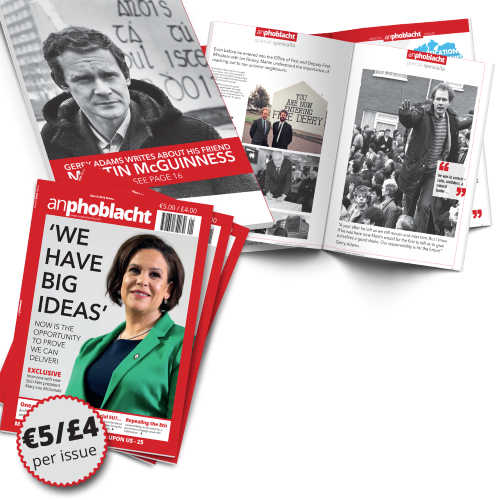 AN PHOBLACHT MAGAZINE:
The first edition of this new magazine will feature a 10 page special on the life and legacy of our leader Martin McGuinness to mark the first anniversary of his untimely passing.
It will include a personal reminiscence by Gerry Adams and contributions from the McGuinness family.
There will also be an exclusive interview with our new Uachtarán Mary Lou McDonald.
test