6 September 2007 Edition
New film part of Ógra Road Safety campaign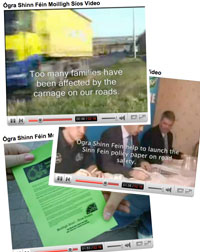 Ógra Shinn Féin have produced a short film as part of the 'Moilligh Síos' (Slow Down) campaign. The film can be viewed at
http://www.youtube.com/watch?v=yhTHzxuTnVY
The film initiative has been welcomed by Sinn Féin Spokesperson on Road safety, Newry/Armagh MLA Cathal Boylan.
"I welcome this latest new initiative by Ógra Shinn Féin to increase awareness on the major issue of Road Safety. We must use every opportunity to get the message out there on all aspects of road safety to our young people as they are the drivers of the future. This new short film that has been produced will hopefully be part of that process", Boylan said.
"We also need to look at how we change driver behaviour through education and driver testing, we need to look at how we effectively enforce road safety and we need to look at how we can make our roads safer. Young drivers need to know you don't have to speed just to be "cool" behind the wheel of a car."
National Organiser of Ógra Shinn Féin Barry McColgan said:
"The short film is part of the current 'Moilligh Síos' (Slow Down) campaign by Ógra. As a youth organisation, we aim to promote road safety and use our young activists as peer leaders, engaging with the broadest section of Irish youth on this serious issue which is the second biggest killer of our young people.
"Obviously this campaign will be primarily based on street politics and face to face engagement, but with the growth of the internet and sites like YouTube and Bebo we will also be promoting road safety across these forums.
"I would encourage everyone to view the film and to help spread the message of the 'Moilligh Síos' campaign by passing it on to all friends and putting it up on their bebo pages", he said.