6 September 2007 Edition
EPA report shows Irish global warming double the global rise
Ireland's climate change challenge
BY ROBBIE SMYTH

Any doubts about the impact of global warming on Ireland's weather were ended last week with the publication of a ground-breaking report on climate change on the island.
The most striking aspect of the Environmental Protection Agency (EPA) report on meteorological indicators was that, since 1980, temperature increases in Ireland have been double the global average.
Ireland today is wetter and hotter than it was 30 years ago. And it's in danger of both flooding and water shortages in coming years with the real threat of soil erosion across the island. We could be creating a new dustbowl.
Regionally it means that, in climate terms, Ireland is under threat from the negative effects of global warming more than any other European country. The EPA report is a serious wake-up call for those who either doubted that climate change was happening at all and those who saw the need to reduce carbon footprints and green house gases as only an aspiration.
There is now an imperative to tackle greenhouse gas and carbon emissions. The Dáil and the Northern Assembly now have to act locally on the island to reduce carbon emissions while becoming much more active international advocates for a cleaner, greener planet.
The report's authors, Laura McElwain and John Sweeney, work at the Irish Climate Analysis and Research Units (ICARUS) on the National University of Ireland's Maynooth campus.
They collected daily temperature and rainfall data from meteorological stations across the 26 Counties over the last century and compared the patterns of Irish weather data with international indicators.
International temperature trends over the last 100 years have thrown up two distinct periods of global warming. The first was from 1910 to the mid-1940s and again from 1980 to 2004.
It is in the period after the 1940s that Ireland begins to display its own distinctive global warming pattern. While mean temperatures globally fell after the end of the Second World War, it took Ireland longer to cool, but more important has been the second period of warming beginning in 1980. McElwain and Sweeney found that global warming in Ireland has been growing at a much faster rate than the global temperature increase.
They also found that rainfall has increased on the western and northern coasts of Ireland, with more intense and longer periods of rainfall which they believe may "provide a cause for concern as they may have a greater impact on the environment, society and economy".
For example, four of the wettest five years on record at Malin Head were recorded since 1990. The increased and more intense rainfall has implications for river flood management and infrastructural provision with the possibility of floods in the winter and water shortages in the summer. Summer droughts could lead to soil erosion.
Other EPA studies have found that Ireland could face water shortages over the next 20 years, particularly in the Dublin and the south-east regions. According to the EPA, Dublin has only a single source of water and is running within 1% of capacity.
Speaking at the report's launch, John Sweeney said:
"We're putting people where we have the least water availability and also where climate change will further squeeze them in terms of less rainfall in the future."
While increased rainfall was one aspect of the report's findings, more heat waves was another. McElwain and Sweeney write that heat waves are "a cause for concern" because of their impact on, "human health, agriculture and water supply". They predict that, in coming years, heat waves "may increase in severity, frequency or duration".
On the whole, the two climate researchers concluded:
"Ireland is warmer, with warmer nights and fewer cold days. The west south-west and north are wetter, with more frequent and more intense rainfall."
This report shows that we need urgent action now on climate change and a reversal of long-standing government policies, particularly on the growth in car use, which is the highest in the world today, with more journeys taken by Irish people daily than any other state. There is a need for massive investment in public transport and an end to the sham of emissions trading.
It must be recognised that the type of economic growth that took place in the last two decades in Ireland could have been a contributing factor to the island's unique climate change figures, particularly the mass construction growth and cement production.
If we map the last half-century of economic activity in Ireland onto the climate change figures we come into an interesting scenario. For example, as the Irish climate cooled more slowly than the global mean there was a mass urbanisation of Irish society more pronounced than any other industrialised country. And as the pace of global warming increased in Ireland in the 1990s, so did the level of economic activity.
In the same period as Ireland's average temperature rise was double the global average, our level of economic growth was the highest in the industrial world. We are the architects of this island-wide climate change crisis.
The coming years will be crucial in meeting this climate change challenge.

EPA Climate Change Report Findings for Ireland
(1)    Ireland's mean annual temperature has increased by 0.7 degrees Celsius since 1890.
(2)    The increase since 1980 is 0.42 degrees Celsius.
(3)    Six of the ten warmest years on record have occurred since 1990.
(4)    There has been a reduction in the number of frosty days and a shortening of the frost season.
(5)    Annual rainfall has increased on the north and west coasts, with periods of heavier and longer rainfall recorded.
(6)    There has been slightly less rain on the east coast.

Intergovernmental Panel on Climate Change (IPCC) 2007 report findings on global warming
(1)    Average global temperature will increase by between 1.8 and 4.0 degrees Celsius over the 21st century.
(2)    Maximum temperatures on hot days will increase and the number of hot days themselves will increase.
(3)    Rainfall will increase in the northern hemisphere, with more intense rainfall occurring.
(4)    The present-day retreat of mountain glaciers will continue
(5)    Global average sea levels could rise by between 18cm and 59cm over the present century.

An Phoblacht Magazine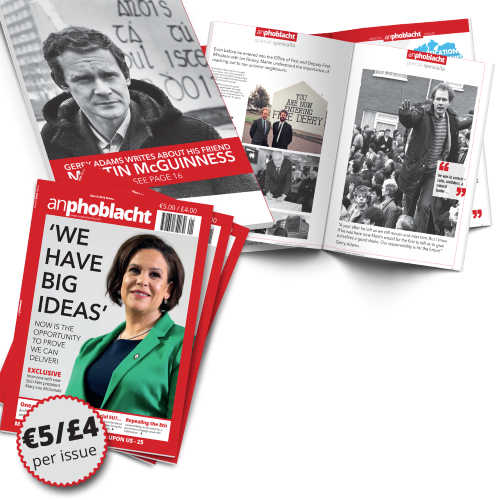 AN PHOBLACHT MAGAZINE:
The first edition of this new magazine will feature a 10 page special on the life and legacy of our leader Martin McGuinness to mark the first anniversary of his untimely passing.
It will include a personal reminiscence by Gerry Adams and contributions from the McGuinness family.
There will also be an exclusive interview with our new Uachtarán Mary Lou McDonald.
test