16 August 2007 Edition
The Matt Treacy Column
No parade on the Pana
Apart from a group of Derry young fellas marching down the Clonliffe Road chanting "Free State scum" – which I'd imagine was in the way of ironic and friendly banter – relations between the blue and red last Saturday were cordial. In the extreme in fact given that the Hill gave the Derry team a huge ovation as they left the pitch. Don't recall ever seeing that before!
It was a tribute to a team that put it up to Dublin and were part of an exciting open game of football that Derry might have pulled out of the fire at the end. So I suppose the acclaim of the Dublin supporters was also born partly of a sense of relief.
The team itself will be pleased to have cleared a potentially hazardous obstacle and unusually will now be afforded the extremely rare luxury of being able to prepare for a match that most people expect them to lose. Already Kerry people – with the notable exception of some around these parts who can't hide their basic contempt for the Dubs! – are talking about Dublin being favourites and poor old Kerry not having a chance.
Don't believe a word of it. Deep down there is hardly a Kerry person on the face of the earth who does not believe that Kerry will beat Dublin. As they do most times they meet, and as Kerry do when they meet most teams at this stage of the championship. Out of   70 semi finals they have contested, Kerry have won 52. That's a strike rate of 74%. Sure it's almost a waste of time trying to beat them.
Still, Dublin might tog out just for the day that's in it.
Kerry's match with Monaghan will certainly have tested them and they were forced to call upon all of their reserves, and probably rode their luck a little bit, in order to survive. But survive they did and despite concerns over the vulnerability of the defence in the absence of Moynihan and McCarthy and an injury to Paul Galvin, they will improve.
That is to take nothing from Monaghan. They played some excellent football and employed the right tactics to disrupt Kerry's game plan. Their marshalling of Donaghy was effective for the most part and if they had one flaw it was perhaps a certain naivety in the latter stages which saw them hand vital possession to Kerry when they might have taken other options.
The first football semi final takes place on Sunday when old chums Meath and Cork do battle. They played each other three times between 1987 and 1990 with Meath winning the 1987 and 1988 finals and Cork the 1990 final which was the second leg in the double.
I had the misfortune to be in the city in 1990. I still find it difficult to speak about the scenes of unbridled triumphalism when I was foolish enough to venture into Patrick Street (known locally as the Pana) to see the footballers arrive back. It was not pleasant. I still shudder at the memory.
Meath ruined Cork's chances of again doing the hurling/football double in 1999 – something for which we ought all give daily thanks – but it had nothing like the raw edge that had characterised their previous encounters. Probably neither had as much to prove and none of the main playing protagonists of those years were still about. Although Boylan and Morgan were. But it will be the earlier games I suspect that Billy Morgan will refer to in motivational pep talks rather than the latter.
To say that there was a residue of bitterness after those Meath Cork finals would be something of an understatement. After the fine sporting displays of chivalry in which never a harsh word was spoken or a sly dig thrown that had marked the Dublin/Kerry rivalry of the 1975 - 1985, it was like seeing the two mad uncles being let out of the basement after the gentlemen had retired to take their port and cigars. And handed long handled axes.
Both teams had endured long years of basically playing the role of gallant or not so gallant losers to Dublin and Kerry. And when they had finally broken the latters' stranglehold – as Cork did in 1983 and Meath in 1986, ironically it was only to fall victim to the Dubs and the Kingdom respectively.
It must have been a bit like climbing over a prison wall to find a pack of ravenous hounds waiting for you. So when the two finally met in 1987 neither was anxious to be beaten.
There was hardly anything personal given that there was little or no history between them. It was more a case that this was potentially their only chance to win an All Ireland before the gentlemen came back for more. That didn't turn out to be the case for a few years but Cork or Meath were not to know that at the time.
In 1987 Meath's greater hunger and willingness to go that inch further prevailed and a 20-year famine came to an end. They won it again in 1988 and Cork's own 16 year hiatus ended in 1989 when they beat Mayo. They were possibly a bit disappointed not to have beaten Meath in doing so but that ghost was laid to rest in 1990 after another tough match.
In fairness while the on field encounters were ferocious and some involved were prepared to go public on their intense dislike for the other, there was an honourable side to it although mainly that was confined to off the field gestures. In flagrante, neither wanted to display any sign of weakness.
Sunday's game will be interesting. Cork without James Masters and Meath with their chests thrown out. I suspect there will be no parade on the Pana.

An Phoblacht Magazine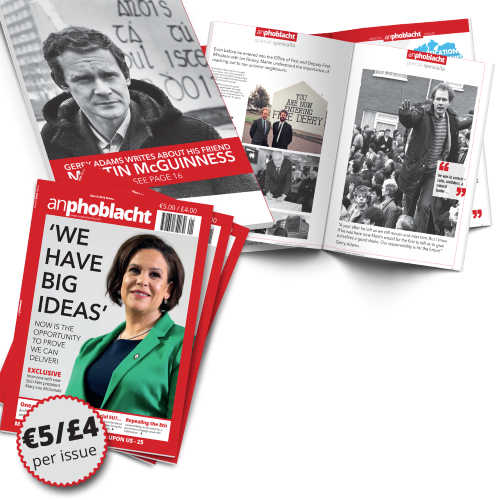 AN PHOBLACHT MAGAZINE:
The first edition of this new magazine will feature a 10 page special on the life and legacy of our leader Martin McGuinness to mark the first anniversary of his untimely passing.
It will include a personal reminiscence by Gerry Adams and contributions from the McGuinness family.
There will also be an exclusive interview with our new Uachtarán Mary Lou McDonald.
test