16 August 2007 Edition
Interview : Veteran Sinn Féin activist Susan Mhic Giolla Éin
'We will get a united Ireland'
SUSAN MHIC GIOLLA ÉIN (85) is a veteran republican who along with her Sinn Féin activities continues to further her education, having recently successfully completed courses in Irish and English language studies. Here she talks to ELLA O'DWYER about growing up in Donegal, the silence that surrounded republicanism when she was young and her belief that we'll get a United Ireland.
Tell me about your early years.
I was born in 1921 in Donegal and raised in the Illes region of Buncrana. We were farmers and I had two sisters and three brothers. I was the oldest. Times were hard then financially but we were happy – we knew no better.  I went to the local primary school. Irish wasn't taught in the schools at that time – not until later years and I always wanted to learn the language. I left school when I was 14 and went to work in a local factory where we made t-shirts and the like. That factory later became know as the Fruit of the Loom, which was closed down in recent times. My parents would have liked me to stay at home and help my mother, as there were five children younger than myself but I'd had enough of working on the farm.

Were your family republicans?
You didn't talk about it back then. We were living in a mixed community at the time – some of the neighbours were RIC and some were Blueshirts so it was considered best to stay quiet about your politics. Sometimes the neighbours would come to visit at night and the adults would chat but it went over our heads as youngsters and that way we wouldn't be able to carry stories.

What brought you to join Sinn Féin?
I had wanted to become a nurse and it was cheaper to train in England but in order to live in England I had to first spend six months living in the Six Counties. Then a total travel ban was introduced, as it was the height of World War Two so that put an end to my trip to England.
Sometime before I had been due to leave for England I met my husband Michael here in Strabane and so I stayed here. I was about 20 then. Living in Strabane made me aware of sectarianism. Both communities would be getting on ok and then about two weeks before the annual Twelfth marches the Protestant community would start to withdraw into themselves and the deep divisiveness would surface. Unionists were responsible for the divisiveness not nationalists.
Then there was the start of the troubles, and a lot of killings especially in the early '70s . It was sad though we gradually got acclimatised to the deaths. I joined the Eamon Laferty Cumann, Sinn Féin in 1970 and I started working with An Cumann Cabhrach, the republican prisoners' aid committee and later the Green Cross. We'd arrange for parcels to be taken to the jails, materials for craft work and the like and we'd visit the POWs in Portlaoise, the Kesh, Armagh and Antrim Road. Part of the work would involve arranging transport to the jails.
I'm still in Sinn Féin and I'm the Chair of the local cumann. We fundraise, selling tickets and the like and I attend the commemorations and the meetings to organise these events. The West Tyrone Volunteers' Commemoration is a big one for us.
You went back to study in recent years.
Yes. Sometime in the late '80s I decided to do some studies in English first and then Irish. I did a GCSE in English and got a B. Then I did a GCSE in Irish. Last year I did an AS in Irish. The AS is somewhere between a GCSE and an A level. When I set my mind to something I'll do it. I've been suffering from arthritis and have had to get a hip-replacement. Then in October I'm due to go for a second hip-replacement so the studies have been interrupted.

Were you happy when the war ended?
Yes I was but I could see it coming – the Peace Process – but of course the loyalists were forever wanting more no matter what was given. I'm not sure if Ian Paisley is really genuine or if we can really afford to believe him. Maybe he's hoping that the Six Counties will simply become a bigger part of Britain rather than becoming part of a united Ireland. My father used to say we'd see a united Ireland in his time and he died in 1968! I believe you'll see a united Ireland in your time but I don't know if I'll see it in mine. But we will get it – it's just coming in a different way than we used to think.

Have relations between unionists and nationalists improved in places like Strabane over the years?
It was a mixed community. There used to be a higher percentage of unionists.  There was a lot of fear and mistrust on both sides. We had been downtrodden and when we started to get off our knees the unionists became nervous and many of them moved out of Strabane. They didn't know how to handle or accept it on any level.  Relationships will improve but it will take time.

You're 85 years of age and still very active. What kept you going?
I suppose having eight children meant you were always busy and the work with the prisoners was a job in itself – there was a lot to it. It was tiring and there were times when I wanted to give it up but no I couldn't do that – that'd be giving in to the Brits. Then in recent years my health deteriorated and I had time on my hands so I decided to go back to study.
Keeping busy and active was important and my republicanism kept me going. I've eight children – they'd be republican too and 13 grandchildren and I see a lot of them. The last good film I saw was Michael Collins, though I've heard that The Wind That Shakes the Barley is good. I haven't seen in yet. I used to go over to the GAA club here in Strabane before my hip got bad so hopefully after the replacement I'll be able to go again. I also made a lot of good friends through the Republican Movement. Martin McGuinness is a distant cousin. His mother and mine went to school together.
I always had a great regard for Martin. He came from the same end of the country and I could easily identify with him. I always admired the fact that he never lost his cool.

An Phoblacht Magazine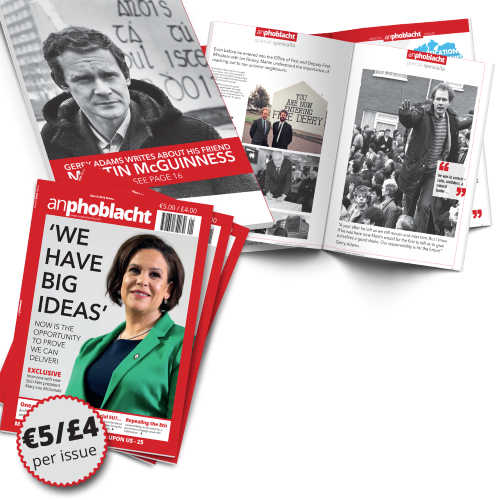 AN PHOBLACHT MAGAZINE:
The first edition of this new magazine will feature a 10 page special on the life and legacy of our leader Martin McGuinness to mark the first anniversary of his untimely passing.
It will include a personal reminiscence by Gerry Adams and contributions from the McGuinness family.
There will also be an exclusive interview with our new Uachtarán Mary Lou McDonald.
test