16 August 2007 Edition
Government must use Aer Lingus share to safeguard national interest
The inaction of the Irish Government since Aer Lingus made its devastating announcement that it would withdraw its Shannon to Heathrow service is disgraceful and unacceptable and displays the height of political and economic irresponsibility.
The complete silence from Taoiseach Bertie Ahern while his Ministers and Fianna Fáil back benchers cynically and opportunistically attempt to outdo each other by taking contradictory stances on the issue as each day passes is astounding.
During last year's negotiation on the privatisation of Aer Lingus the government made much of a commitment to safeguard Ireland's national strategic interest by holding on to a 25.1% sharehold in the company. Where is that commitment now when the tourism and commercial interests for the entire Mid Western region are under threat?
Aer Lingus operates a limited number of slots out of Heathrow and leases out additional slots to other carriers such as BMI & Delta Airlines. No reason has been put forward as to why Aer Lingus could not have decided to utilise some of those slots to service the Belfast routes while preserving the Shannon service.
Just as Sinn Féin opposed a regional differential for the minimum wage the party is also opposing any attempt by companies operating anywhere on the island of Ireland to put in place differential pay and working conditions. The attempt by Aer Lingus management to set a precedent of lower pay and conditions for workers based in another region of the country is of huge concern.
Taoiseach Bertie Ahern must immediately take every step to ensure that this decision by Aer Lingus is reversed to ensure that the inward investment, tourism and indigenous business which are dependent on access to markets provided by the Shannon-Heathrow route is not adversely affected.
The Irish Government and the Six County Assembly must work together to ensure equitable investment in all of the country's regions. Sinn Féin has proposed the amalgamation of development agencies North and South, working in conjunction with InterTrade Ireland in order to achieve maximum regional development for the island.
The Taoiseach and the 26 County Minister for Transport need to ensure that Ireland's national interest is safeguarded by using the Government stake in Aer Lingus to ensure the continuation of a Shannon-Heathrow service.
An Phoblacht Magazine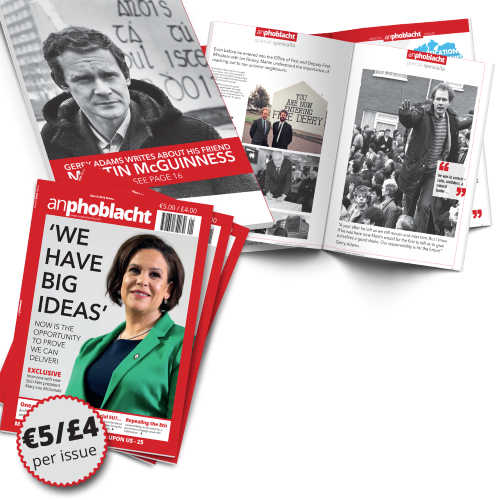 AN PHOBLACHT MAGAZINE:
The first edition of this new magazine will feature a 10 page special on the life and legacy of our leader Martin McGuinness to mark the first anniversary of his untimely passing.
It will include a personal reminiscence by Gerry Adams and contributions from the McGuinness family.
There will also be an exclusive interview with our new Uachtarán Mary Lou McDonald.
test