9 August 2007 Edition
New book covers latest momentous events in Irish republicanism
An Irish Eye, the latest new publication by leading Irish republican Gerry Adams is a unique book covering the last four years of momentous events in Irish republicanism and in the politics of Ireland as a whole. From the IRA decision in 2005 to formally end its armed campaign and to put its arms beyond use to the Sinn Féin decision in January 2007 to support the policing and justice system, unparalleled historic change has taken place. In An Irish Eye Gerry Adams brings his own perspective to bear on these developments.
An Irish Eye includes Gerry Adams' historic appeal to the IRA, and his call on Sinn Féin to engage with the policing system in the Six Counties.
The book's subject matter is not confined to the Irish peace process and includes observations about visits to the Basque country, the Middle East, South Africa and the USA.
Adams also comments on the Celtic Tiger economy in the 26 Counties and other aspects of life in Ireland today; he takes a verbal poke at the establishment, and he gives us a peek at some personal and humourous episodes as well as the more serious life and death issues.
The pre-publication launch of – An Irish Eye – the new book by Sinn Féin President Gerry Adams MP will take place on Saturday, 11 August at 12 noon in St. Mary's College on Belfast's Falls Road. The Sinn Féin President will be in conversation with journalist Anne Cadwalader.
An Phoblacht Magazine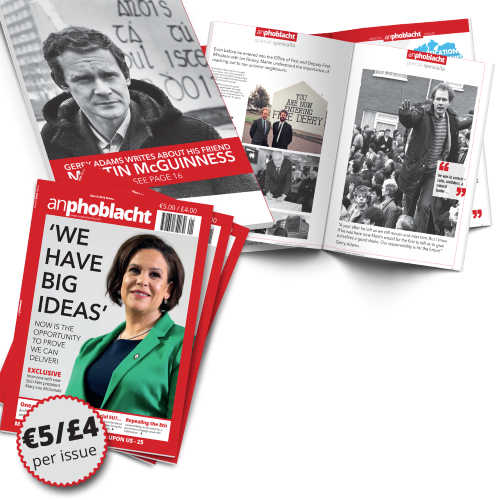 AN PHOBLACHT MAGAZINE:
The first edition of this new magazine will feature a 10 page special on the life and legacy of our leader Martin McGuinness to mark the first anniversary of his untimely passing.
It will include a personal reminiscence by Gerry Adams and contributions from the McGuinness family.
There will also be an exclusive interview with our new Uachtarán Mary Lou McDonald.
test