2 August 2007 Edition
Antrim/Derry Commemoration : Spain addresses large crowd at Gulladuff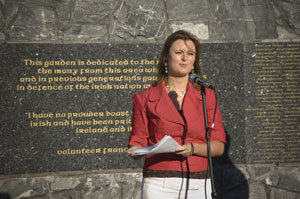 Those who died for freedom live on 
Joanne Spain, the Sinn Féin candidate for Dublin Mid West  in the recent 26 County general election was the guest speaker at the Counties Derry and Antrim Republican Commemoration in Gulladuff on Sunday 29 July.
The colourful commemorative parade, which saw a large attendance of republicans from across the area, was led by South Derry Martyrs Flute Band to the Garden of Remembrance at Ionad Poblachtacth Lár Uladh.
The commemoration ceremony was chaired by Sinn Féin MLA for North Antrim Daithí McKay.
During the course of her address Spain said that the local area had seen the emergence of icons of republicanism.
"Francie Hughes, Tom McElwee, the very mention of their names continues to inspire. I've always wondered what kind of wonderful qualities those two cousins must have had to be consciously willing to die for their beliefs. I am envious of people like many here today, who were lucky enough to have known such amazing people, not just as comrades, but as friends. 
 "I am also aware that so many of those who died were much the same age as I am now, younger even, with so much before them. Henry Hogan, a native of Dunloy, was only 21 when he was shot dead with his comrade, Declan Martin, by undercover SAS following a gun battle", Spain said.
She said republicans had sought to prevent such people, being criminalised for the role they played.
"They were ordinary people forced into an extraordinary situation imposed on them by centuries of vicious British colonialism and bigoted unionist rule.
 "They led a military fightback against one of the most powerful states in the world, and won. South Derry was not a comfortable place for a British soldier or member of the RUC or UDR.
 "And think about what they were fighting for. This is a struggle for freedom, truth and justice.
"For years, the establishments on both parts of this island denied that human rights were being infringed in the Six Counties. They colluded in denying those rights, including the right to life.
"When people were murdered by loyalists acting with the help of British Government forces, the public was told that they deserved to die, that as long as the IRA continued to fight for the rights of republican communities, for the rights of all those trodden on by a corrupt system, nobody should feel sympathy for supporters of that cause who were murdered.
"The British and Dublin governments tried to make Irish life cheap on this island. British soldiers who were killed were called heroes and their families were dragged out to humanise their stories. But even non-political victims of collusion were called terrorist sympathisers to try to make their murders sound acceptable.
Spain said republicans had to educate people in the South to the horrors that went on in the Six Counties part of our island.
"They need to learn the true origins of the IRA and the reason for its existence. "
Sinn Féin, Spain said, was continuing the struggle and while the recent 26 County general election was a setback, in many areas, her own included, the party almost doubled the vote.
She said that at present Sinn Féin was not big enough to meet all the challenges it set itself.  The IRA decision to end its armed campaign passed a heavy burden of responsibility onto the shoulders of those trying to advance our struggle through politics.
"If we are going to win, and I believe we are, then it is the people here today who will deliver that victory. And republicans in this area never needed a leg up. You faced our enemy with the sort of selfless dedication and courage that caused fear within our opponents and inspiration within the rest of our ranks. Don't ever underestimate the impact you have had in these counties on the rest of Ireland. It was footage from the Bogside, from Belfast, from the Hunger Strikes, that made me, as a young Dublin woman, approach Sinn Féin.
She said a peaceful path to achieve Irish unity existed, but that bringing about fundamental political, social and economic change will not happen if republicans did not bring it about. "Nobody has asked me to take the type of risks that IRA volunteers had to take. But I take inspiration from their dedication and their sacrifices and I always ask myself, can I do more?"
She said that sometimes this was not easy, especially after setbacks but republicans are in for the long haul.
"The combined efforts of the British and Irish States, the RUC, UDR, unionist death squads and the Gardaí Special Branch didn't defeat our struggle and one electoral setback in a decade that will be remembered more for electoral advance, certainly won't.
"So, while republicanism is in a period of reflection and review now, we need to move out of it as quick as we can.
"Let's take stock of where we're at. A lot has happened since you gathered here last year, but let's move on and start building the future. We're playing for very big stakes. I want my children to grow up in a united Ireland. I won't fail them. And I don't want to fail the names on this monument.
"Francie Hughes, on his deathbed, said that those who die for the struggle live on. They live on in everyone gathered here today. Never forget that", she concluded.