2 August 2007 Edition
Sinn Féin submission to Constituency Commission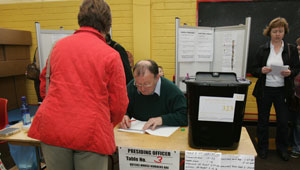 Where is the equality of representation?
Even before the first leaflet was pushed through a letterbox or the first billboard unveiled there were serious problems this year with the 26-County electoral system. The first issue was an electoral register that was seriously at variance with the actual adult population across the 42 constituencies, lifetime voters taken off the register, new ones not put on.
Then there is the significant and ongoing demographic change throughout Irish society, particularly in the Dublin constituencies, driven by a rapid increase in house building and changing migration patterns that has left some constituencies technically over represented and others with too few TDs. Dublin West has 30,967 voters per TD compared to Dun Laoghaire which as 22,833 voters per TD.
With over 70,000 new dwellings being built annually over the last five years, in electoral terms it's the equivalent of adding a new four seat constituency to the Dáil every year. So how do we ensure that each TD has the same number of constituents electing him or her? Enter the Constituency Commission.
The current edition comes to us courtesy of the 1997 Leinster House Electoral Act. Its job is to ensure "equality of representation" for 26-County voters, but with constraints. There can be no more than 168 TDs and constituencies can only be three, four or five seats. It is also advised not to cross county borders and use naturally occurring geographical features like rivers, or even the occasional motorway as constituency boundaries, though the 2004 Commission split Leitrim into two constituencies!
Over the last ten years the three previous constituency commissions have taken some contentious decisions, such as breaking existing five seat constituencies into double three seaters. First to get this treatment was Kildare, followed by Meath, and there has been an ongoing project to dissect the voters of North and West Dublin into smaller and smaller constituencies while leaving South Dublin relatively untouched. Three seat constituencies massively favour the larger parties like Fianna Fáil and Fine Gael.
In its submission to the Commission, made this week Sinn Féin  makes the case for a return to the original system which had seven, eight and nine seat constituencies, as well as offering new plans to restore the Sligo Leitrim and Meath constituencies. The details are summarised below
BY ROBBIE SMYTH

In its submission Sinn Féin recognises that "with the scale of economic growth, housing construction and other infrastructural developments, along with rapidly changing migration and other demographic patterns, there has probably never been a more difficult time to set out constituency boundaries".
The party says that, "We have viewed with some concern the increased use of three seat constituencies especially in the North and West Dublin constituencies, as well as Kildare and Meath as the Constituency Commission struggles to accommodate rapid population growth in Dublin's growing commuter belt."
Importantly Sinn Féin  flags up the option, "for a Constituency Commission to signal to government that the terms of reference set for the review are too restrictive to meet the legal requirement of ensuring equality of representation".
The bulk of the Sinn Féin  submission focuses on three areas, Dublin, Louth and Meath and the case of Sligo Leitrim a constituency "unfairly and unnecessarily split in the last constituency review".

The question of Sligo, Leitrim, Longford, Roscommon
and Westmeath
According to the 2006 census these five counties accommodate 262,349 people. The figures from the Constituency Commission on population statistics put the figure at 254,823. This discrepancy is due to the transfer of some electoral areas out of Westmeath into the newly created Meath West constituency.
In the 2004 Constituency Commission report it was recommended that the then existing constituencies of Sligo Leitrim, Westmeath and Longford Roscommon be redrawn. The four seat Sligo Leitrim was cut into a new three seat Sligo North Leitrim and a three seat Roscommon South Leitrim. One of the outcomes of the 2007 Dáil Election is that the now divided Leitrim county has no representative in the Dáil. So continuity of representation has been lost for Leitrim voters.
In the current scenario there are 11 seats between the five counties and the 2004 review makes the claim that, "This constituency formation brings to an end the breach of a provincial boundary inherent in the existing Longford-Roscommon constituency." This is a curious statement as the terms of the 2004 review clearly quote the 1997 Electoral Act which states in Section 6.2 (c) "the breaching of county boundaries shall be avoided as far as practicable". There is no mention made regarding provincial boundaries and we wonder why the Commission made this statement.
Sinn Féin recommends that the number of seats across these five counties be increased and the boundaries changed to restore the old Sligo Leitrim constituency to a four seater along with a three seat Westmeath constituency and a four seat Longford Roscommon constituency.
This would yield a population per TD in Sligo-Leitrim of 22,461, 26,449 in Westmeath and 23,290 in Longford Roscommon.

The Dublin constituencies
It literally is a tale of two cities in the differential between how Dublin constituencies have been approached by successive reviews. There has been continuity in the South of the region and wholesale change in the North and West. Sinn Féin believes that the core issue is the unprecedented pace of population change in the region. A long term solution is needed to ensure equality of representation in the city and across the four council areas.
One strategy could be to use this review to instigate some substantial change now, creating new five seat constituencies to mirror the electoral stability of Dublin's Southside where there are three five seat constituencies and two four seat constituencies.
From Dublin North, North East, Central, North Central, North West, Mid West and West there are 24 seats, split into three four seat constituencies and four three seat constituencies. Leaving Dublin Mid West as a four seat constituency, the other six constituencies could be redrawn into four more feasible five seat constituencies. The Commission could hold public hearings and engage in wider consultation on any new boundaries it would consider proposing.

Meath and Louth
Eleven Dáil seats spread across three constituencies encompassing 281,624 voters constitute the representation of Louth and Meath. Louth is a four seat constituency and in 2004 the Constituency Commission recommended splitting the fast growing Meath county into two three seat constituencies. Not being allowed let Meath grow to a six seat constituency the Commission split it in two. However there are other options that take better cognisance of the actual demographic change of both Meath and Louth.
Firstly in order to create a viable three seat constituency for Meath West another county boundary was broken between Meath and Westmeath to create the new Meath West constituency. This breach should be closed and a new three seat Westmeath constituency created.
Meath itself should be reconstituted as a five seat constituency with electoral divisions around Drogheda ceded to Louth and this would become a five seat constituency. Drogheda is emerging as a gateway town of some size and at present it is split between two constituencies and pulling its southern hinterlands into the Louth Leinster House constituency is a more natural fit than the current splitting of Meath into two constituencies or the breaching of county borders between Meath and Westmeath.

An Phoblacht Magazine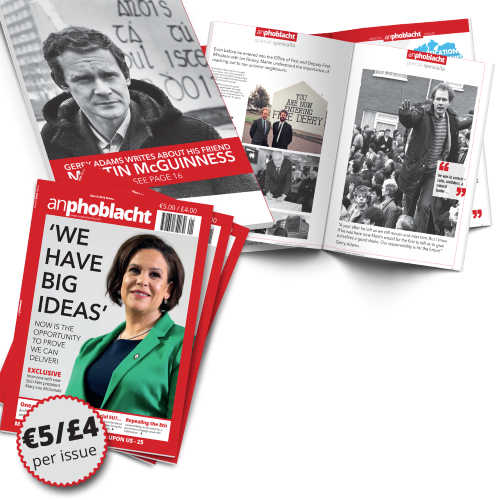 AN PHOBLACHT MAGAZINE:
The first edition of this new magazine will feature a 10 page special on the life and legacy of our leader Martin McGuinness to mark the first anniversary of his untimely passing.
It will include a personal reminiscence by Gerry Adams and contributions from the McGuinness family.
There will also be an exclusive interview with our new Uachtarán Mary Lou McDonald.
test