26 July 2007 Edition
Sinn Féin picket Health Minister's office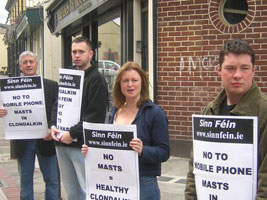 Dublin Mid West Sinn Féin picketed Mary Harney's office in Clondalkin on Saturday last to highlight inequality in the health service and the anger people feel at Harney being returned to the role of Health Minister. Sinn Féin members also supported a subsequent demonstration outside Harney's office to highlight the dangers of mobile phone masts and ESB pylons in North Clondalkin.
Sinn Féin representative for the area, Joanne Spain, pointed out that over the past 18 months, party members have picketed Harney's office routinely to highlight the problems with the health service and her failure to solve them.
"Ms Harney was given a fresh opportunity to represent people after the last election and, in spite of the public's obvious anger at her handling of the health service, was again given the portfolio, with the opportunity to right previous wrongs," said Spain.
"The last number of months have seen nothing change for the better, but issues like co-location have again been pushed to the fore by a TD who wishes to privatise the whole health service."