19 July 2007 Edition
Fifth Column
Same old Storey
DUP Assembly member and Orangeman Mervyn Storey has painted himself into a corner over last week's attacks on an Orange hall in Rasharkin, County Antrim.
Someone broke in and stole an Orange banner.
Nationalists were later complimented by some unionists and the PSNI for helping retrieve it.
But Storey wasn't satisfied.
"I wonder when the Orange brethren of Rasharkin are going to enjoy the benefits of Sinn Féin's equality agenda?" he asked, complaining about the burglary and the daubing of slogans.
But Storey has got his story wrong. The slogans supported 'CIRA', who certainly don't subscribe to Sinn Féin's agenda.


UVF and UFF on parade
While nationalists were being magnanimous in helping find one Orange banner, the family of a UVF murder victim have objected to another banner carried on the Whiterock Orange Order parade in West Belfast.
A banner was carried by the Sons of Ulster flute band, from Scotland's Partick Orange Hall, honouring Shankill Road UVF killer Noel Kinner, convicted of the murder of Andersonstown man Brendan McLaughlin in 1980.
And Orange Order chiefs have promised to investigate the flying of a banner at the main Orange march in Belfast City Centre paying tribute to the mastermind behind the Seán Graham bookies' shop massacre in 1992, UFF gunman Joe Bratty, a close ally of Johnny Adair.
"We are certainly going to look into the matter," the Deputy County Chaplain for Belfast, Rev Mervyn Gibson, said. "We are opposed to the display of paramilitary regalia during parades."
And maybe the Northern Ireland Tourist Board website might have a look as well, considering its website's generous and benign coverage of all the fun of the Orange Order festivities.


Burnside's sectarian strain
Ulster Unionist MLA and former UDR soldier David Burnside has been stoking the sectarian tensions in Scotland.
Disgraced British Airways PR man Burnside told 4,000 Orangemen in Lanarkshire that SNP leader Alex Salmond and Plaid Cymru are threatening the union with England by wanting more democracy and less Westminster rule.
Burnside unashamedly engaged in sectarian rabble rousing by claiming that more democracy means that "loyalty to the British crown, the Union and the Protestant faith are under threat".
The UUP is supposed to represent moderate unionism.


Orangeman's red light for royals
Republicans aren't the only ones bothered by visits to Ireland by the British royal family.
Big Orange Robert Saulters told the Twelfth demo in Holywood, County Down:
"Our loyalty to Her Majesty the Queen is unwavering but I get worried when we have so many official visits from the royals.
"The last time we had so many royal visits, a few weeks later, the RUC was disbanded. In September, we will lose the Royal Irish Regiment. Remember, they replaced the UDR who, in turn, replaced the B-Specials."
So the Windsors should stay home and not be upsetting any of us any more. Your presence even upsets Orangemen.


Selective amnesia
The Twelfth demonstration in Ballymena heard some claims by Martin Smyth, the former past Grand Master of the Orange Order and Ulster Unionist MP, that raised some eyebrows even higher than his.
The fact that there was a nationalist minority in the gerrymandered 'Northern Ireland' state was the fault of republicans because we wouldn't let Donegal, Cavan and Monaghan remain under British and unionist one-party rule!
The Protestant parliament had acted fairly, the one-time South Belfast MP said, deriding "selective amnesia and superficial journalism" for any ideas to the contrary.
And the old big Orange said it's time for "Sinn Féin to admit the ethnic cleansing" in the 26 Counties, where many Protestants were supposed to have been "expelled or ostracised".
It's no wonder that Smyth used to be vice-president of the ultra-right Conservative Monday Club, the most open manifestation of what Tory Party Chairperson Theresa May called in self-criticism "the Nasty Party", notorious for opposing democracy in South Africa and Rhodesia/Zimbabwe.


Conservative conviction
First celebrity airhead Paris Hilton goes to jail and now newspaper tycoon, friend of Margaret Thatcher, Conservative Party peer and disgustingly decadent capitalist 'Lord' Black of Crossharbour faces the ignominy of being a common criminal.
Canadian-born Conrad Black, former owner of Britain's Daily Telegraph, was unanimously convicted in Chicago last Friday on three counts of defrauding shareholders in his newspaper company and one of obstructing justice. The prosecution called him "a bank robber in a shirt and tie".
Now Con the Con may possibly soon be swapping his $36 million luxury pad in Palm Beach for up to 20 years sharing the soap in the shower with some tattooed bonehead from the Aryan Brotherhood or the Mexican Mafia hoodlum who might not share the Torygraph's antipathy to violent criminals or immigrants.
Likely to spend around five years in 'the pen', in an e-mail to a friend, the court heard, Black was dismissive of any carping by shareholders.
"We have a certain style that all these shareholders were aware of when they came in," he wrote. "We should fine-tune that style, not revolutionise it with Damascene conversion to vows of poverty.
"The goose keeps laying a golden egg every year and the best, by far, is yet to come."
Oh, yes, it is. Your goose is getting cooked.


Black ladder
During the trial of Thatcher's cheerleader, the court heard details of a lifestyle by Black that make Charles J Haughey look like the bargain bin manager at the Pound Shop.
The Blacks had to get the decorators in. Nothing wrong with that – even Bertie Ahern does that sometimes. But, for their New York apartment alone, over a five-year period, the Blacks spent $4.6 million flying in decorators and antiques from all over the place.
Nice little touches – the sort that your woman from Brookside doesn't do in ITV's 60-minute Makeover – included $17,710 on a white marble relief of Indian elephants, $4,400 for a heated towel rail and $12,500 for a shaving cabinet with a porcelain bottle that Napoleon used in Russia in 1812. Anyone for a shaving cabinet used by Gerry Adams in Beechmount for offers up to $12,500?


Opinion leader
After the release of the British Army report admitting that it didn't defeat the IRA, one newspaper wanted a second opinion.
In its readers' poll on Saturday, it asked: "Did the [British] Army defeat the IRA?"
Six out of ten readers said that possibly the most professional fighting machine in the capitalist world had failed to overcome the guerrilla fighters of the IRA.
What was surprising was where that verdict came from: the loyal readers of the staunchly unionist and ardently pro-British News Letter.


Fairy Queen
The Harry Potter look-alike leader of the exclusively unionist Families Acting for Innocent Relatives is conjuring up more imaginative storylines for his 'Love Ulster 2' in Dublin in September that would challenge JK Rowling.
Willie Frazer thinks the Queen of England could lead his parade!
Willie has asked the Garda to set aside a Saturday towards the end of September for 25 loyalist bands to ramble down O'Connell Street. The only problem would be if the British queen drops in to pick up a pair of ermine-lined knickers from Ann Summers across from the GPO. Never mind, says Willie, she can be FAIRY Queen for the day.
"Perhaps the best way forward is for the Queen to head this parade, thereby allowing the people of Dublin to show their respect for not only the Queen but also her citizens who died at the hands of our enemies."
Not to mention those Irish citizens who died at the hands of all those British Army units that Queen Elizabeth is the godmother of.


Love is in the air
Another fairy tale is that a 51-year-old, four times divorced parish councillor and grandmother from rural England who has had plastic surgery has married a fit 27-year-old man from the Middle East. The trouble is, his dad is Osama Bin Laden.
Jane Felix-Browne says she met and fell in love with the Bin Laden lad while horse riding near the Great Pyramid in Egypt last autumn. You can't get much more romantic than that, can you?
Now Mrs Bin Laden wants to bring her beau from Saudi Arabia to England. "Because my husband's name is Bin Laden he finds it very difficult to travel anywhere." Especially by air, no doubt.

An Phoblacht Magazine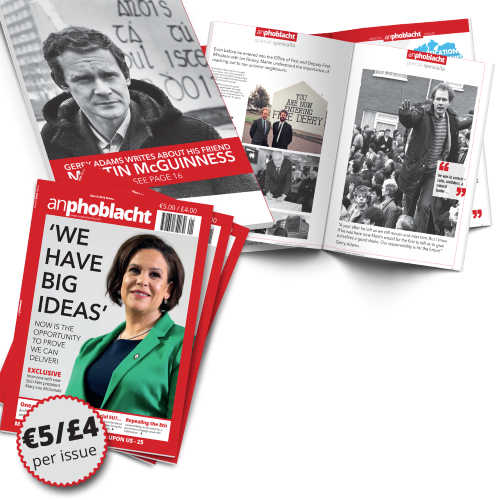 AN PHOBLACHT MAGAZINE:
The first edition of this new magazine will feature a 10 page special on the life and legacy of our leader Martin McGuinness to mark the first anniversary of his untimely passing.
It will include a personal reminiscence by Gerry Adams and contributions from the McGuinness family.
There will also be an exclusive interview with our new Uachtarán Mary Lou McDonald.
test