19 July 2007 Edition
ICTU conference : Strong opposition to privatisation voiced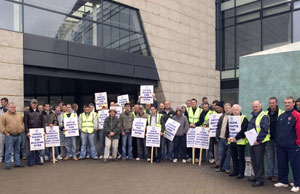 Ballymun redevelopment marred by exploitation of workers  
BY ARAN FOLEY
Ballymun Regeneration Limited (BRL), the Dublin City Council agency appointed to oversee the regeneration of Ballymun in Dublin's northside, is in direct contravention of its mission statement – to provide at least 20% local labour – and has failed in its duty to ensure all contracts awarded go to companies compliant with labour law, according to Andy Smith the Regional Organiser with the Building and Allied Trades'Union (BATU).
Speaking to An Phoblacht from a picket outside the Ballymun Civic Offices on 12 July Smith said they had been forced to continue the picket after unsuccessful talks with BRL. Up to seventy workers had picketed the offices the previous week. BRL had expressed 'surprise' at their decision to picket but had agreed to talks.
Andy Smith said that BRL's expression of surprise was beyond belief as they had been in dispute with BRL many times on their contracting procedures – the most notorious case being the Gamma incident where migrant workers were systematically underpaid. Some workers were working between 80 and 100 hours for as little as €250 a week, a third of the average industrial wage back in 2005.
This dispute has arisen from the awarding of a building contract to a company called Rogerson Reddan who subsequently sub-contracted the bricklaying work to another company, Marphil Construction Ltd. At the time Marphil was not registered with the Construction Workers' Pension Scheme as required by the Registered Employment Agreement (REA). At first Seamus Lyons of BRL maintained that as Marphil was not a member of the Construction Industry Federation (CIF) the REA did not apply. When it was pointed out to him that the Chairperson of the Labour Court Kevin Duffy had made a ruling in November 2005 that specifically contradicted this as it would not be possible to maintain a "level playing field" for contract bids should REA not apply to everyone, BRL's response to this was to claim that their legal advice had been mistaken.
Just last Friday Marphil joined the scheme. Smith labelled this a totally cosmetic move as their workforce was still non-unionised. There was a climate of fear amongst the migrant workers on the site all of whom work for agencies. Should they be seen talking to a union official they could be removed by a single phone call.
Smith went on to say that under the REA and Procedural Agreements the unions should have been notified one month in advance of all companies intending to carry out work so that they could be vetted for compliance. This was continually being flouted, not just by Dublin City Council but by many other councils too.
Local Sinn Féin Councillor Ray Corcoran, who along with party colleague and Councillor Dessie Ellis attended Thursday's picket, pledged their support for BATU. Corcoran said that BRL had promised up to 20% local employment but to date not a single young person from the area had got an apprenticeship with the redevelopment project and that in fact of the 900 people employed just 30 were local, mostly canteen workers.
Corcoran said that it suited the Government to allow companies to play fast and loose with labour legislation.
BATU's Andy Smith said the reason eventually given for Merphil's awarding of the contract was that they were 20% cheaper. "The only reason they were able to come in 20% cheaper would be by making savings in employment costs by non compliance with the REA." To non-Irish workers, who were currently being exploited by these unscrupulous companies, facilitated by the government's blind eye, he appealed that they join the union. "We will fight for your rights" he said.
Smith concluded by welcoming the support of Corcoran and Ellis for BATU and the people of Ballymun.