24 May 2007 Edition
Fifth Column
Stroking Willie's brush
What did a quarter of a million radio listeners listen to Defence Minister Willie O'Dea having stroked on-air last week by a female admirer - (a) his knee, (b) his moustache, (c) his ego? Answer: all three.
One Ms Mary O'Connor popped into Ray D'Arcy's morning show studio at Today FM to stroke Willie's moustache and sit on his knee. (Whatever turns you on, Mary.)
Mary, from Lisnagry in Limerick, is a big fan of her Fianna Fáil TD. She has a Bebo website with 40 pictures of him, including one of Willie dressed as Eminem!
How many new hospital beds do we need? Order one extra.


Spliffing spoof
Willie O'Dea got caught out when Fianna Fáil Cabinet ministers were clearing the air over whether or not they've ever smoked cannabis.
It all started when Finance Minister Brian Cowen admitted to 'yoof' magazine Hot Press that that he'd succumbed to 'hemptation' in those lazy, hazy days at college.
When Willie was asked, he replied without hesitation: "No, I didn't." But, hold on, Willie, didn't you tell a Limerick newspaper back in 2001 that you had?
Surely that wasn't a spoof about the spliff.


Michael McDowell's right to silence
PD public school boy Michael McDowell wouldn't even talk about what he got up to behind the bike shed at Gonzaga.
The outgoing Justice Minister was tight-lipped:
"I have no comment to make on whether that did or did not take place."
Would a court or a Garda be allowed to "draw inferences" from Big Mac invoking the right to silence?


Life-long short memory
More spoofing, this time on the Late, Late Show by Sunday Indo hack Eoghan Harris.
Harris has had more parties than the queen of England and Paris Hilton put together. Prior to being an advisor to the Ulster Unionist Party, Harris wrote the cringe-making toilet cleaner sketch by Twink with John Bruton for the 1991 Fine Gael ard fheis. Harris started his political life with 'Official Sinn Féin', which became the avowedly Marxist Workers' Party (a cheer leader for Romania's Ceaucescu), with the leadership cadres - including Pat Rabbitte - that now control the Labour Party.
So how, in the course of eulogising Fianna Fáil leader Bertie Ahern, did Harris come to claim on the Late, Late to have been a life-long Fine Gael and Labour voter? Did he never vote for Pat Rabbitte's Workers' Party?
Herald's absent fathers
Writing on Saturday about a call for Miriam O'Callaghan to stop presenting political shows on RTÉ because her brother is a Fianna Fáil Dáil candidate, Evening Herald hack John Lawrence refers to her as the TV star "and mother of eight".
Regrettably, Mr Lawrence fails to enlighten us to how many children the three men mentioned in the piece – Miriam's brother, RTÉ supremo Cathal Goan, and himself – are fathers of.
The focus of the Herald story is "balance in reporting".


Indo: No Nordies need apply
The newest runt to spring from the right-wing litter at the Irish Independent is columnist Ciaran 'Porkies' Byrne.
The Boy Byrne, a dyed in the Blueshirt partitionist, squealed in angst on Friday at Gerry Adams appearing on RTÉ during the party leaders' debates. "His input in a crucial election for the citizens of the Republic of Ireland is sinister and deeply unwelcome."
Caoimhghín Ó Caoláin's and Arthur Morgan's voters are Irish, Indo Boy concedes, but the people who elected Adams aren't.
"Why," snorts the little porker, "is a man who holds no elected office in this state, and who is not even running as a candidate, given the privilege of appearing as a party leader on RTÉ?"
Because he is a party leader, you dozy little oinker!


Jumping parties
Irish Independent caption writers are also confused about Gerry Adams's election credentials.
In Monday's Indo, while canvassing in Enniscorthy with John Dwyer, the ever-agile Gerry is pictured vaulting a roadside railing with a single bound. The caption reads: "Fine Gael President Gerry Adams shows his style." Fine Gael?
An understandable error. Fine Gael talks about being "The United Ireland Party" but even the subs in the Indo know that Sinn Féin is "The United Ireland Party."


House for Scandal
Bertie Ahern thought enough of the 18th Century Dublin-born writer, Richard Brinsley Sheridan, to quote him in his historic speech to the British houses of parliament, but Sheridan's home – in Bertie's own constituency – is derelict and about to be torn down by property developers who want to turn it into apartments.
Sheridan's plays included School for Scandal and The Rivals.
Historian and archaeologist Dr Mark Clinton says he hopes Tony Blair wasn't so impressed with Bertie's speech that he suggests visiting Sheridan's former home in Dorset Street, near Dublin city centre. What would Bertie say, Dr Clinton asks.
"Ahhhh, Tony, can you give me a few weeks till I get Paddy the Plasterer to look at it?"
Blueshirts' civil war tactics


Civil War politics are alive - between Fine Gael candidates.
The bitter rivalry in Louth amongst FG candidates Mairead McGuinness MEP and sitting TD Fergus O'Dowd reached a new pitch at the weekend.
McGuinness's team erected a billboard on the Drogheda to Dublin road. Her happy face was wishing supporters from the Wee County travelling to Croke Park to play Wicklow good luck. But the smile was soon wiped off when one of O'Dowd's supporters blocked out the entire billboard by parking his car right across it. And how can we be sure it was a supporter of her running 'mate'? Emblazoned all down the side in two-foot-high white letters are the legend: "Vote No 1 Fergus O'Dowd."


Haw-Haw
Irish Times journo and election addict Patsy McGarry was writing this week in An Irishman's Diary about his late father, Roscommon County Councillor Tom 'The Haw' McGarry.
Tom earned his nickname jokingly after Lord Haw-Haw because of his anti-British speeches in the 1940s.
Anyway, Tom went on to stand for Fianna Fáil but The Haw wasn't in awe of Fianna Fáil's famous names, his son recalls.
He once described fellow Fianna Fáil County Councillors Seán Doherty and Terry Leyden (later to become TDs) as "two half-wits who wouldn't make a decent wit between them".

An Phoblacht Magazine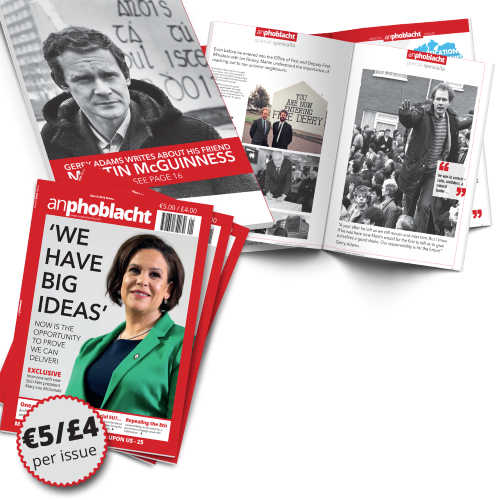 AN PHOBLACHT MAGAZINE:
The first edition of this new magazine will feature a 10 page special on the life and legacy of our leader Martin McGuinness to mark the first anniversary of his untimely passing.
It will include a personal reminiscence by Gerry Adams and contributions from the McGuinness family.
There will also be an exclusive interview with our new Uachtarán Mary Lou McDonald.
test