24 May 2007 Edition
Remembering the Past
The assassination of Eddie Fullerton
As voters go to the polls across the 26 Counties and as Sinn Féin candidates await the outcome of the general election, they do so on the eve of the 16th anniversary of the assassination of Sinn Féin Donegal County Councillor Eddie Fullerton.
Eddie, a highly popular figure in his native Donegal and within Sinn Féin, had been preparing for the 1991 local elections when in the early hours of the morning, on 25 May 1991 he was shot dead by pro-British forces at his home in Buncrana.
A native of Slediren, Buncrana, Eddie came from a republican family. Aged 56 when he was killed, he left a wife, Diana and six children who are to this day campaigning for truth about the events surrounding his death.
On 24 May, on the evening before he was murdered, the tenacious and dedicated Donegal republican had attended an organising meeting to prepare for the local elections. The meeting ended as 11pm after which Eddie drove a colleague back to Lifford before reaching his home between 1am and 2am.
Only his wife Diana and himself were in the house when Eddie went to bed. At around 2.30am they heard a loud noise at the door and Eddie got up and stepped onto the landing to investigate. The death squad opened fire from close range and Eddie was hit twice in the chest and once in the neck. He died instantly. Cooly and calmly the assasins left the house and drove off in a car that was later found burnt out at Culmore in County Derry. The murder was carried out with military precision and the operation had all the hallmarks of British state involvement.
Eddie Fullerton had received a direct death threat the previous year when a card, apparently from Derry City, was sent to him saying: 'You're next'. Responsibility for Fullerton's murder was claimed by the Ulster Freedom Fighters (UFF), a cover name for the Ulster Defence Association.
Eddie Fullerton was an elected representative, assassinated by British or pro-British agents inside the 26 County state. Yet neither Fine Gael leader John Bruton or Labour Party leader Dick Spring chose to condemn his murder.
A very popular figure, Eddie was admired by people right across the political spectrum.  The late Donegal Independent Fianna Fáil TD Neil Blaney said of him: "To describe him as a character is doing him less than justice. He was a wonderful wee man, a very good operator politically. Persevering, tenacious and never taking no for an answer."
On the morning when news of Eddie's death was made known, stacks of his election posters lay in the offices of An Phoblacht in Dublin ready for delivery. He also personally sold an extraordinary 600 copies of An Phoblacht weekly, the highest sold by any individual.
Paying tribute to his friend and comrade at the time of the killing, Sinn Féin's Martin McGuinness said: "The intention of the British murder squad which killed Eddie Fullerton was to terrorise and silence those who demand freedom for Ireland. We will not be terrorised and silenced. Britain never conquered Eddie Fullerton. They will never conquer us."
In the 16 years since his death nobody has been arrested or charged with the murder of Eddie Fullerton. To this day the Fullerton family are searching for the entire truth about the facts surrounding Eddie's death.

An Phoblacht Magazine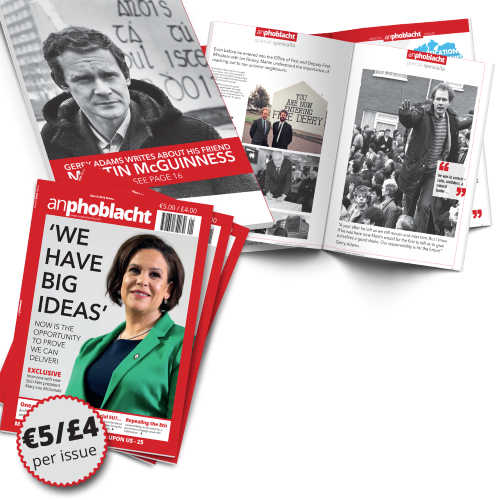 AN PHOBLACHT MAGAZINE:
The first edition of this new magazine will feature a 10 page special on the life and legacy of our leader Martin McGuinness to mark the first anniversary of his untimely passing.
It will include a personal reminiscence by Gerry Adams and contributions from the McGuinness family.
There will also be an exclusive interview with our new Uachtarán Mary Lou McDonald.
test