10 May 2007 Edition
Dáil General Election Profile: Sorcha Nic Cormaic, Dublin South
Sorcha Nic Cormaic – who is contesting Dublin South with fellow Sinn Féin candidate Shaun Tracey – is a primary school teacher in Dundrum, where she has lived most of her life.
Sorcha studied Classical Civilisation and Philosophy in UCG and completed a Higher Diploma in Education in UCD in 2005.
The Dundrum educationalist recently met other teachers in Palestine and she got to see first-hand how their lives are affected by the Israeli occupation.
The issue which has influenced me most in becoming a political activist is...
Equal rights
The people who have inspired me the most is...
I was always a republican but the Sinn Féin cumann in UCG were very active at the time I was in college there and I was very impressed. They were involved in student politics and also they were protesting on national and international issues: very visible, very active and effective.
I think people in power should pay more attention to...
Our historic experience of imperialism and the lessons that can be learned and shared. The culture we live in at the moment displays characteristics left over from imperialism. How can we use our historic experience to counteract it?  
If there was one thing I could get done in Dublin South overnight it would be to...
Increase social, affordable housing.  No young people in this area can afford to set up home in the place they were born and reared in.
The six famous people I think would be interesting guests at a dinner party would be...
Anna Parnell, Terry Pratchett, Socrates, Maire Rua O'Brien, Richard Harris and Jesus.
My most memorable book is...
The Alchemist. A life-changing book, simple and beautiful.
My favourite musicians are...
I love Green Day. But when I'm relaxing I listen to all that Buddha Bar stuff.
An Phoblacht Magazine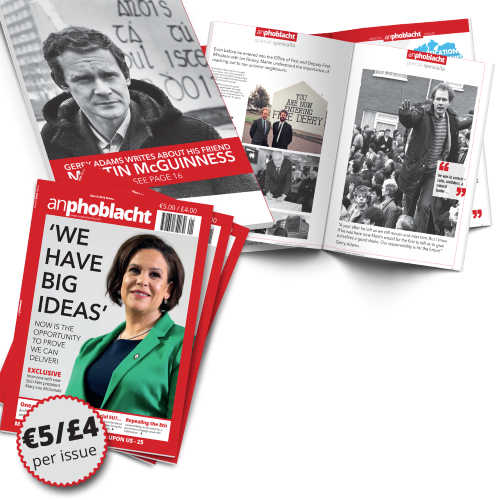 AN PHOBLACHT MAGAZINE:
The first edition of this new magazine will feature a 10 page special on the life and legacy of our leader Martin McGuinness to mark the first anniversary of his untimely passing.
It will include a personal reminiscence by Gerry Adams and contributions from the McGuinness family.
There will also be an exclusive interview with our new Uachtarán Mary Lou McDonald.
test