10 May 2007 Edition
Dáil General Election Profile : Henry Cremin, Cork South Central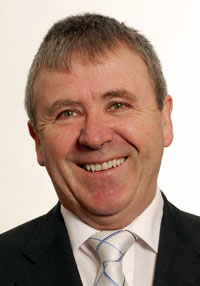 HENRY CREMIN is a resident of Greenfields, Model Farm Road. A married man with a grown-up family, Henry is involved in his residents' committee and is a founding member of a local fishing club and youth club.
The single event or issue which has influenced me most in becoming a political activist is...
The injustice and inequality that exists in my community that I see each and every day.
The person who has inspired me the most is...
Bobby Sands because he was a young person, along with many others, who gave his life in the fight for a just and united Ireland.
I think people in power should pay more attention to...
Transparency and accountability to the people.
If there was one thing I could get done in Cork overnight it would be to...
Provide more facilities like youth cafés for young people. They are the future and we must listen to them and provide for them.
One thing I've enjoyed in my constituency has been...
The annual sports day for the children, especially since they all know my name and will one day vote for me – I hope!
My most memorable book and TV programme...
Ten Men Dead, by David Beresford. It's about the H-Blocks and I have read it many times. It reminds me always of why I'm involved in the cause.
My favourite musician is...
Neil Diamond. He's a bit of a 'golden oldie', I know, but he can still belt out a good tune.
In another life, I would probably be...
An Taoiseach of a 32-county republic – even in another life I'm still republican to the bone (thank God)!
An Phoblacht Magazine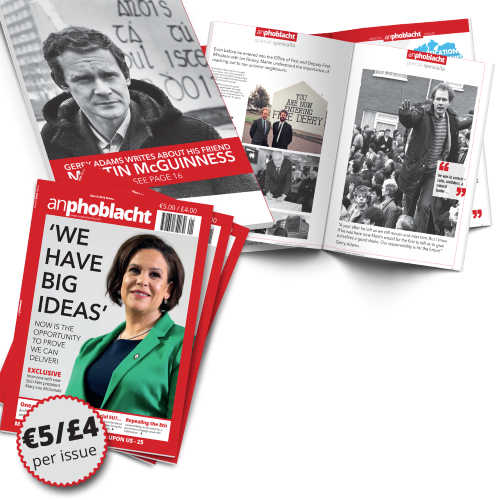 AN PHOBLACHT MAGAZINE:
The first edition of this new magazine will feature a 10 page special on the life and legacy of our leader Martin McGuinness to mark the first anniversary of his untimely passing.
It will include a personal reminiscence by Gerry Adams and contributions from the McGuinness family.
There will also be an exclusive interview with our new Uachtarán Mary Lou McDonald.
test