26 April 2007 Edition
Fifth Column
There's a Fine Gael uniform...
It's a pity that Enda Kenny never picked up that old fascist-era Fine Gael Blueshirt uniform at the auction of historic memorabilia in Dublin last week.
Wouldn't it have been a fine fit for Enda on occasions like his unveiling of a memorial plaque in 2005 to Oliver J Flanagan TD, the reactionary old dinosaur who infamously once advocated in the Dáil "routing the Jews out of the country".
And wouldn't it have been just the right sort of outfit in which to regale party workers with Enda's own little bier keller cabaret routines, including the 'joke' he told in 2003 when the Fine Gael leader described the first prime minister of Congo and black freedom fighter, Patrice Lumumba, as "a nigger"?


Not buying the stamp duty story
Eoghan Harris, Jody Corcoran and the other fat cat property owners in the Sunday Independent stable are spending every drop of ink trying to convince readers and voters about what a big deal stamp duty is.
Some insiders have said that this may not be unconnected to the fact that those peddling this story the hardest are engaged in a bit of property speculation themselves and are in the midst of off-loading various pads. The sooner this stamp duty nuisance is sorted out, the sooner the housing market will open up again, with loadsamoney in store for the well-heeled hacks.
On page 26 of the Sindo, Harris drones on about how his right-wing posse have "got it right" on stamp duty. Harris even resorts to quoting a headline from the rival Irish Times to prop up his argument: "Stamp duty reform key battleground in election campaign."
Turning the page, then, it's a pity that the Sindo-commissioned Millward Brown/IMS poll demolishes Harris's contention like a Tsunami hitting a Wendy house in New Orleans.
The main election issues, according to the Sindo's scientific and undoubtedly costly poll, does indeed feature stamp duty – 13th out of 14.


Hard to face facts
Wrestling with his general election options, Eoghan Harris (formerly with the Workers' Party before veering further right to the Ulster Unionist Party and Fine Gael) claimed in his Sindo column that he tries to follow the example of fellow Cork man Michael Collins.
He was referring to Lord Birkenhead's observation that Collins was "loyal to the facts", not the example of Collins the IRA gunman – at least I don't think he was.


Emer's emergency number
One of Harris's former old hands at RTÉ, Emer O'Kelly, tries to have it both ways by stating that "by and large" nurses are wonderful but they shouldn't be "selfish" in demanding a 35-hour week and better pay.
And Irish Nurses' Organisation leader Liam Doran is causing the storm in a bed pan. He is, after all, O'Kelly snorts, "a highly-paid trade union executive".
Emer, of course, is a highly paid hack. And I bet she doesn't have to work anywhere near the hours nurses clock up or do the jobs that they perform. And, unlike Ms O'Kelly and her inflated ego, at least nurses perform a socially useful service to the public.
A week on the wards is what the doctor should order for Emer O'Kelly. And what sort of figure does Emer draw for her "selfish" carpings about the nurses?


Everyone's a winner
They say that bookies have all the angles covered, and none more so than former Fine Gael minister Ivan Yates, owner of Celtic Bookmakers.
Yates, according to Sindo Dáil scribe John Drennan, believes that the general election is so finely balanced that "Sinn Féin may yet be part of a coalition government with either Fianna Fáil or Fine Gael or end up being the decisive factor in supporting a minority government".
So... republicans "may" go into government with Bertie – or they may not.
Or... they "may" go into government with Enda Kenny and Pat Rabbitte – or they may not.
Or... they "may" do neither of these and support a minority government of either Fianna Fáil or Fine Gael/Labour – or they may not.


On the scent of the police
Sinn Féin members on the Policing Board in the Six Counties aren't going to make the Peelers more acceptable, we're told, but surely they can make them smell nicer. That's what they're doing for the police in India. Peelers there will now smell of petals.
The National Institute of Design was asked by the government in the western state of Gujarat to come up with an answer to the police pong.
Designer Somesh Singh had his work cut out trying to make the Peelers' apparel more appealing.
"Most policemen look hassled, drenched in sweat after coming from any scene of crime.
"They are surely not the best person one would like to meet," Somesh says, "but if they smell good and fresh one might approach them".
So Somesh is infusing their 300,000 uniforms with the fragrance of flowers and citrus to stop people turning their noses up at them.
And it won't wash out either because the scent is embedded in the cotton that makes the fabric.
The long arm of the law gets a whiff of under-arm deodorant.


Degrees of offence
Meanwhile, the British Army reservist cadet officers at York University are causing a bit of a stink with their jolly japes on training exercises.
The Ruperts staged a mock execution of a hooded victim and then posted it on YouTube. Other simulated executions were set to music.
Soldiers from the same unit had caused outrage last year when they attended a German theme night at the local Fulford Barracks dressed as Nazi soldiers. One came as a concentration camp survivor. That sick individual has since graduated to become a serving officer in the regular British Army.
A Ministry of Defence spokesman said:
"The actions were inappropriate, ill-judged and offensive and at variance with the values and standards of the University Officer Training Corps and the British Army."
Hear, hear! If any army officer is going to offend people with dressing up in Nazi gear and swastikas then it is the divine right of kings like Prince Harry, third in line to the British throne.


Open house
Ian Paisley used Prime Minister's Questions in the House of Commons last week to invite Tony Blair to attend the opening of the new Assembly on 8 May.
The Labour leader smiled and seemed to indicate that he has set aside time to attend: "It's not universal that people want me to come to their part of the country."
Ian Paisley might have asked you to come to Ireland, Mr Blair, but Sinn Féin still wants your government to leave.

An Phoblacht Magazine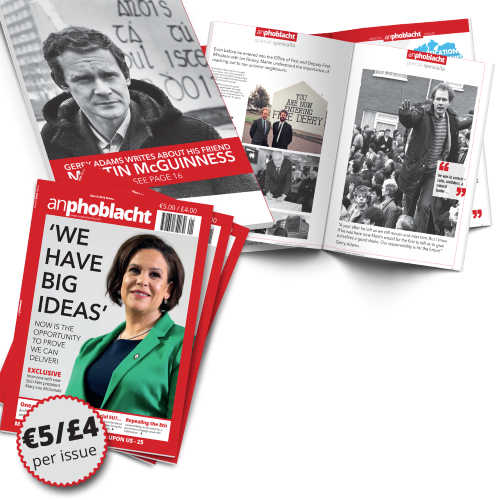 AN PHOBLACHT MAGAZINE:
The first edition of this new magazine will feature a 10 page special on the life and legacy of our leader Martin McGuinness to mark the first anniversary of his untimely passing.
It will include a personal reminiscence by Gerry Adams and contributions from the McGuinness family.
There will also be an exclusive interview with our new Uachtarán Mary Lou McDonald.
test