26 April 2007 Edition
Interview : Author, journalist and broadcaster Marie O'Connor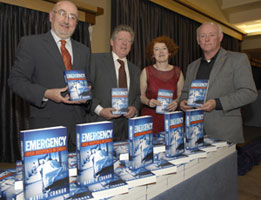 Health privatisation – a poor prognosis
Marie O'Connor has passionate and incisive views on the Irish health service – views outlined in her recently launched book Emergency: Irish Hospitals in Chaos published by Gill&Macmillan. Here she talks to ELLA O'DWYER about her family background in the medical profession, her activism on health issues and her analysis of the inequalities and chaos in Irish healthcare.

You come from Croom, County Limerick and were brought up in a family steeped in the world of medicine. Is this the main factor behind your own passion on the subject of healthcare?
My father was a county surgeon, he ran a regional orthopedic hospital outside Croom until his death and his three brothers were doctors. My mother in her time was a theatre sister and her two sisters were nurses. I  have a background in research in health. In 1987 I was commissioned by the Department of Health here to do a study of women and maternity care in Ireland. I feel that the best way I can contribute in the whole area is through writing. As a writer I feel I can bear witness as to what's going on in this country.

A chapter in your book entitled 'High Kings Without Opposition' refers to the Royal College of Surgeons. Tell me about that.
The RCSI is basically a modern corporation. It's a very old institution with charitable status since 1965, meaning they're exempt from capital gains tax, corporation tax and just about all taxes. It's also immune from stamp duty. It has an annual turn over of €91 million. The public subsidisation is huge. The RCSI is also one of the Dublin's wealthiest landlords – its properties are amongst the most valuable in the city. A Dáil Private members' Bill some years ago copperfastened its powers and privileges as a mediaeval fiefdom, adding to those powers the powers of a modern corporation. They had for-profit subsideries that, like pharmaceutical companies, should be liable for tax as they would be in the US. The RCSI also has property abroad. At the moment they're building a university hospital and health oasis in Bahrain. They also have their own property development company – Keating Investments.

You argue that the Fianna Fáil/PD Government has a privatisation approach to the health service.
It's being going on for years quietly, for example in the area of outsourcing the likes of hospital cleaning and catering resulting in dirty hospitals with terrible food. In St James' – a  public hospital – a strokes physician set up a very constructive programme for stroke patients to provide home support after release from hospital. The HSE took the project away and gave it to a private company with no track record in this area to manage.
Of course the obvious example of privatisation, apart from handing services over on an ad hoc basis is the co-location issue. Co-location involves building private wings onto public hospitals. While the Health Minister claims that this will liberate 1,000 beds nothing could be further from the truth because beds are occupied on a rotation basis.
In hospitals, like hotels, beds are rotated on a constant basis. Private patients who take up those beds were admitted through the doors of A&E units. They were very sick when they came in and when you're very sick the last place to be is in a private hospital because they don't have the staff. When a patient in a private hospital gets seriously ill the hospital speedily calls an ambulance to take the patient out to the nearest public hospital.

What is the impact of closing maternity units in smaller hospitals?
The impact is going to be severe. Firstly the rate of inductions go up to avoid the hazard of roadside births. A woman living two hours from the nearest maternity unit runs a risk of having that baby on the side of the road. To avoid that she'll be brought in for an induction. If there was a nearby unit the woman would most proabaly have a natural birth.
If a woman is induced the chances of having a Caesarean Section is tripled and a Section is bad for the health of both mother and baby. They both do worse. There are numbers of women who've had roadside births – dreadful experiences. If you think of giving birth without professional help on the side of the road or in a taxi or even in an ambulance – it's not just a nightmare – it's a real risk.

What is the reason for these closures?
It's really part of the obstetric agenda. Giving birth is not a sickness issue – it's a natural and healthy process. Obstetrics is about abnormal births so the higher numbers of women delivering in centralised hospitals – hypermarket hospitals I call them because care is going to be industrialised – keeps obstetrics in operation.
Obstetricians seem to feel that they control the service and refuse to move over and allow midwives to do the job. It's actually an issue of gender equity when you consider that obstetricians earn so much when the midwife will be doing the work for about 8% of the obstetrician's income.
In these larger hospitals the 'hooks and hormone's' approach to labour will become even more common than it is at the moment. More women will have their labours speeded up to rush them through increasingly crowded labour wards.
The closure of rural hospitals will have enormous consequences in terms of avoidable deaths, needless deaths. Statistics tell us that when hospitals are remote from communities more children die under the age of five, more babies die under the age of 28 days and people become blind from diabetes that's not treated in time.
People are being told that the ambulance services can make up for the lack of access to an A&E unit. Nothing could be further from the truth because we have a very badly developed ambulance service. There's endless rhetoric about advanced paramedics but they only exist in small numbers. Also a lot of people drive themselves or are driven to the nearest hospital.

You highlight the role of US healthcare companies in the private health business here.
Some of the companies targeting Ireland have a background of fraud in the US. These are hospital companies in the business of healthcare. Healthcare – the sickness industry – in the US has been corporatised for many years. The corporate model of healthcare which we're on the point of importing is frightening. Companies have billed government insurance companies for operations that were never done or supplies that were never bought. In the US they have something called a False Claims Act which I argue we need here too and we don't have it. One of the biggest scams in this area – and there's heavy competition for that title – involved a company that had to pay back $1.7 billion to the US government for defrauding taxpayers.

Your book provides some frightening reading and would unnerve anyone due to spend time in hospital in this country. What's your prognosis for healthcare in Ireland?
Profit is bad for health. The public sector has been run down by successive governments. We don't have enough beds, we don't have enough doctors, and we don't have enough technology. We don't have enough anything. If we continue on the centralisation and privatisation route, and we're on that highway at high speed, in 20 years we'll have what we see in America today - rampant fraud and spiralling healthcare premiums that nobody can afford.
• Marie O'Connor's book can be bought in all major bookshops and can be ordered from the Sinn Féin Bookshop, 58 Parnell Square or sinnfeinbookshop.com.

An Phoblacht Magazine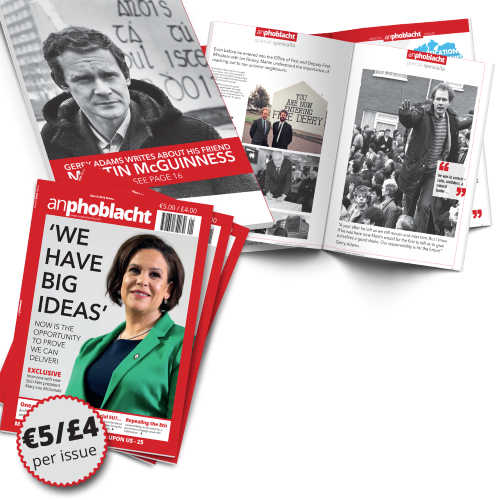 AN PHOBLACHT MAGAZINE:
The first edition of this new magazine will feature a 10 page special on the life and legacy of our leader Martin McGuinness to mark the first anniversary of his untimely passing.
It will include a personal reminiscence by Gerry Adams and contributions from the McGuinness family.
There will also be an exclusive interview with our new Uachtarán Mary Lou McDonald.
test