26 April 2007 Edition
The Mitchel McLaughlin Column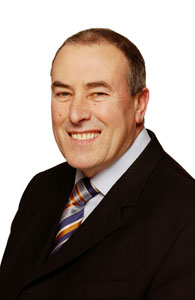 All-Ireland approach key to building North's economy
The establishment of the Political Institutions and the all-Ireland structures on 8 May will present all of the parties with a real opportunity to grow the Northern economy in the context of island-wide strategies. During the election campaign all the parties making up the new Executive and Assembly made the economy a political priority.
But a vibrant economy in the North must be approached in an all-island context. The issue of corporation tax exercised many politicians prior to the election, although I do not believe that it is the panacea that some paint it to be. However, this and other issues must be addressed as part of an extensive programme of economy building.
Lower taxes although attractive to business will only really stimulate the economy if the lower production costs deliver better value to the consumer. Reducing the rate of corporation tax in itself will not encourage reinvestment of profits into research and development projects which are needed to sustain competitiveness in the global market.
Although the corporation tax issue must be addressed, I believe that a properly structured tax credits and R&D grants system would do more to build the economy.
Reducing the rate would remove one of the anomalies with the South but would do little in the areas of wealth creation and distribution.
A better approach would be to offer incentives to emerging high growth industries such as Information Computer Technologies, Medical Research and alternative energy development. I would recommend priority or added incentives be given to indigenous companies that are less inclined to up roots and move to capitalise on emerging low wage economies.
Attracting intellectual property developers is essential to creating and maintaining real and sustainable economic growth. That is why I would encourage the new Executive – in conjunction with the Irish government to co-operate by investing in the whole area of research and development (R&D) to make the island of Ireland an area of excellence in this field.
One of the key growth areas that must be addressed is the increased demand for third level education. Again, there needs to be proper investment in our universities so that we can match the demand for graduates that would accompany growth in the ICT and R&D sectors.
If we can recognise the opportunities and rise to these challenges, the North can share in the type of prosperity and growth experienced over the last decade in the South and which is forecast to continue. But the full benefit will only be achieved through an all-Ireland approach.
An Phoblacht Magazine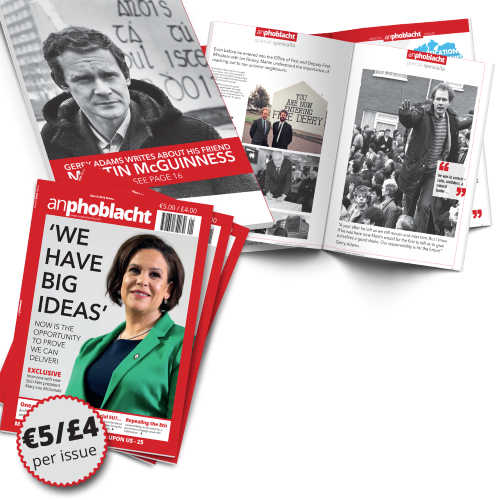 AN PHOBLACHT MAGAZINE:
The first edition of this new magazine will feature a 10 page special on the life and legacy of our leader Martin McGuinness to mark the first anniversary of his untimely passing.
It will include a personal reminiscence by Gerry Adams and contributions from the McGuinness family.
There will also be an exclusive interview with our new Uachtarán Mary Lou McDonald.
test