19 April 2007 Edition
Media View
Bow down and worship Luntz!
Dr Frank Luntz is the latest buzzword in media circles, with Irish Independent columnists having an orgasm every time his name is mentioned.
Luntz is a right-wing American, a supporter of and campaigner for the US Republican Party.  His main theme is not to argue about policies or choices, but to plug in to existing prejudices and play to them.
Thus, he champions the focus group method.  This involves picking people who are broadly reflective of the voting population, asking them loaded questions (tailored from the propaganda of the media) and lo and behold, the result is a right-wing consensus!
Luntz has 'pioneered' this technique – according to Sam Smyth – in the US, Italy, Britain and elsewhere, and is now bringing his 'skills' to bear on Ireland, where RTÉ has fallen over itself to sit at the feet of the guru.
Of course, any sampling of opinion, even one loaded so much as Luntz's, produces interesting statistics; but the key point of this technique is that substance doesn't matter, may indeed be a diversion from the task of winning, and that presentation is everything.
For example, Luntz would identify certain key words that "turn the voters off".  Being a right-wing American, these words include "socialism", "trade unions", "working class", "redistribution of wealth" and "gun control" (except, of course, in Ireland).
Interestingly, the Labour Party's Pat Rabbitte, under the advice of his "chef de cabinet" (no less), Adrian Langan, has decided to eschew all these bad words as well.
Meanwhile, not a critical note about Luntz is allowed to appear, and his "findings" are accepted by the serious news outlets (RTÉ, Times, Independent, Examiner) as well as by the tabloids as gospel.
Saturday's Irish Indepndent published an analysis piece praising Luntz and declaring that Irish voters were cynical – not because of a lack of discussion about real political issues and choices, but because of the failure of governments to take the tough decisions. As a result, voters may vote for Sinn Fein as a protest, or for the Greens because they are the flavour of the month.  Nothing at all to do with their policies or programmes.
Then on Monday, the Indo was at it again, approvingly quoting Luntz reducing the forthcoming electoral contest as a choice between two likeable guys – Bertie Ahern and Enda Kenny. And the way to victory, according to Luntz and the Indo lies in choosing the right words to click with the public.
Indeed, this is the way our politics are increasingly done.  Just look at one leading Luntzism.  For it was Luntz who coined the idea of Bush proposing a "Contract with America" and of Berlusconi proposing a "Contract with Italy" as part of their election campaigns, with promises to resign if they didn't implement their "contract".
What a turn up for the books that Fine Gael's Enda Kenny is proposing his own "Contract with Ireland" and promising to resign if he doesn't deliver.  But beware, neither Bush or Berlusconi resigned when they failed to deliver, and it turns out that the "contract" isn't worth the paper it's written on: it's just an electoral ploy.
No wonder people are cynical about politics when this is the gush they are fed, but where are the media outlets who will seriously examine this style?  They don't do so, because the last thing they want is open is democratic discussion of political choices.  People like Tony O'Reilly (Sir Anthony to his friends) believe that choices should be made by the political and business elite and by no one else.
Reducing politics to the mundane and the arithmetical, rather than the ideological, is part of the process, and the same media that occasionally bemoans cynicism actually encourages it and fans the flames of popular lack of interest, but not the flames of popular discontent.
Finally, we should not forget our old friends in the paper of record.  Last Saturday former fine Gael Taoiseach Garret FitzGerald raised the issue of transport and took the opportunity, once again, to deride the proposed Western rail corridor (just as he had previously done his best to undermine the Connacht airport at Knock).
FitzGerald welcomes a new infrastructural review body and praises the fact that it has "proved its mettle" by opposing the Ennis-Athenry railway project.
He then weightily declaimed: "The fact that the Government nevertheless decided for political reasons to go ahead with this non-viable project – a decision which does not seem to have been challenged by the Opposition – does not take away from the integrity of this new and long-overdue public service evaluation process".
In other words, people like him know best.
But just in case the Times might find itself upsetting the Green vote which it now sees as the best way, hopefully, to restrict the growth of Sinn Féin, Madam also published an article from Tim Shiel in Claremorris reporting on local disappointment that no date for the completion of the entire project has been set.
Their disappointment, alas, is unlikely to weigh heavily against the Established wisdom of Garret the Good, so don't hold your breath for an editorial endorsement.

An Phoblacht Magazine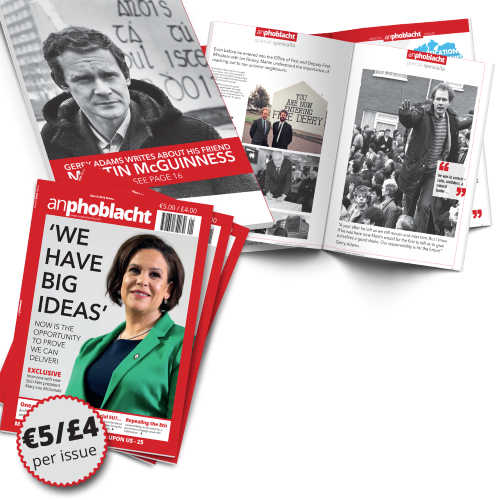 AN PHOBLACHT MAGAZINE:
The first edition of this new magazine will feature a 10 page special on the life and legacy of our leader Martin McGuinness to mark the first anniversary of his untimely passing.
It will include a personal reminiscence by Gerry Adams and contributions from the McGuinness family.
There will also be an exclusive interview with our new Uachtarán Mary Lou McDonald.
test