19 April 2007 Edition
Use the postal and special voters' system to claim your vote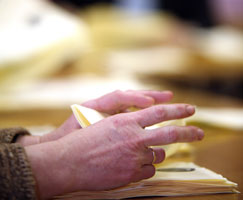 Tallyer offers this guide to ensure you can vote even if you cannot go to the polling station
I read an interesting statistic  the other day.  In the last Leinster House General Election 17,116 postal votes were cast.  Most of these would have been people in the Defence Forces, Gardaí, diplomats and government employees. What struck me about it is that the figure is very low. Very few people I know use this facility and with Bertie threatening a Thursday election everyone should consider it.
Think of the people who could be disenfranchised by a Thursday election. Students at college, people working overseas, people working away from home during the week.  In many parts of the country a few votes can decide an election. In Limerick West last time out the last seat was decided by one vote! Every vote counts and no-one should allow their vote to be wasted in the coming election. A vote not cast is a vote for the status quo.
So how does this postal vote system work?  I had assumed it was a very complicated procedure. So, using my supreme investigative journalist skills I have unearthed the secret procedures and found the answers to how this system works. Actually, I just rang up the council and asked them. And do you know what, it is simple.
Anyone on the electoral register can apply for a postal vote.  The criteria are fairly straightforward. It applies to soldiers, police, diplomats as you would expect, but also to any person who cannot go to the polling station for reasons of medical disability, employment or College study.  The big catch is that you must apply before the dissolution of the Dáil, that is, before Bertie calls the election. He could call it any day so you need to get your skates on.
The next question I asked was, if I don't know yet when the election will be, then I don't know if I'll be away from home or not. The simple solution is that if you think you might be away from home, then simply fill out the form just in case. The form in question is known as a PV2 form.  You get it from your county or city council, and in most cases it can be downloaded from their web site.
The form has four sections. The first is simply where you fill in your name and address. The only extra information you need is your number on the Electoral Register. You can check that with the council, or any of the parties who are using the register as part of the canvas will be able to tell you. Even if you can't find it you can still send the form in without it. The reason they look for it is that you may have two people with the same name registered in the same house, or in the same townland.
There are three other sections but you only fill in one of them. Section B applies to people who can't be around due to their work.  If that is the case then simply get your employer to fill it in.  It is a couple of lines and will take about two minutes.  And that's it.  Send it off to your council and that's it.  They will contact you letting you know their decision.  
Section D applies to students.  In their case they get the College to fill in the few lines.  Usually the faculty office deals with these cases.  Get them to put a College stamp on it also, just for luck. Again, that's it. Send it off to the council and sit back.
Section C applies to people who are self-employed.  For them, obviously there is no employer, so they have to get a Peace Commissioner or Commissioner of Oaths to sign it.
Once you get your postal vote you must then go to the local Garda Station and have a Garda verify your identity. Then simply fill in the ballot paper and send it off.
The other group who have access to a postal vote should they want one are people who cannot go the polling station due to physical disability or illness.  This applies only to those people who are living at home.  For them, it is a PV1 form.  This is similar to the PV2, but only has two sections. The first where personal details are given and second by your doctor.  That's it.  In this case once the postal vote is granted you just fill it out and send it off.  No Garda required.
One other group of voters are those on what is called the Special Voters' List.  These are people who are unable to attend the polling station due to physical disability or illness, but are normally resident in a hospital, nursing home, or other such institution.  They fill out an SV1 form.  Again, it has two sections, one for personal details and one for the doctor to fill out.  In their case they don't get a postal vote, but a presiding officer will go to the hospital and let them vote there.  
So you see, the process is simple. No-one should be without a vote due to work or study commitments. Don't let yourself be disenfranchised. Use the postal and special vote system.  And remember, Bertie can call the election at any time. Once he calls it you are too late.  So, if you need a postal or special vote, get it now. Don't waste time. Up and at them!
BY Tallyer
An Phoblacht Magazine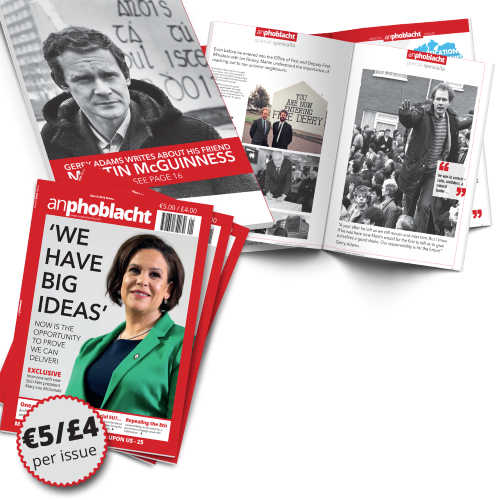 AN PHOBLACHT MAGAZINE:
The first edition of this new magazine will feature a 10 page special on the life and legacy of our leader Martin McGuinness to mark the first anniversary of his untimely passing.
It will include a personal reminiscence by Gerry Adams and contributions from the McGuinness family.
There will also be an exclusive interview with our new Uachtarán Mary Lou McDonald.
test