19 April 2007 Edition
Campaigners say Rossport EPA hearings 'bogus'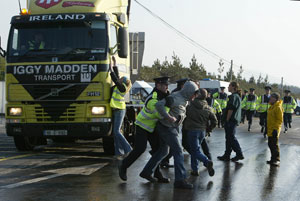 At a protest at Bellinaboy County Mayo, anti-Shell activists, including members of Sinn Féin, tried to attach themselves to trucks transporting thousands of tons of peat from the proposed refinery site of the government-backed, but locally-opposed, scheme. During protests over the weekend, seven activists were arrested including people who had travelled from Poland and the United States, as well as Dublin and Mayo.
On Monday the Environmental Protection Agency opened the oral hearing of appeals against the awarding of a licence to Shell for the Bellinaboy refinery. The EPA have announced that the hearings will be in English even though the scheme is to be sited in a Gaeltacht area.
Many Irish speakers have reacted with dismay to the announcement that the only translators provided by the EPA are translating from Irish to English, for the benefit of the chairperson. Many were also surprised to discover that no representatives of Mayo County Council, An Bord Pleanála, or the Health and Safety Authority are required to attend the hearings, which are being held in the Bradhaven Hotel Belmullet. People from Rossport, where relations with the Garda are strained to say the least, were also unhappy about the choice of the hotel as the site of the hearing, since the hundreds of Gardaí shipped into the area are staying there.
Many local residents have lodged appeals against the issuing of a license, as well as groups including the Erris Inshore Fishermen's Association, An Taisce, and Shell to Sea.
However the general feeling among campaigners was gloomy, with many complaining that the oral hearings were nothing but a "rubber stamp" for Shell to get the go ahead for the refinery. One of the Rossport Five, Vincent McGrath, called the hearing ''another bogus consultation process''.
Currently, the company is moving thousands of tons of surface peat from the site to be dumped eleven kilometres away at Srathmore. Direct action protests against the construction of the refinery are continuing.