19 April 2007 Edition
Sinn Féin must use General Election to change political landscape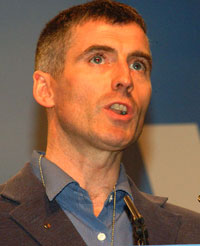 By Declan Kearney
Some times it's hard to see the wood for the trees might be an apt enough description for the realignment of Irish politics which is currently evolving. But be sure of this, there is an unprecedented realignment occurring, and modern republicanism is the main catalyst for these changes. So comrades need to have a perspective on the causes and effects of our role, in order to manage the republican dynamic as we prepare for power and move towards government in a national republic.
The scale and significance of the 26 March meeting between the DUP and Sinn Féin cannot be understated. It was a hugely historic event which will be matched by an equally historic occasion on 8 May. These will in time come to be seen as landmarks in Irish political history. They are by-products of initiatives arising from the internal consultation within Óglaigh na hÉireann in 2005 which led to the end of the armed campaign, placed all weapons beyond use and gave rise to the IRA's new mode.
These developments were a backdrop to the recent great debate within Sinn Féin and the decision on policing which took our struggle onto a new level of strategic development and had another dramatic effect on the political context. All this combined with our negotiations strategy, brought momentum to Sinn Féin's Assembly election campaign and our latest electoral surge.
Consequently a new political space will define the direction of the republican struggle in 2007 and beyond.
Changing the Context
The strategic purpose of the IRA was always to transform the conditions of struggle. Their most decisive initiatives will continue to have political effects for many years to come. As a growing political influence across this island we as Sinn Féin activists need to realise, as the Óglaigh repeatedly demonstrated up to 2005, that our political strategy needs to be constantly fuelled with initiatives to enhance our ability to change the context and keep building political strength.
In the immediate term northern politics have been permanently realigned. Our task now in the Six Counties is to build up a new strategic beach-head from which to maximise change within the restored political institutions, bed down the Good Friday Agreement, and advance the all-Ireland agenda.
As a party of power in this new situation, we will be poised to continue changing the context by taking the battle for ideas to new levels.
Whilst we fought the Assembly elections in the best strategic conditions, Sinn Féin now arguably faces into the 26 Counties General Election with a powerful tail wind at our back. But this should not be taken for granted. If we approach this election flat footed the establishment parties will harness the putative northern political accommodation to their own sectional advantage, by posturing as brokers for peace; and they will proceed to consolidate their own hegemony in the 26 Counties.
Neo-gombeenism reinventing Itself
For all the phoney adversary between the main southern parties the dominant coalition options which present at election times are bereft of ideological difference and only amount to neo-gombeenism reinventing itself. They pose no challenge to the nature of political and economic control in this state.
The revolutionary project for republican activists is to successfully challenge these power relationships, by realigning the political conditions which maintain the status quo of the state. Having realigned northern politics and consolidated the republican position, our long-term focus must be upon how to do the same in the south. We do not limit our view of this election campaign to the contest in May; and instead also project ahead for the next 2 general elections, up to and including 2016.
Champions of a New Commonsense
Crucially, it will mean positioning Sinn Féin to have the correct impact and begin changing the overall debate. We need to assert and promote our Party as the credible, mainstream left alternative, and the real opposition to the neo gombeen and tweedle dum politics of the establishment parties. Our responsibility will be to present a coherent critique of 26 Counties society, a vision for change, and commonsense policies and strategies to achieve it. Sinn Féin needs to become the champion of a new political commonsense that resonates with ordinary people, and puts republicanism centre stage in the battle for hearts and minds.
Our distinct perspective and appeal can be mainstreamed around the economy, health, peace and unity, our record of delivery, and as the only all-Ireland Party. These should be the terms upon which we go toe to toe with our opponents. Our efforts ought to be geared towards challenging the conservative orthodoxy characterising elections in this state, which by design, fosters alienation and disengagement among many citizens, and instils a passive deference among many others, to the role of the big parties.
Instead, Sinn Féin must major on vision, delivery and change. Our message needs to be that better use of buoyant Government revenue can, for example, transform health care and service delivery in the state, and still guarantee nurses decent conditions and fair wages. Commonsense versus the unyielding political, fiscal orthodoxy.
Being Sensible and Strategic
Our election campaign needs to be sensible and strategic in equal measure. In the electoral air war, our aim should be to force our opponents to justify the inequalities and inefficiencies of the current system, and explain how their transferable auction politics will halt the race to the bottom in Irish society. Simultaneously a series of individual ground wars will be waged in every constituency. Our aim in these settings must be to open and sustain a political debate with ordinary decent republican and socialist minded citizens aligned to Fianna Fáil and Labour; as well as the great mass of citizens alienated from politics.
In every constituency Sinn Féin must reach out to ordinary trade unionists, community activists and others, on real strategies to achieve economic and political reform. We need to deliver our programme for change as commonsense, and in an accessible way.
Popular opinion in this state has been conditioned to have low expectations of politics. Sinn Féin has to change that, by raising the bar and stimulating discussion on the big issues which the establishment parties try to side step. The thrust of this campaign should be to put them on the back foot. Empty promises and so called contracts on fiscal reform, will not end drugs epidemics in the north inner city, or the travesty of Donegal cancer patients having to travel to Dublin for treatment.
Sinn Féin strategy in this election needs to move forward on the front foot. It has to concentrate on real issues affecting real communities. Our programme should be about building political strength for republican ideas. The election needs to be an extension of the national battle for hearts and minds between those who promote and resist change in Irish society.
If we coherently bring this perspective into each of the constituencies Sinn Féin contests, we really will continue realigning Irish politics, south, as well as north. By doing so we can ensure our efforts translate electoral gains into a new beach-head from which to keep on changing the political context; prepare for the next two general elections; position ourselves to become the 3rd largest party in the 26 counties; and, establish Sinn Féin as the credible, mainstream left alternative in this state.
Let's take a long term view of this election – build the Party, train for government and prepare for power.
An Phoblacht Magazine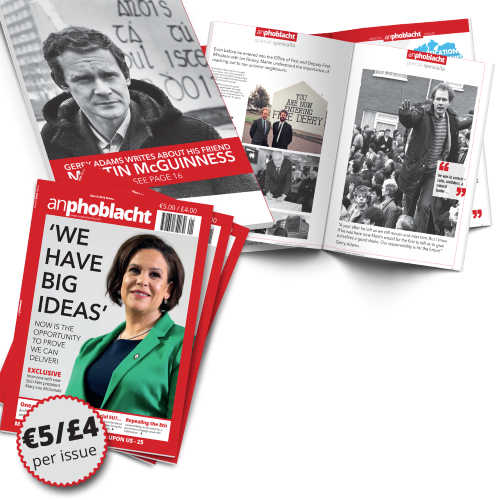 AN PHOBLACHT MAGAZINE:
The first edition of this new magazine will feature a 10 page special on the life and legacy of our leader Martin McGuinness to mark the first anniversary of his untimely passing.
It will include a personal reminiscence by Gerry Adams and contributions from the McGuinness family.
There will also be an exclusive interview with our new Uachtarán Mary Lou McDonald.
test