12 April 2007 Edition
OPINION : Republicans need to build a broad based coalition to transform society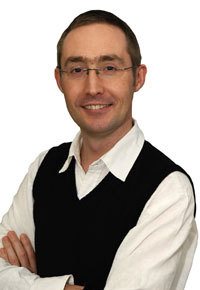 Sinn Féin and post conflict politics
BY EOIN Ó BROIN

If and when the DUP enter the Executive, a sustained and stable period of power sharing will slowly become  reality and implementation of all aspects of the Agreement will eventually follow. This opens the way for a post Agreement politics whose contours will be substantially different from that which has dominated politics since partition.
Post conflict politics poses both risks and opportunities for Sinn Féin. Just as we strategisied and planned what was to become our peace strategy from the mid 1980s, so too today must we stratagise and plan ahead for the coming decades.
We need to open up a debate, throughout all levels of the party and beyond, on a number of key issues. Most importantly, we need to ask if and how Sinn Féin can build sufficient political strength across Ireland to achieve our objectives?
Throughout the 20th century progressive politics in Ireland has revolved around two key themes – democracy and equality. Republicans, socialists, feminists and environmentalists have at their core, commitments to deepening the width and depth of democracy while attempting to attain the maximum degree of social and economic justice and political and cultural equality.
Progressive politics presents its most powerful challenge to the status quo in Ireland when it combines both the demand for deeper democracy and greater equality, infusing each theme with the full force of the other, combining both into a single powerful ideological and organisational force. This force is left republicanism – a commitment to radical participatory democracy, popular pluralist sovereignty, social and economic justice, and political and cultural equality coupled with a commitment to confront and challenge the centres of power and inequality which constitute the architecture of modern society and in the process, radically alter the way in which we as human beings organise our lives.
The fact that progressive politics in Ireland throughout the 20th century has remained an all too often marginal force is as much a consequence of our failure to understand both the potential which this articulation offers, and our own inability to transform it into a social and political movement for meaningful change.
The growth of Sinn Féin since the 1980s demonstrates that for the first time we are overcoming these obstacles. Today, our party is managing to combine the democratic and egalitarian impulses of the republican tradition in such a way as to speak directly to the needs of people across the country.
At the core of this republican project is the ending of partition, the withdrawal of the British state from Ireland and the creation of a new national democracy for all of the people who inhabit the island. This new republic must be participative, inclusive, pluralist, secular and radically democratic. The potential social, economic and political benefits, to all of the people are profound. But today, the majority across Ireland still fail to understand what difference, if any, this would make to them. This is our failure, and ours alone.
Sinn Féin has committed itself to building a community for reunification. Our All Ireland Agenda envisages party activists promoting the material benefits of reunification and building practical examples of the benefits of all Ireland development.
To date, however, both the practical out workings of this agenda and our own collective understanding of its radical potential remain, at best underdeveloped, at worst confused. Much of this work, particularly that involving local government, cross border development and European funded initiatives has become opaque, technocratic and detached from the lives of ordinary people.
A new approach is needed. We need to make our agenda for reunification meaningful to ordinary people in their day to day lives, not just in the 12 border counties, but across the island.
Sinn Féin advocates an Ireland of equals. We campaign for the end to a two tier health system, for housing and education as a right. Our pre-budget submissions priortise childcare. We call for a rights based society, an end to discrimination and poverty, and for greater levels of assistance for the developing world. But to date we have yet to design and articulate the actual economic, fiscal and social policies which will enable us to achieve any of these ends. Recent media commentary of Sinn Féin's coyness when discussing issues of taxation is symptomatic of the problem.
If we are to be taken seriously as a party whose destination is government, North and South, then we need a serious and credible economic and social programme which prioritises achievable objectives in the short and medium term while never losing sight of the broader long term process of transformation, which marks us out as different to others.
We not only need a programme, we need to build a broad based, social, political and community based, equality coalition, with the capacity and determination to transform our society.
Who would such a coalition involve? Where would it operate? How can it be built?  How much can be avhieved from within the parameters of Leinster House and the Assembly?  What must be achieved from without, and how can we successfully combine the two?
We need to resist the logic of institutionalisation while never underestimating the strategic importance of such institutions
The world is changing. The left is on the rise globally. However across the European Union the neo-liberal right remains ascendent. Both of these facts need to become central to our political and strategic considerations at a local and national level.
In addition to continuing our current political and organisational direction, Sinn Féin should seriously consider the following specific projects:

The next 26 County Presidential Elections place in 2011. Let's start to promote the idea of a left republican president. Not a Sinn Féin president, but a public figure whose personal political and cultural commitments epitomise the values of radical democracy and equality, which we support. Moreover let's debate the idea in a way that would allow all those progressive forces across Ireland to buy into the project, whether they be Labour, Green, Fianna Fáil, trade unionist, NGO, community/campaign activists or the individual citizen.
Let's start a debate about A Second Republic, for Ireland in the 21st century. Many other nations dissolve their existing constitutional frameworks periodically and through widespread public consultation recycle and reconstitute themselves into New Republics – such as France or Venezuela. Its time for a similar process across Ireland, in which the citizens of the nation, actively and creatively imagine what our new republic should look like.
Let's start to construct the All Ireland Equality Coalition now, building on our existing unionist, all Ireland, trade union and community outreach and campaigning. Let's make this new coalition a central element in our programme for building the Second Republic, a truly national, democratic, egalitarian, social and political movement for a new Ireland. Sinn Féin would only be one part of this much bigger, bolder enterprise, whose political strength would be comparable only to the independence movement at the start of the 20th century.                   That movement was built on an ambition that animated Fenians, socialists, and suffragettes, who together opened up the democratic and egalitarian moment in which we are still living. If we want to carry this struggle to its conclusion its time to replicate that ambition. Our aims, as Connolly said, are most modest... we only want the earth.

• Eoin O Broin is Sinn Féin's Director of European Affairs

An Phoblacht Magazine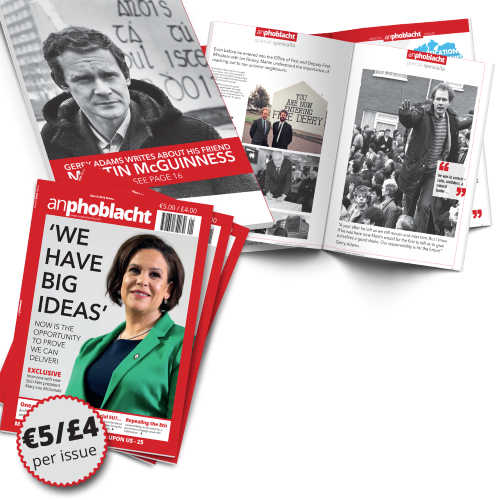 AN PHOBLACHT MAGAZINE:
The first edition of this new magazine will feature a 10 page special on the life and legacy of our leader Martin McGuinness to mark the first anniversary of his untimely passing.
It will include a personal reminiscence by Gerry Adams and contributions from the McGuinness family.
There will also be an exclusive interview with our new Uachtarán Mary Lou McDonald.
test