5 April 2007 Edition
A Strong Economy for an Ireland of Equals Part 2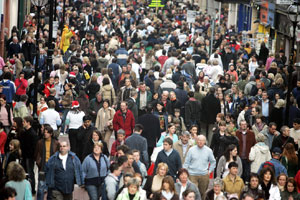 SAME PROSPERITY, MORE EQUALITY
In the second of a two-part series, Sinn Féin's National Director of Policy SHANNONBROOKE MURPHY discusses the positive, transformative potential of the party's economic policy
A nation is only prosperous when all its members benefit equally from the nation's wealth. Yet as we know the Irish economy has become one of the most unequal in the industrialised world. Easter Week is an appropriate time to reflect on how best to achieve one of the fundamentals from the Proclamation – a republic that pursues "the happiness and prosperity of the whole nation and all of its parts, cherishing all the children of the nation equally'.
Sinn Féin wants prosperity not just for the 26 Counties but also for the Six Counties. Prosperity not just for the East coast and South, but also for the border, Midlands and West. Prosperity not just for the elite, but for all our people. Not just for urban people, but also for rural people.  Not just for unionists, but also for nationalists.  Not just for men, but also for women.  Not just for people without disabilities, but for people of all abilities. We are about building a more inclusive and therefore more productive and prosperous economy.
Despite claims to republicanism and even socialism, Bertie Ahern maintains that Fianna Fáil could not accept Sinn Féin as a coalition partner because our economic policy is incompatible with theirs.  Presumably he is not referring to the many elements of Sinn Féin policy that have appeared as Fianna Fáil policy in recent months.
Since we began publishing details of our enterprise and job creation policy A Strong Economy in an Ireland of Equals in late 2005 and early 2006, many suspiciously similar positions and proposals have emerged from the Soldiers of Destiny, such as their newly found focus on the all-Ireland economy, and investing in R & D, renewable energy and transport infrastructure.  Even the sketch of their 'Next Steps' election platform – though still vague – contains points of similarity. 
Fianna Fáil's rush to mimic our proposed economic initiatives puts the lie to Bertie's claims that our economic approach is irredeemably flawed.
That is not to say that we don't differ economically from Fianna Fáil in many respects. For us wealth generation is only half the battle.  Whereas Fianna Fáil are content to leave a job part-done, we intend to complete the task and build an economy that is equal as well as strong. 
Nearly a decade and a half of Celtic Tiger revenues should mean world class services, comprehensive infrastructure and greater economic equality, not dangerously substandard public services, crumbling infrastructure, and an ever-widening gap between rich and poor.
Of course we generally have more in common with the left-leaning parties on economic policy, such as Labour and the Greens.  However, there are significant differences there too.  Labour cannot bring itself to commit to universal public service provision and has jumped on the tax cutting bandwagon with Fine Gael and the PDs.  The Greens lack our commitment to redistribution of wealth.  And unlike all the other parties, we are developing rational, reasonable and fair plans to pay for the services, social supports and other investment we are committed to provide.
In their haste to reduce the upcoming election to a bidding war, the establishment media are still asking the wrong questions about the economy.  We need to demand answers to the real questions. 
Are the people receiving the services they deserve in return for their tax contributions? Isn't it wrong that low income people pay proportionately more in tax than, and effectively subsidise, the wealthiest? Is it really good economic management when the economy has become so dependent on foreign investment that can withdraw at any time, revenue from a construction industry and housing bubble, and VAT receipts disproportionately underwritten by the poor, that any significant changes in any of the above could severely strain or even puncture the buoyant economy?  Is it good economic management to allow Irish economic competitiveness become exclusively reliant on a low rate of corporation tax when this is no longer considered a major factor in international competitiveness, and when external developments beyond our control (US and UK legislation on repatriation of profits and closure of corporate tax deferral loopholes) could soon make low corporation tax virtually irrelevant for competitiveness? 
If after almost a decade and a half of the Celtic Tiger people still go without healthcare and housing, and if one in five still live below the poverty line is Ireland really an economic miracle or is it actually an economic failure? 
Sinn Féin is the only party whose economic policy holds the potential to transform the nation in the way envisioned by the Proclamation.  Only our policy offers the potential to build a 'Republican Tiger' economy that is strong, but much more equal.  The claim that republican economics are incompatible with national wealth just doesn't stand up to scrutiny. Even by more conventional measures, Sinn Féin in Government will be good for the Irish economy (see side bar). 
Gerry Adams has told us that we must imagine the future, as this is the only way to know how to achieve it.  Let republicans spend this Easter imagining and internalising an economic future worthy of that 'august destiny' to which our nation is called.  And let us not neglect to put the positive case for our agenda for change.
Top 10 reasons why Sinn Féin is good for the Irish economy:

1 We are the party most committed to a regionally balanced, single economy – now widely recognised as essential elements for our future prosperity.

2 We are the party most committed to restoring economic sovereignty (including tax sovereignty from Britain and the EU) within the global economy, giving Ireland greater control over its economic future.

3 We are the most strongly motivated to build a strong, stable, productive and competitive economy that can keep all our people in employment and pay for our ambitious social programmes including universal healthcare.

4 We are the only party with a vision for stabilising the economy over the longer term, protecting it from boom and bust, and putting it firmly on the path to sustainable growth into the future.

5 We are the only party who understands the urgency of diversifying our competitive base to include the World Economic Forum's 'nine pillars' of competitiveness in the 21st century (strong institutions, strong economic management, comprehensive infrastructure, provision of healthcare and education, investment in higher education and training, efficient labour markets where all workers' skills are well deployed and productivity incentives are high, deep penetration of technology, and enhanced business sophistication through support for innovation, networking and clustering).

6 We are the party most firmly committed to prioritising the development of the indigenous business sector.

7 We are the only party committed to keep profitable companies in public ownership, so that everybody benefits from this revenue.

8 We are the party most committed to focus on developing alternative (non-tax) sources of State revenue.

9 We are the only party fully committed to progressive taxation and tax justice.

10 We are the only party prepared to end double taxation (service charges and user fees) for delivery of public services and not prepared to preside over Public-Private-Partnership contracts or any other contracts that are wasteful and do not deliver value for money.

An Phoblacht Magazine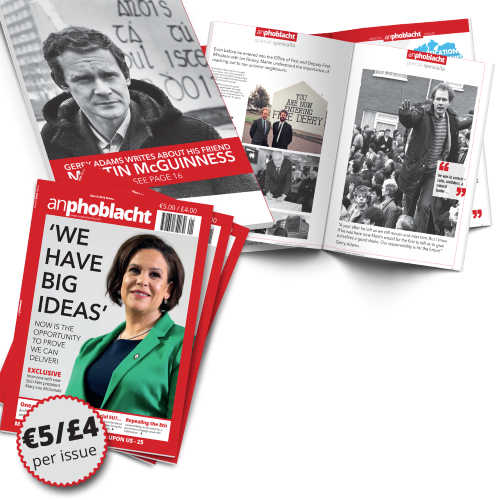 AN PHOBLACHT MAGAZINE:
The first edition of this new magazine will feature a 10 page special on the life and legacy of our leader Martin McGuinness to mark the first anniversary of his untimely passing.
It will include a personal reminiscence by Gerry Adams and contributions from the McGuinness family.
There will also be an exclusive interview with our new Uachtarán Mary Lou McDonald.
test