29 March 2007 Edition
Dáil General Election Profile : Councillor Gerry Murray, Mayo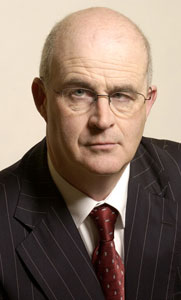 Presenting a real alternative in Mayo
Sinn Féin general election candidate for Mayo Councillor GERRY MURRAY is from Charlestown. With almost ten years experience as a public representative on Mayo County Council, Gerry is positioned to give the two party bloc in the county a good run for their money. Here Gerry talks to NOEL CAMPBELL about his political background, local issues and Sinn Féin's campaign in Mayo

You were originally a Fianna Fáil councillor. What led you to join Sinn Féin?
A number of issues were drawing me away from Fianna Fáil in the 1990's. The acute social, recreational and economic deficit that existed in Mayo was being ignored by that party. People were so frustrated with the total lack of basic social facilities and economic infrastructure in the county. But ultimately Fianna Fáil's waste management policy led me to join Sinn Féin.
I have always been an Irish republican and in my opinion Fianna Fáil had dropped the ball regarding Irish unity. To them it was something our forefathers fought for. That wasn't good enough for me. Irish reunification remains one of my main aspirations. Mayo has a strong and proud republican history with Kathleen Lynn, Jack McNeela, Frank Stagg and Michael Gaughan to name a few.

How is Sinn Féin being received in the Mayo?
Sinn Féin has been growing steadily over the past ten years in Mayo. From having no elected representative after the 1999 local elections we now have a councillor on each of the four local authorities in the county. The people of Mayo are keen for an alternative and they have shown that in the 2004 local elections.
Two of our five candidates topped their respective polls that year which leaves our party nicely poised for the upcoming general election. I topped the poll in the Swinford electoral area, taking almost 2,000 first preference votes. The stranglehold Fianna Fáil and Fine Gael have had for the past 80 years is beginning to give. Sinn Féin is currently the third largest party in Mayo and I have no doubt that after this election we will have an increased mandate. Old family loyalties to a particular political party are thankfully breaking down and the younger voters especially are beginning to really question who they give their vote to and rightly so. Engaging with the electorate not just at election time but continuously is the only way this process will continue.

What are the election issues in the Mayo constituency as you see them?
Health is the number one issue, followed by regional and local roads. Another major issue for parents and young people is the total lack of decent recreational infrastructure such as cinemas, bowling alleys and swimming pools in our small towns. The poor state of our school buildings and low cost childcare. Unfinished housing estates and the lack of community policing right across the county. Into the mix comes the Corrib Gas dispute by virtue of the fact that people feel that by giving away our natural resources for nothing we have now  relinquished the means by which we could invest and solve the above issues.

How is your campaign going to date?
We are receiving an extremely good reception on the doors. Mayo is a large county, six times the size of Louth (and you thought you had it bad Arthur), so it can be difficult to organise but our support has been increasing and cumainn exist in all electoral districts. The electorate are telling us that there needs to be change – the main parties have been given their chance and failed. We are gaining great ground in the main towns in Mayo where urban degeneration has been allowed to go unchecked by the Government.

You've been one of a few Mayo politicians to align themselves with the Shell to Sea side in the Corrib Gas row. Has this helped or hindered your campaign for Election 2007?
It has obviously helped my campaign. Firstly, Sinn Féin is not in the business of chasing public opinion, we want to change public opinion. Our stance on the Corrib Gas issue is a principled one and is totally consistent with our policy in relation to the ownership of public services and natural resources.
In essence we are asking the Dublin Government to manage our own oil and gas reserves in the same astute and sustainable manner that the Norwegian Government manages their natural resources. On the doorstep people are shocked to discover that all our oil and gas reserves have been given away for nothing with no net gain for the Irish people. If this deal is not renegotiated the people of Mayo will have to witness the humiliating spectacle of the multi-billion euro revenue stream from the Corrib Gas Field going to fund the roads, schools, hospitals and public services of Norway, while the people of Mayo still have to endure third world infrastructure and services.

Being a candidate takes a lot of personal commitment. Has this been difficult for you and how do you unwind?
Being a candidate is a full time job. Being a County Councillor is a full time job. I'm married with two daughters who obviously haven't seen as much of me in the last year but they are very supportive. That will be tested when I ask them for their No.1s! Until recently I was running my own pub in Charlestown but I have leased that out to concentrate on the campaign. Getting the first Sinn Féin TD elected in Mayo since the 1920s will be the reward.
When I get a couple of hours break from campaigning I spend as much time with my family as I can. I spend a lot of time in the car so I like nothing better than to sit back and press play on a Christy Moore cd.

Where do you see yourself after Polling Day?
I'll be sitting beside 10 to 15 fellow Sinn Féin TDs in Dáil Éireann.

An Phoblacht Magazine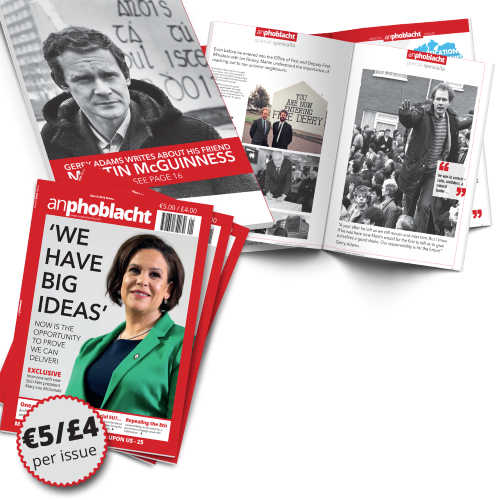 AN PHOBLACHT MAGAZINE:
The first edition of this new magazine will feature a 10 page special on the life and legacy of our leader Martin McGuinness to mark the first anniversary of his untimely passing.
It will include a personal reminiscence by Gerry Adams and contributions from the McGuinness family.
There will also be an exclusive interview with our new Uachtarán Mary Lou McDonald.
test