22 February 2007 Edition
Doolan challeneges reactionary Polish President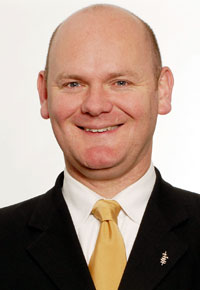 Right wing Polish President Lech Kaczynski was challeneged by Sinn Féin Dublin Spokesperson on Europe Councillor Daithí Doolan when he visited Dublin this week.
Kaczynski's addressed to the 76th plenary session of the National Forum on Europe where he was challenegd about his decisions as mayor of Warsaw to ban gay rights marches in 2004 and 2005. Doolan recalled the Warsaw march ban and urged the president to adopt a position of "tolerance, not bigoted homophobia".
Kaczynski said: "I am not a homophobe", adding that some of his "personal friends" were homosexuals.
Doolan also questioned the wisdom of Kaczynski's recent call for a multinational EU army of 100,000 troops to support NATO missions. Doolan said that a united Europe could only be achieved through peace and tolerance.
"Military force will not sustain unity within Europe. In fact such policy goes against the very spirit from which the European community has evolved over the decades", Doolan said.
He continued "only an EU that promotes peace, demilitarisation, nuclear disarmament and the just resolution of conflicts under the leadership of a reformed, renewed and democratised United Nations can sustain meaningful unity."
"We must also aspire to respect all European citizens regardless of their religion or sexuality", said Doolan. "