22 February 2007 Edition
Seeking a mandate for progress
With 14 days to go to polling in the Six County Assembly elections, Sinn Féin activists across the North, supported by colleagues who have travelled from the 26 Counties are upbeat and confident at once again increasing Sinn Féin's mandate and making further seat gains for the party.
The election and its immediate aftermath mark a crucial juncture in the peace process. 26 March is a defining point by which time the DUP must state its intentions regarding power-sharing and participation in the all-Ireland institutions of the Good Friday Agreement.
Sinn Féin's election campaign is about ensuring that a fully functioning Assembly, Executive and All-Ireland Bodies are put in place by 26 March. Sinn Féin is seeking a mandate for political progress. As the campaign gets in to full swing, Sinn Féin canvassers are getting a very positive response from voters for the decision taken at the recent Extraordinary Ard Fheis on policing. That decision has liberated the political process and the opportunities created must now be grasped by all.
The election and its aftermath provide the last chance for those who have long obstructed political progress to finally come on board.
Despite recent mumblings to the contrary from the DUP, there are only two political options following the election. Plan A - the Good Friday Agreement and the restoration of the political institutions is the best option. The second option is one in which the governments will implement their joint management proposals. There are no other options, no Plan C.
Parties who oppose the restoration of political institutions on 26 March are in effect giving British Direct Rule Ministers a blank cheque to impose water charges, privatise further public services and continue with disastrous cuts in health and education.
Once again more and more people will vote Sinn Féin on 7 March. These will include new and first time voters but they will also include those who in the past voted for other parties. Sinn Féin is confident that it will build on the historic gains of recent years.
Sinn Féin is an all-Ireland party with an all-Ireland project and a good Assembly election result will have a positive knock-on effect for Sinn Féin in the general election in the 26 Counties in the early summer.
Sinn Féin's purpose in every election North and South is to increase our mandate and representation in order to more effectively change society for the betterment of the Irish people and to move forward, ever closer to our objective of equality for all in a united Ireland.
An Phoblacht Magazine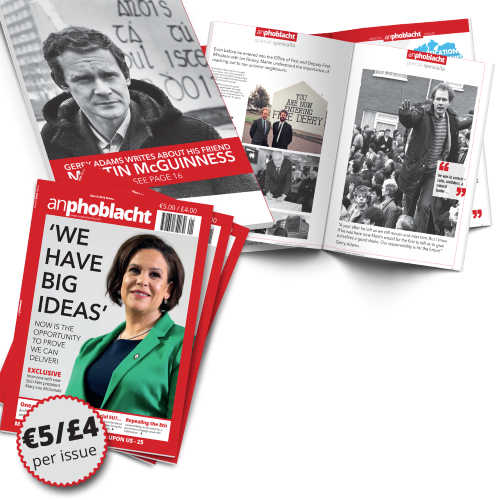 AN PHOBLACHT MAGAZINE:
The first edition of this new magazine will feature a 10 page special on the life and legacy of our leader Martin McGuinness to mark the first anniversary of his untimely passing.
It will include a personal reminiscence by Gerry Adams and contributions from the McGuinness family.
There will also be an exclusive interview with our new Uachtarán Mary Lou McDonald.
test