8 February 2007 Edition
Government indifference towards workers' health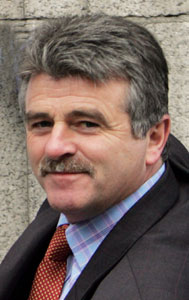 Sinn Féin spokesperson for Worker's Rights Arthur Morgan TD this week denounced the Irish Government for it's continuing obvious indifference to worker health and safety following the death of yet another construction worker in Glencar, County Kerry on Monday.
"It is quite obvious that the Safety, Health and Welfare at Work (Construction) Regulations Act 2006 introduced by Minister for Labour Affairs Tony Killeen, designed to reduce the high rates of death in the construction sector, does not go far enough to ensure the protection of workers. Over 7,000 non-fatal work injuries were reported to the Health and Safety Authority in 2006. The Government is obviously completely indifferent to worker health and safety or else they would have acted on this a long time ago", the Sinn Féin TD for Louth said.
He went on: "Fifty work-related deaths were reported to the Authority in 2006, with the construction sector again the most dangerous for workers, and although this is a drop from the 2005 figure it is still far too high. It is only the beginning of February and already eleven people have died in their workplaces so far this year. Yet another worker was killed at his workplace in Kerry this morning. The Government must aim for zero work-related fatalities. It is also a matter of grave concern that no employer has served a prison sentence for negligence resulting in the death of a worker and that penalties for work place fatalities vary considerably.
"Sinn Féin is demanding that the Government introduce legislation to provide for the crime of Corporate Manslaughter as recommended by the Law Reform Commission in it's report of October 2005 and we are committed to introducing it ourselves if necessary. Reckless employers must be held criminally liable for workplace accidents and fatalities. Only by putting in place effective deterrents can we ensure that these needless deaths cease. Corporate Manslaughter legislation, already in place in many countries, is a key tool in the battle to reduce workplace accidents and fatalities."